High school valedictorian banned from giving speech mentioning Parkland shooting so uses megaphone outside
Speech deemed inappropriate hours before the ceremony was set to begin
Marwa Eltagouri
Tuesday 29 May 2018 16:08 Comments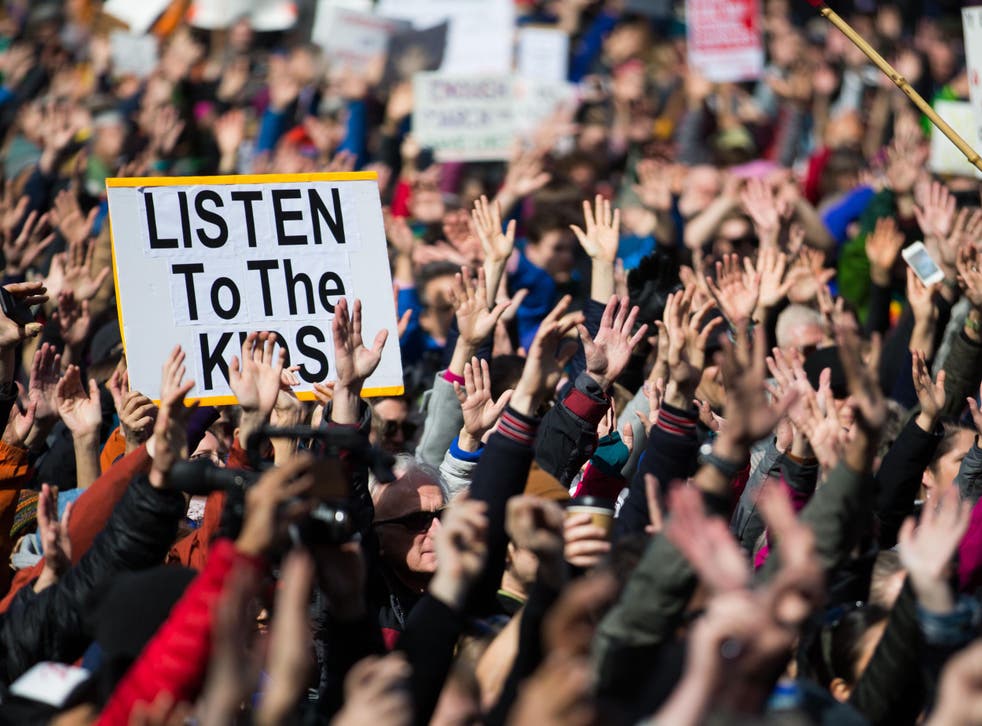 The news came just hours before their high school graduation ceremony was set to begin: Valedictorian Christian Bales and student council president Katherine Frantz would not be able to give their speeches.
It was a confusing announcement, as the two students thought administrators at Holy Cross High School – a Catholic school in Covington, Kentucky – had approved their speeches beforehand.
But in a phone call to the students' families, the school principal explained that in an "emergency meeting" the local diocese had deemed the students' speeches inappropriate. The diocese had felt that Bales' speech, in particular, was "aggressive, angry and confrontational," according to the Cincinnati news station WCPO.
Bales, 18, felt that his speech was indispensable. It addressed the importance of youth advocacy at a time when the nation has its eye on teenagers, such as the students at Marjory Stoneman Douglas High School, who have campaigned for stricter gun laws since a gunman opened fire on their Parkland, Florida, school in February, leaving 17 people dead.
And it praised his fellow student activists across the political spectrum – from those who spoke out about the Parkland tragedy to those who participated in the antiabortion March for Life in January.
So Bales and Frantz, still hoping to impart their advice to the Class of 2018, delivered their speeches outside after the ceremony through a megaphone.
" 'The young people will win' is a mantra that I'm sure many of you have heard if you've been attentive to the media recently. It's a phrase adopted by the prolific Stoneman Douglas teenagers who are advocating for an agenda – our rights to feel secure as humans," Bales said through a megaphone on a grassy lawn to a group of cheering fellow graduates, according to a video obtained by WCPO.
"As we enter into the real world, we must remember that we have a voice," Bales said.
Bales went on to say that it's sometimes the young who are the wisest, as they have not been desensitized to the "atrocities of our world." Therefore, young people must "speak candidly about issues" and "mustn't tremble in the face of the institutions" that try to silence them, he said.
"We are dynamic. We are intelligent. We have a voice, and we're capable of using it in all communities," Bales said.
March for Our Lives – in pictures

Show all 13
Diocese of Covington spokesman Tim Fitzgerald told WCPO that the speeches were "found to contain elements that were political and inconsistent with the teachings of the Catholic Church." He added that the students had not met the deadline for turning their speeches in to faculty.
Fitzgerald and Principal Mike Holtz could not be immediately reached for comment.
Bales said he believed that he and Frantz were treated unfairly because of their outspokenness on social issues.
"The president is my best friend, and we've been two huge advocates for social reform in our community, which has likely put us on the radar for the diocese," Bales told WCPO.
Bales' mother told WCPO that her family has been part of the diocese for years and that Holtz had never called her personally to talk about Bales until last week. An initial phone call, she said, was to ensure that Bales, who identifies as gender non-confirming, would wear men's clothes, formal shoes, a conservative hairstyle and no makeup to the graduation ceremony – as expected by diocesan officials.
Holtz's next phone call was regarding Bales' speech.
Marksberry said the staff of Holy Cross had been supportive of her son and so she did not harbour any negative feelings about the situation.
"We don't want to be vindictive; we don't want to be vengeful," she told WCPO. "That's not what this is about. He's earned the right to have a voice."
Bales plans to study biology at the University of Louisville on a full scholarship in the fall, according to WCPO. He hopes to become a conservationist.
"We must take what we've learned in this community and apply it to the world we are about to encounter," Bales said in closing his speech. " We are the young people, and we will continue to win."
Register for free to continue reading
Registration is a free and easy way to support our truly independent journalism
By registering, you will also enjoy limited access to Premium articles, exclusive newsletters, commenting, and virtual events with our leading journalists
Already have an account? sign in
Join our new commenting forum
Join thought-provoking conversations, follow other Independent readers and see their replies