Third person dies from vaping related illness as health officials at Centers for Disease Control and Prevention warn people to stop using e-cigarettes
Three vape-related deaths have been confirmed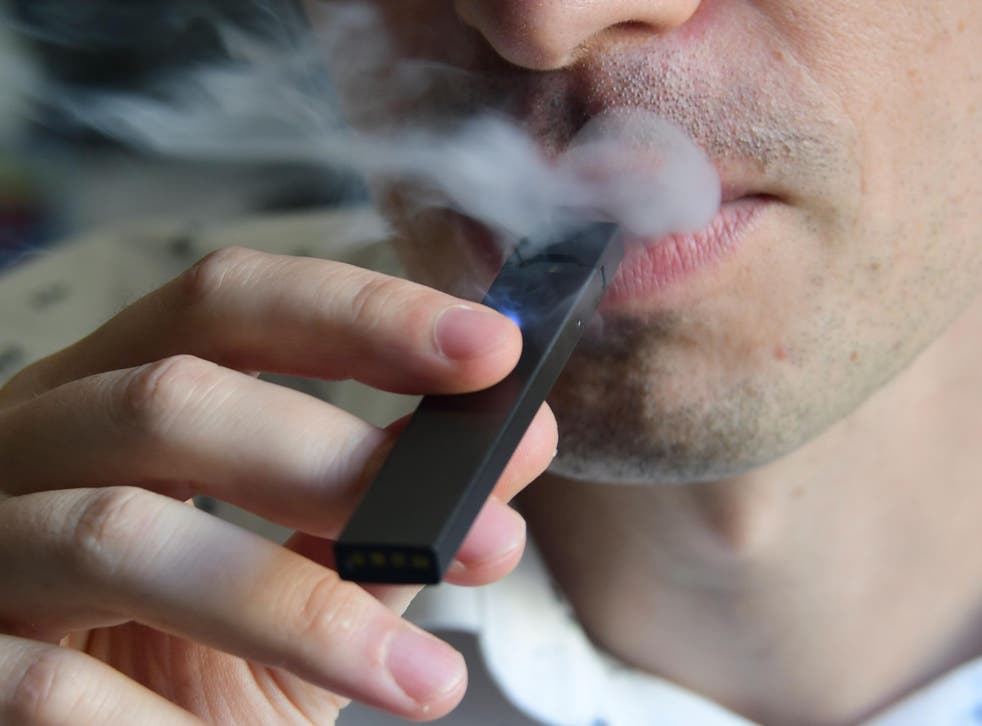 The Center for Disease Control has recommended that people stop vaping until more is understood about the related lung disease sweeping the country.
At least three people have died in vaping-related illnesses, which the CDC is currently investigating. They are aware of 450 confirmed or suspected cases in 33 states in recent weeks.
215 of those cases are related to lung diseases.
"While this investigation is ongoing, people should consider not using e-cigarette products," the CDC wrote in a statement released Friday. "People who do use e-cigarette products should monitor themselves for symptoms."
"We believe a chemical exposure is likely associated with these illnesses ... but more investigation is needed," the statement continued.
Investigators have not been able to link the diseases and deaths to specific brands or ingredients, but oils used in vapes are thought to play a key role.
New smoking graphics proposed by the FDA

Show all 12
Friday's announcement comes the same day that Indiana health officials confirmed the state's first death from a vaping-related respiratory illness.
Dr Kris Box, Indiana's health commissioner, called the death a "tragic loss," and said that the "rising number of vaping-related injuries are warnings that we cannot ignore" in a statement.
The two previous vape-related deaths were in Illinois and Oregon.
Earlier in the week, senator Dick Durbin, a Democrat from Illinois, called for more e-cigarette regulation.
"Press releases and incremental bureaucratic half-measures have failed," Mr Durbin wrote in a letter to acting Commissioner Ned Sharpless. "FDA's inaction is alarming and has become dangerous."
In August, Politico reported that scientists and public health experts were encouraging the CDC and Food and Drug Administration to directly warn people about vaping, or pull some products off the market. Key congressional chairs were also urging for new regulations against vaping, which is particularly popular among young people and teenagers.
According to that report, the FDA pushed a deadline for e-cigarette review to 2022 back in 2017. It has since been moved to 2021. Still, no e-cigarette brands on sale in the US have undergone review.
Register for free to continue reading
Registration is a free and easy way to support our truly independent journalism
By registering, you will also enjoy limited access to Premium articles, exclusive newsletters, commenting, and virtual events with our leading journalists
Already have an account? sign in
Register for free to continue reading
Registration is a free and easy way to support our truly independent journalism
By registering, you will also enjoy limited access to Premium articles, exclusive newsletters, commenting, and virtual events with our leading journalists
Already have an account? sign in
Join our new commenting forum
Join thought-provoking conversations, follow other Independent readers and see their replies