Vegan firefighter complains to Human Rights Tribunal because he wasn't offered enough food
He says the lack of proper food under his harsh work conditions is a human rights violation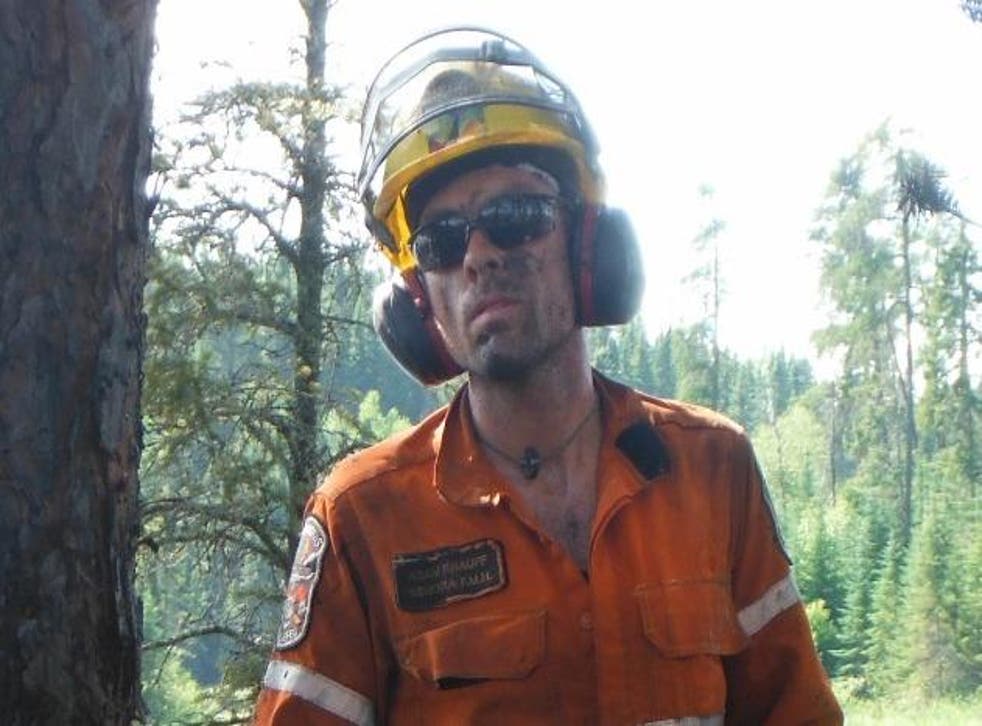 A firefighter has filed a complaint to a human rights tribunal saying his employers violated his rights by not providing vegan food for him during an intense set of work days.
According to a GoFundMe set up to pay his legal fees, Adam Knauff, 40, has been a vegan for 20 years, and a vegetarian for many years before that.
Mr Knauff was one of about 1,000 firefighters dispatched to battle a widespread blaze near Williams Lake, British Columbia, Canada on July 17.
Over a course of 10 days, he worked "in extreme heat and exhausting conditions, working hard to save people's homes from burning" for up to 16 hours per day, according to his GoFundMe.
He says his directors knew about veganism, but still failed to provide adequate nutrition for him.
He survived instead on protein bars, salads, nuts and fruits, and, on one day, simply a plain bagel.
Rather than provide nutritious food, particularly food containing vegan protein, Mr Knauff says the Ministry of Natural Resources and Forestry, for which he works, suspended him for three days without pay for alleged insubordination.
The Washington Post reports that this suspension came after Mr Knauff reacted negatively to the lack of vegan options, cursing at his crew's chef after the improvements promised by his supervisor never materialized.
The Ministry of Natural Resources and Forestry maintains that Mr Knauff's provided food was not a violation of his human rights, as veganism is not a "creed," and therefore not protected under Ontario's nondiscrimination law, which designs a creed as "sincerely, freely and deeply held."
Celebrity Vegans: From Beyoncé to Natalie Portman

Show all 13
A creed must also be rooted in an "organisation or community that professes a shared system of belief," and "integrally linked" to a person's identity and sense of self.
Mr Knauff is hoping his ordeal will challenge Ontario to include veganism as a creed, following the Ontario Humans Rights Commission's 2015 overhaul of their creed policy to include "non-religious belief systems that, like religion, substantially influence a person's identity, worldview and way of life."
He is being supported in his efforts by the Canadian animal rights group Animal Justice, along with donations from his GoFundMe, which has currently met less than $2000 of its $10,000 goal.
Support free-thinking journalism and attend Independent events
"My case could be the one to officially rule that ethical veganism is a protected creed in Ontario," he wrote on the GoFundMe. "This will help other Ontario vegans who face discrimination, and the ruling could be influential in other provinces and internationally."
Join our new commenting forum
Join thought-provoking conversations, follow other Independent readers and see their replies