Las Vegas shooting: Woman saved by marine she met hours before concert
'The whole night he didn't leave my side'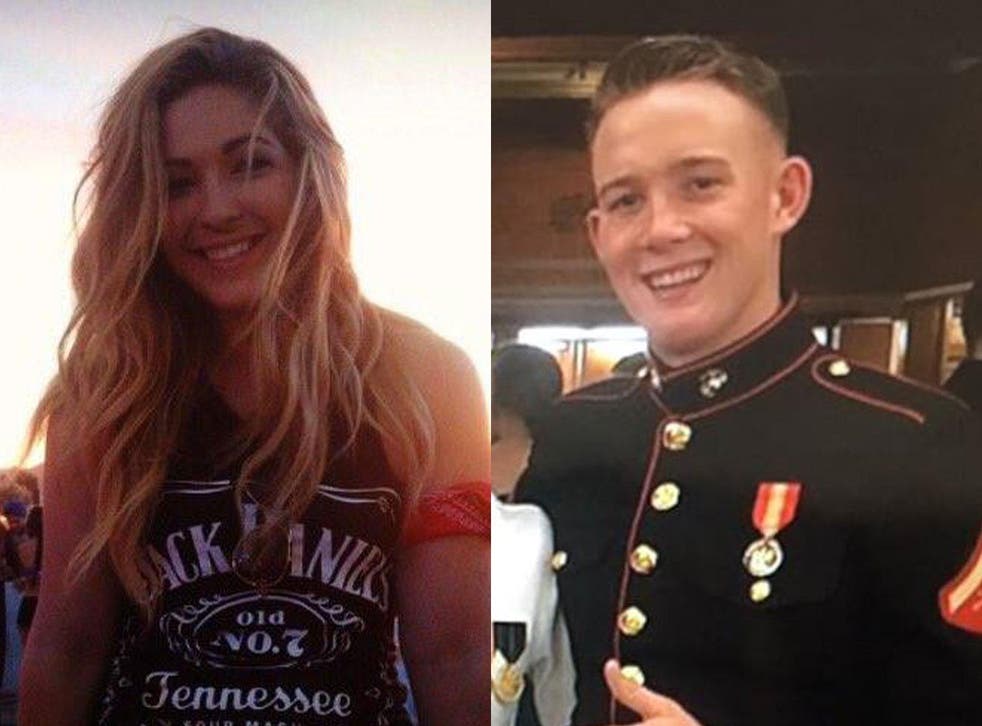 A woman who attended the country music festival in Las Vegas that became the site of the deadliest mass shooting in modern US history has spoken of how a marine, whom she met just hours before, saved her life.
At least 58 people were killed and 527 injured on Sunday when shooter Stephen Paddock opened fire on thousands of people gathered for the festival.
In a post published on Facebook, Renee Cesario, 23, explained that she and Brendan Kelly, a 21-year-old US Marine, had met two hours before the Route 91 Harvest festival.
"I left my friends so we could go up super close to the front of the end of the night," Ms Cesario said. She described how the pair were dancing when "all of a sudden there were loud noises that sounded like fireworks".
When the music stopped and Mr Aldean ran off stage, it became clear to the pair that the noises were shots being fired.
"Before I knew what was going on, Brendan tackled me down to the ground and covered me from the fire.
"It stopped again and he looked around to see what was happening and it just kept going. He looked at me and said, 'We have to get out of here. We can't stay here. It's not safe'."
Las Vegas shooting – in pictures

Show all 15
Ms Cesario was pulled up out of the piles of people around them and the pair started running. Mr Kelly kept telling her it would be OK and to keep running until they were safe.
"The whole night he didn't leave my side," she said.
Ms Cesario's older sister Jenn was trying to get hold of her, but didn't know she had lost her phone while running. She then received a text message from Mr Kelly's phone explaining what had happened.
"When we finally were able to talk I felt a huge relief that her voice was on the other line, and she wasn't hurt," she told CBS News. "I still get completely sick not knowing if she was going to stay safe," she said.
The story was sent to the "Love What Matters" Facebook page and the post has been shared thousands of times.
Join our new commenting forum
Join thought-provoking conversations, follow other Independent readers and see their replies