Vegas shooting: Stephen Paddock's hotel neighbour 'thought gunshots were fireworks at first'
From the room above, 58 people were shot dead and almost 500 were injured 
Mythili Sampathkumar
New York
Friday 06 October 2017 02:25 Comments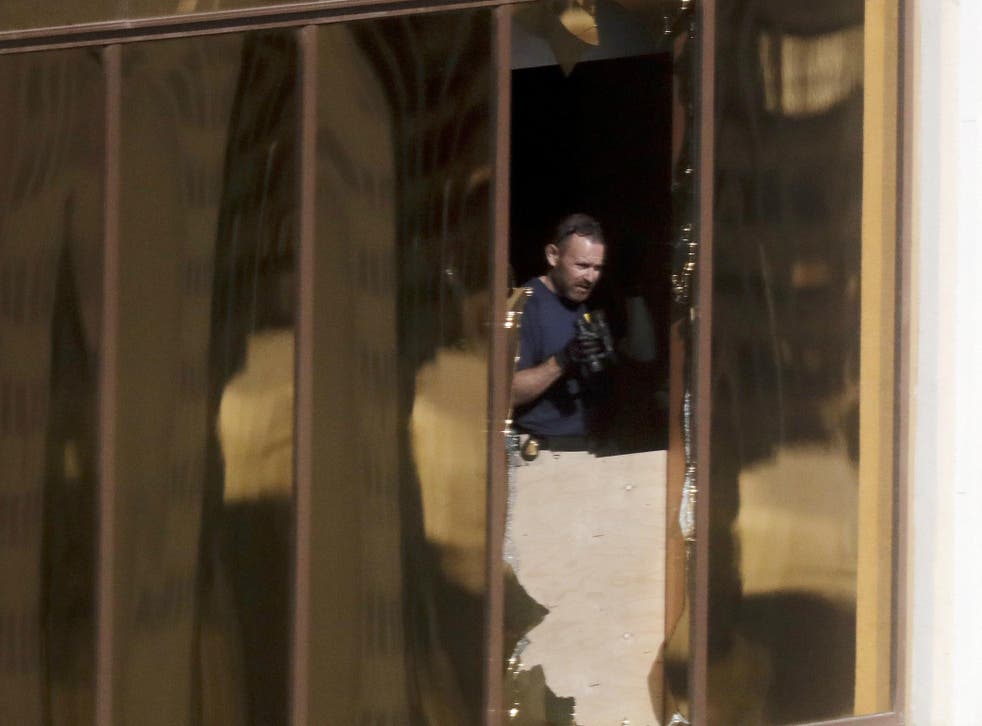 A Kansas man heard what he thought were fireworks late at night from his room in the Mandalay Bay Hotel and Casino, but soon realised he was staying just one floor below the gunman, Stephen Paddock.
Floyd Conrade, of Emporia, was in town on a business trip when he saw and heard "debris" raining down from above just outside his room's window, according to the Kansas City Star.
The debris was shards of glass from when Mr Paddock used what police said was a hammer-like tool to smash his windows in order to rain bullets down on the crowd of 22,000 people attending the Route 91 Harvest Festival.
In the span of ten minutes, Mr Paddock killed 58 people, injured almost 500, before shooting himself just before police stormed his room.
Mr Conrade quickly realised these were no fireworks and ran to the bedroom of his hotel room, mindful of keeping distance between himself and the windows
"He stood and he sat. He used an app on his phone to listen to law enforcement chatter," the father of six told the newspaper.
When the shooting stopped Mr Conrade cautiously popped his head out into the hallway but was immediately told to go back in by armed police officers.
He made the connection when he heard Mr Paddock's room number announced over one of the officer's radio, "32-134."
Fox News host suggests atheism may be to blame for Las Vegas shooting 2
Mr Conrade was staying in 31-134.
He said the explosives police used to blow open Mr Paddock's door jolted him more than the gunfire.
All through the night he heard footsteps above, crunching through broken glass and searching the entire room.
Police conducted searches of every room on the 32nd and 31st floor.
Las Vegas shooting – in pictures

Show all 15
Mr Conrade said he was an avid hunter growing up and though he supports the Second Amendment said "this guy was dealing with something way more above that."
Police said Mr Paddock, a real estate millionaire and frequent gambler in Las Vegas, had 47 guns in the hotel room and his homes in Mesquite and Reno, Nevada.
They were all purchased - after passing required background checks and legal procedures - in Nevada, California, Utah and Texas.
Included in the arsenal were high-powered rifles, handguns, and bump stocks - which allows a gun to simulate rapid, automatic fire.
In addition to stocks of ammunition, Paddock also had cameras mounted inside and outside his hotel room. Police are still examining the cameras.
Mr Conrade is still staying in his room at Mandalay Bay since there was no damage to it and plans on flying home at the end of the week after having seen the body bags and result of the chaos that night in the harsh daylight that Monday morning.
Register for free to continue reading
Registration is a free and easy way to support our truly independent journalism
By registering, you will also enjoy limited access to Premium articles, exclusive newsletters, commenting, and virtual events with our leading journalists
Already have an account? sign in
Join our new commenting forum
Join thought-provoking conversations, follow other Independent readers and see their replies