Venezuela buying missiles from Iran a 'good idea', Maduro says
US senator brands move 'dangerous escalation' amid deepening ties between two nations
Andy Gregory
Sunday 23 August 2020 15:05 Comments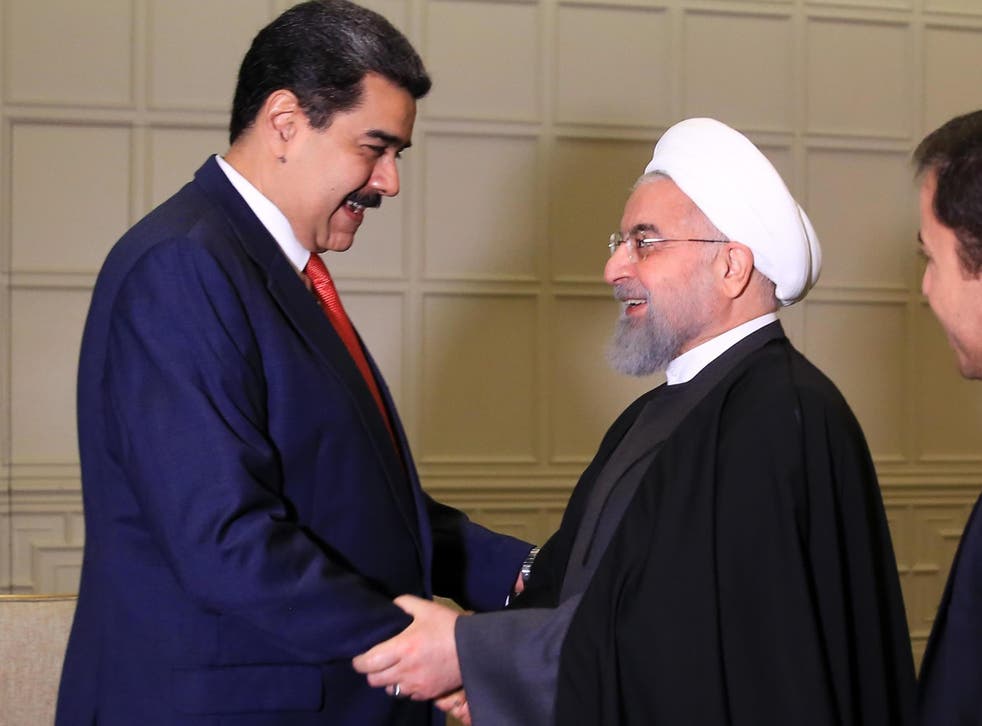 Leer en Español
It would be a "good idea" to look into purchasing missiles from Ian, Venezuela's president Nicolas Maduro has said, as the two countries expand trade relations under a joint banner of anti-US sentiment.
Ties between Caracas and Tehran have deepened in recent months as both regimes attempt to undermine aggressive US sanctions programmes.
And in May, Iranian tankers carried 1.53 million barrels of gasoline and alkylate gasoline to Venezuelan shores, in the most significant display yet of open defiance of Washington sanctions, amid a regular flow of supplies, technicians, businesspeople and officials.
Responding to Colombian allegations that his regime was now considering buying missiles from the Middle Eastern nation, Mr Maduro said: "It had not occurred to me, it had not occurred to us."
Speaking during a televised broadcast with cabinet members on Saturday, he instructed defence minister Vladimir Padrino to follow the idea up, jokingly telling his ministers to keep the plan a secret.
"Padrino, what a good idea, to speak with Iran to see what short, medium and long range missiles they have, and if it is possible, given the great relations we have with Iran."
On Thursday, Colombia's president Ivan Duque cited intelligence reports showing that Mr Maduro is handing over weapons made in Russia and Belarus to Colombian armed groups.
The Colombian leader – who refers to Mr Maduro as a dictator and, along with more than 50 other nations, considers opposition leader Juan Guaido the nation's president – has frequently accused him of protecting and supporting former members of the Revolutionary Armed Forces of Colombia rebel group and the still-active National Liberation Army guerrillas.
Mr Duque went further during a virtual event, saying: "There is information from international intelligence organisms that work with us which shows there is interest from the dictatorship of Nicolas Maduro in acquiring some medium and long-range missiles through Iran.
"The information is that [the missiles] still haven't arrived but there has been contact especially under instructions from Padrino."
Washington hawks reacted with alarm to the allegations.
"Nicolas Maduro's attempt to purchase missiles from Iran is a dangerous escalation," tweeted Florida senator Rick Scott. "Iran and China's presence in Venezuela poses a threat to the safety and the future of our hemisphere. The United States and the world cannot allow it!"
World news in pictures

Show all 50
But weapons purchases appear relatively unlikely for Mr Maduro, whose government is struggling to buy basic food and medicine or to provide fuel to the population due sanctions as well as chronic dysfunction of the country's refineries.
Venezuela's foreign minister had swiftly sought to rubbish the claims as "anti-Venezuelan fiction".
"In Colombia the massacres, unleashed violence, uncontrollable drug trafficking do not stop," Jorge Arreaza tweeted. "Ivan Duque returns to infamies and anti-Venezuelan fiction to distract public opinion."
Additional reporting by Reuters
Register for free to continue reading
Registration is a free and easy way to support our truly independent journalism
By registering, you will also enjoy limited access to Premium articles, exclusive newsletters, commenting, and virtual events with our leading journalists
Already have an account? sign in
Join our new commenting forum
Join thought-provoking conversations, follow other Independent readers and see their replies