Venezuela protests: Teenager and four-year-old girl among the dead as country is rocked by unrest over food shortages
Socialist president Nicolas Maduro is facing calls for a referendum on his leadership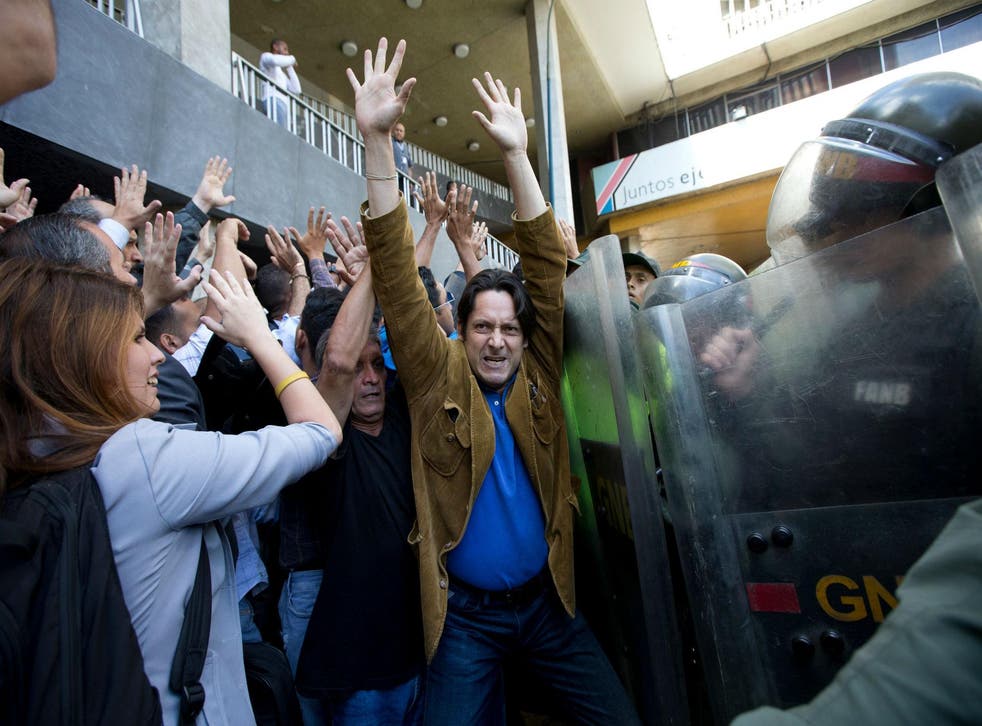 At least five people have died in Venezuela in recent days, as protests against the country's socialist government grow amid dire food shortages and prolonged economic turmoil. A 17-year-old boy was the latest to be killed, during a protest on Tuesday in Lagunillas in the western state of Merida. Jean Omana was reportedly shot in the head as soldiers and police clashed with demonstrators demanding food. He died on Wednesday at a local hospital.
The unrest over a drastic lack of food and medicine has seen dozens injured and hundreds arrested across the febrile Latin American oil state, as its leftist President Nicolas Maduro tries to stave off opposition calls for a referendum on his leadership. Tumbling global oil prices have left the government of Mr Maduro's PSUV party unable to finance the import of even basic foodstuffs. Most of Venezuela suffers daily, three-hour power cuts.
Protesters say they are starving and, in many cases, suffering heat exposure after hours spent in line to get food. The Venezuelan Observatory of Violence says at least 10 looting incidents occur across the country every day, to which authorities often respond with tear gas and riot police. On Wednesday, at least three separate protests broke out in parts of the capital, Caracas, a day after demonstrators blocked a road close to the presidential palace.
A four-year-old girl was shot dead on Tuesday as she queued for food with her mother at a government-owned grocery shop in Guatire, a Caracas suburb. Eight other people are thought to have been injured in the incident. Meanwhile, police and National Guardsmen responded en masse to violence and looting in the coastal city of Cumuna, arresting more than 400 people. The city's mayor imposed a three-day ban on motorcycles, which looters use to flee.
Opposition congresswoman Milagros Paz said the looters were people desperate for food, telling Venezuelan newspaper El Universal that the government "has not admitted the food distribution emergency". But prominent PSUV politician Diosdado Cabello blamed the unrest on "fascist" opposition groups, telling viewers of his weekly TV programme, Con el Mazo Dando ("Hitting with the Sledgehammer"), that it was a "fairy tale that these are spontaneous protests."
Opposition leaders say the crisis is a result of government mismanagement, but Mr Maduro and his allies claim Venezuela is the victim of an economic war fomented by the US to drive him out of office. This week, Mr Maduro and US Secretary of State John Kerry both announced they would hold talks aimed at restoring diplomatic relations between the two countries, which have been without mutual ambassadors since 2008.
Yet Mr Kerry has also urged Venezuela to go ahead with a vote on recalling Mr Maduro, after the President's opponents collected more than a million signatures for a petition demanding a referendum. Opinion polls suggest Mr Maduro would be soundly defeated in such a vote, but the government is accused of stalling. If a recall vote were held this year and Mr Maduro lost, a presidential election would be called – but if the vote is delayed until 2017, then the vice president would be allowed to take over and see out his term, which ends in 2019.
Join our new commenting forum
Join thought-provoking conversations, follow other Independent readers and see their replies