US to impose sanctions on 'dictator' Nicolas Maduro as the Venezuelan crisis deepens
New sanctions will freeze all of the President's assets under US jurisdiction and will stop any American having business dealings with him
Caroline Mortimer
Monday 31 July 2017 23:18 Comments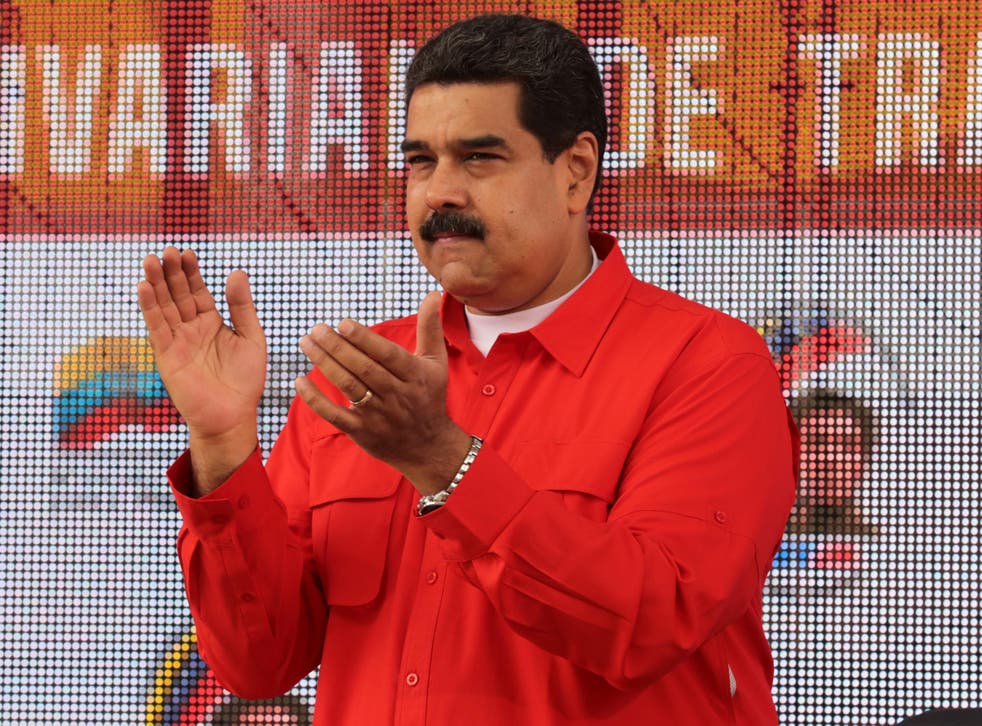 The US government has imposed sanctions on Venezuelan President Nicolas Maduro, calling him a "dictator" following the "sham" election of a new legislative body to redraft the constitution.
All of Mr Maduro's assets which are under US jurisdiction are now frozen and all American citizens are banned with having an economic dealings with him.
The move comes after a special referendum held in the country on Sunday to elect a new legislative body, separate from the Venezuelan parliament, the National Assembly – which has been controlled by the opposition since January 2016.
The new "constituent assembly" has been given sweeping powers to redraft the constitution to allow Mr Maduro to seize much more power.
The Treasury Department's Office of Foreign Assets Control announced the sanctions against Mr Maduro in a brief statement on Monday, a day after the vote.
Treasury Secretary Steve Mnuchin said in a statement: "By sanctioning Maduro, the United States makes clear our opposition to the policies of his regime and our support for the people of Venezuela who seek to return their country to a full and prosperous democracy."
National security adviser H R McMaster described the election as an "outrageous seizure of absolute power" that "represents a very serious blow to democracy in our hemisphere.
"Maduro is not just a bad leader, he is now a dictator," he said.
The Trump administration imposed sanctions on more than a dozen senior current and former Venezuelan officials last week, warning the socialist government that new penalties would come if Mr Maduro went ahead with Sunday's election for the assembly.
Electoral authorities claimed more than eight million people voted on Sunday to create a constitutional assembly endowing Mr Maduro's ruling party with virtually unlimited powers, though independent analysts estimated the real turnout was less than half that figure.
Opposition leader Henrique Capriles, the governor of the central state of Miranda, urged Venezuelans to protest on Monday against an assembly that critics fear will effectively create a single-party state.
They boycotted the election and said 88 per cent of voters had abstained.
Mr Maduro has said the new assembly will begin to govern within a week.
He said he would use the assembly's powers to bar opposition candidates from running in gubernatorial elections in December unless they sit with his party to negotiate an end to hostilities that have generated four months of protests that have killed at least 125 and wounded nearly 2,000.
Venezuela's chief prosecutor's office reported 10 deaths in new rounds of clashes on Sunday between protesters and police.
Mr Maduro is severely unpopular among ordinary Venezuelans with an estimated 75 per cent of wanting him out of office after the country has been gripped by an economic crisis following the collapse of the oil price.
World news in pictures

Show all 50
Years of financial mismanagement coupled with generous welfare payments, which began under Mr Maduro's predecessor Hugo Chavez, have made the economy uncompetitive and led to hyperinflation with hundreds forced to queue for hours or cross the border into Columbia or Brazil for basic supplies.
Before the announcement, officials had said the sanctions could target Venezuela's oil sector, including possibly its state-owned petroleum company.
But after the announcement, an official said Trump's administration held off on sector sanctions due to possible complications, including some involving subsidiaries. The official wasn't authorised to speak publicly on the process and demanded anonymity.
Additional reporting by agencies
Register for free to continue reading
Registration is a free and easy way to support our truly independent journalism
By registering, you will also enjoy limited access to Premium articles, exclusive newsletters, commenting, and virtual events with our leading journalists
Already have an account? sign in
Join our new commenting forum
Join thought-provoking conversations, follow other Independent readers and see their replies