Three dead in protests as Venezuela votes on controversial new assembly
Two more people were killed on the eve of the poll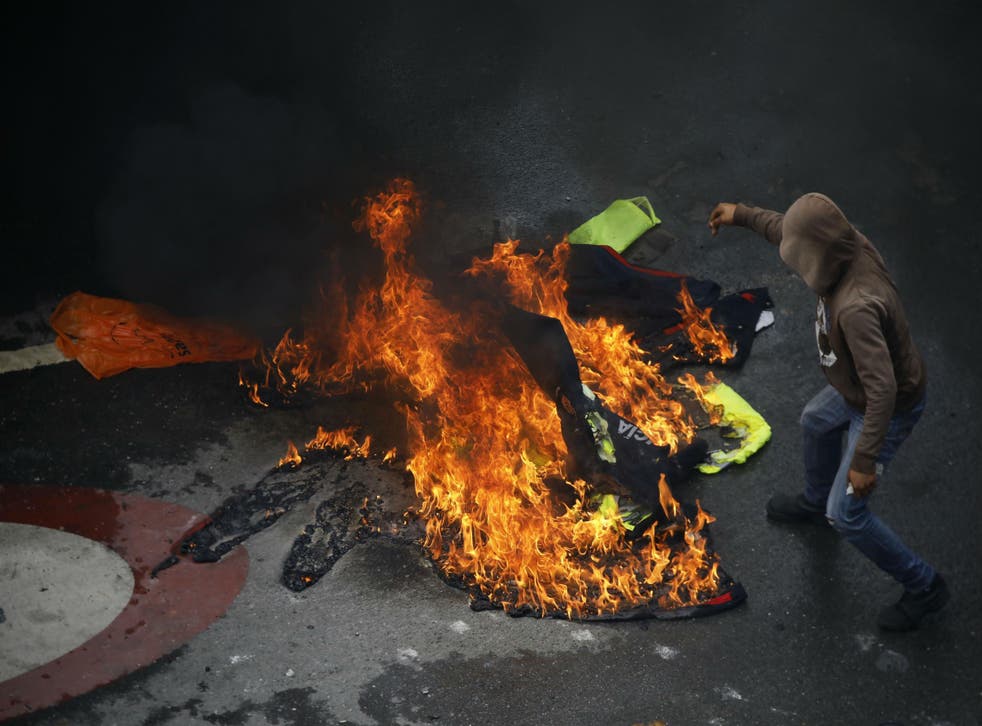 At least three people were reported to have been killed in protests as Venezuela held a ballot over a controversial measure critics of Nicolas Maduro say will further cement his control of the country.
Opponents of Mr Maduro boycotted the election and reports said the streets of many cities were largely quiet as a trickle of people went out to vote. Tens of thousands of troops were deployed to ensure order.
But the country chief prosecutor's office said there were at least three deaths it knew of. It said 28-year-old Angelo Mendez and 39-year-old Eduardo Olave were killed at a protest in Merida, while 30-year-old Ricardo Campos was killed in a separate incident in Sucre.
Leaders with the opposition Democratic Action party on Twitter identified Mr Campos as the group's youth secretary in Sucre, according to the Associated Press. Earlier, there were reports of at least two people being killed on Saturday.
Mr Maduro, who was elected in 2013 following the death of Hugo Chavez, cast his vote in Caracas shortly after 6am. He also asked for global acceptance of the results.
"We've stoically withstood the terrorist, criminal violence," Mr Maduro said, according to AP. "Hopefully the world will respectfully extend its arms toward our country."
Yet Venezuela's opposition parties wanted nothing do do with the vote. They have argued the new assembly will allow the president to dissolve the opposition-run Congress, suspend future elections and rewrite electoral rules.
The day before the vote, opposition leader Leopoldo Lopez, who was recently released from jail, said there would be protests across the country. "No to constitutional fraud," he said on Twitter.
Violent protests erupt in Venezuela against President Maduro
"Even if they win today, this won't last long," said opposition supporter Berta Hernandez, referring to the vote that only contained government candidates. "I'll continue on the streets because, not long from now, this will come to an end."
The US purchases 700,000 barrels of oil a day from Venezuela. Yet Washington, along with neighbouring Colombia, denounced the vote and said they would not recognise it. The US's UN Ambassador Nikki Haley said on Twitter: "Maduro's sham election is another step toward dictatorship. We won't accept an illegit govt. The Venezuelan ppl & democracy will prevail."
The controversy over the assembly is the latest development in months of unrest that have beset Venezuela against a backdrop of food shortages, soaring inflation and growing anger against the government. Even many supporters of Mr Chavez have grown weary with what they consider Mr Maduro's ineffectiveness; the opposition has called for him to stand down.
More than 100 people have been killed in recent months as a result of protests. Among the latest to lose their life was a government assembly candidate, Felix Pineda, 39, who was shot dead at his home on Saturday night.
Earlier this month, the opposition organised an unofficial referendum over Mr Maduro's plan. More than seven million voters rejected the constituent assembly and voted in favour of early general elections.
Last week, Donald Trump's administration urged Venezuela not to go ahead with the poll and moved to impose sanctions on 13 senior Venezuelan officials close to Mr Maduro.
World news in pictures

Show all 50
Mr Maduro dismissed the move by the US at a rally ahead of the vote.
"Congratulations for these imperialist sanctions," he said, according to Reuters. "What makes the imperialists of the United States think they are the world government?"
Last week, it emerged that the head of of the CIA had hinted the US was seeking to secure a government change in Venezuela and was working with Mexico and Colombia to make it happen.
"So I want to be careful with what I say but suffice to say, we are very hopeful that there can be a transition in Venezuela and we, the CIA, is doing its best to understand the dynamic there, so that we can communicate to our State Department and to others," CIA Director Mike Pompeo said during in answer to a question at a security forum.
Register for free to continue reading
Registration is a free and easy way to support our truly independent journalism
By registering, you will also enjoy limited access to Premium articles, exclusive newsletters, commenting, and virtual events with our leading journalists
Already have an account? sign in
Register for free to continue reading
Registration is a free and easy way to support our truly independent journalism
By registering, you will also enjoy limited access to Premium articles, exclusive newsletters, commenting, and virtual events with our leading journalists
Already have an account? sign in
Join our new commenting forum
Join thought-provoking conversations, follow other Independent readers and see their replies