Venezuela opposition parties banned from election
Nicolas Maduro has banned the main opposition parties' candidates from the forthcoming presidential election
Monday 11 December 2017 00:59 GMT
Comments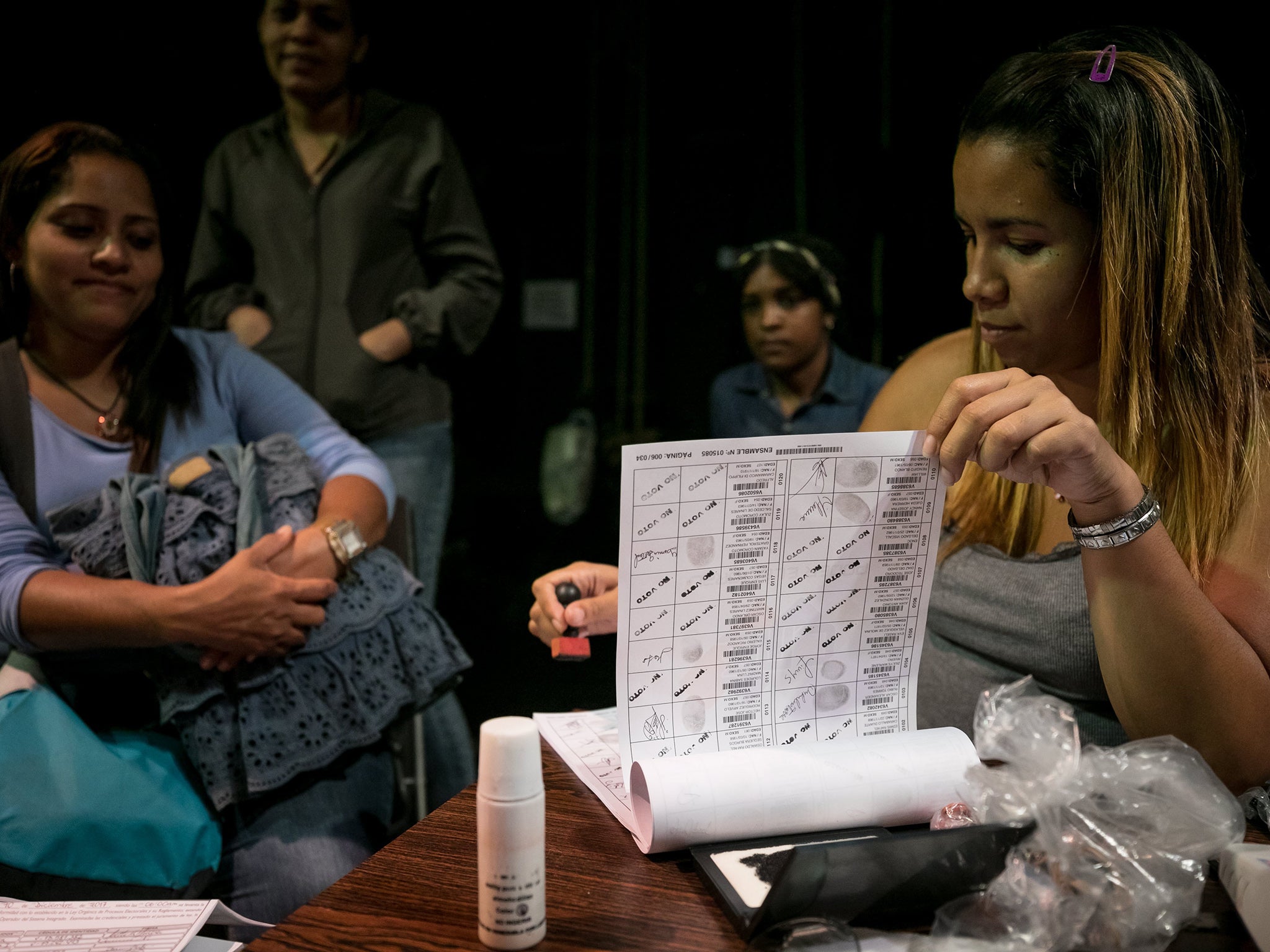 The President of Venezuela has said the country's main opposition parties are banned from taking part in next year's presidential election.
Nicolas Maduro said only parties which took part in this weekend's mayoral vote would be able to participate.
The Justice First, Popular Will and Democratic Action parties refused to take part in the poll, saying the electoral system was unfair.
"They won't participate, they will disappear from the political map," Mr Maduro said after casting his vote in Caracas.
Some small parties in the Democratic Unity coalition dissented, however, and ran candidates on Sunday.
That confused opposition supporters already disillusioned at the failure to weaken Mr Maduro in months of protests that took 125 lives earlier this year.
Under his rule since 2013, Venezuela has endured one of the worst economic meltdowns in Latin American history.
"If we're going to change the government, we need to do it democratically," said 81-year-old retiree Raul Ocana. "It was a huge mistake (by opposition parties) not to participate."
After the Socialists notched surprise wins in October gubernatorial elections, they were confident of repeating the feat on Sunday to increase the party's current share of roughly 70 percent of mayorships.
State agencies have pressured voters to participate in elections this year, particularly in the July 30 vote for the all-powerful Constituent Assembly, which the opposition also boycotted.
Some government employees said on Sunday they were being flooded with text messages urging them to show they had voted by posting their ID numbers to state-run websites and to upload pictures of voting centres to social networks.
"They won't leave us alone," said a government ministry employee who requested anonymity.
Opposition activists said the government abused state resources, including bribing people to vote with handouts of food vouchers worth 500,000 bolivars - more than a monthly minimum wage or about $5 at the black market rate.
Voting lines observed by Reuters reporters around Venezuela, appeared much thinner, however, than at past elections.
"What happened today wasn't an election and no one will see it as such," said the hardline opposition party Popular Will, which boycotted the vote. "Venezuelans want to vote in free and fair conditions."
The Socialists were also hoping to win a rerun of the October gubernatorial election in western Zulia state.
Opposition leader Juan Pablo Guanipa won that governorship in October, but the election was annulled and he was barred from holding office after he refused to swear allegiance to the pro-Maduro legislative superbody.
Former Zulia Governor Manuel Rosales ran on the opposition ticket, but Guanipa supporters and other sectors of the opposition boycotting Sunday's vote have called him a "traitor."
Yon Goicoechea, an opposition activist running for mayor in the wealthy Caracas suburb of El Hatillo, said it was self-destructive for larger anti-Maduro parties to abstain and hand political victories to the Socialist Party.
"There's reticence to participate because the national election board doesn't offer guarantees or impartiality," Mr Goicoechea, who is just out of jail for alleged coup-plotting, told Reuters. "But the solution cannot be giving up the right to vote. ... The abstentionists will regret it within two weeks."
Maduro's approval ratings have fallen by half since he was elected in 2013 following the death of Socialist leader Hugo Chavez.
Despite the nation's economic problems and the accusations of squashing democracy, Mr Maduro is enjoying a political upturn after the October gubernatorial vote.
He is expected to be the Socialists' candidate in the 2018 presidential election and maintains support among party loyalists like retiree Jose Flores, 71.
"It's a way of showing other countries that there's no dictatorship here," Flores said outside a voting centre on the poor west side of Caracas. "On the contrary, what we have is peace and democracy."
Reuters
Join our commenting forum
Join thought-provoking conversations, follow other Independent readers and see their replies