Venezuela to reissue currency as value of its biggest banknote drops to 2p
The largest-denominated note is curently 100 Bolivars but a two-litre soft drink costs around 25 times that ammount 
Alexandra Sims
Sunday 04 December 2016 22:38 Comments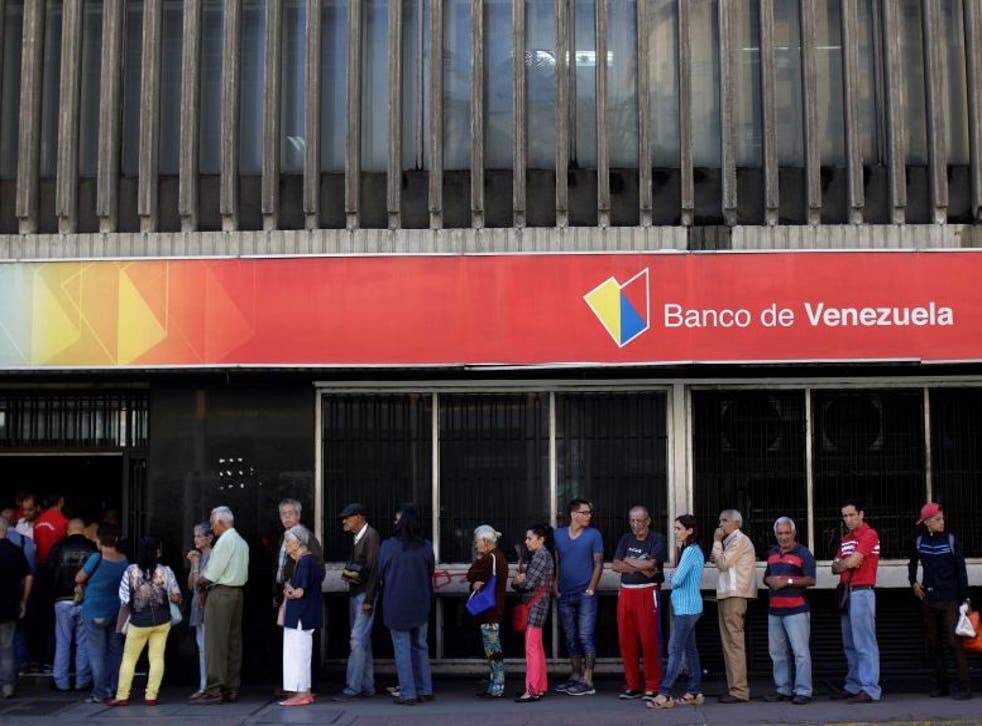 Venezuela will begin issuing higher denomination bank notes as soaring inflation and a currency meltdown leave the country's largest note worth just two pence on the black market.
The central bank said in a statement on Saturday that six new bank notes ranging from 500 to 20,000 Bolivars will begin circulating on 15 December.
The largest-denominated bill is currently 100 Bolivars, but a two-litre soft drink can cost 25 times that amount.
The announcement comes as Venezuela teeters on the brink of economic collapse.
In 2014, plummeting global oil prices decimated Venezuela's economy. President Nicolás Maduro responded by fixing the official exchange rate and ordering banks to print more cash, which ultimately devalued the currency further, while goods prices soared.
The currency lost 67 per cent of its value on the black market last month, falling to 4,587 Bolivars per US dollar - the steepest monthly plunge ever, according to data by Dolar Today, which tracks the black market rate by monitoring transactions with the currency at foreign exchange houses across the border in Colombia.
Venezuelans are leaving their pets to starve
Inflation is rocketing and expected to surpass four digits next year, according to the International Monetary Fund.
Cash has reportedly become impossible to find with ATM withdrawals capped at a very low amount. The shrinking value of the currency has meant that withdrawing the equivalent of £5 from an ATM produces a fistful of more than 100 bills. Some ATMs now need to be refilled every three hours.
On Friday, the nation's credit card payment system unexpectedly froze for several hours.
Earlier this week, some shopkeepers reportedly began weighing rather than counting the wads of cash customers handed them, and standard-size wallets became all but useless, with many people stuffing huge volumes of cash into handbags, money belts, or backpacks instead.
The country of 30 million does not publish consumer-price data on a regular basis, but observers have said scenes on the streets of the capital, Caracas, are reminiscent of the past century's most chaotic cases of hyperinflation.
World news in pictures

Show all 50
Mr Maduro has accused "mafias" in neighboring Colombia of trying to carry out an "economic coup" against his socialist-run economy.
The currency meltdown comes amid what should've been a rare bout of good economic news for Venezuela after OPEC last week ceded to months of pressure from Mr Maduro and other oil-dependent nations and decided to cut production levels for the first time since 2008. Crude prices rallied the most in five years as a result.
Venezuela has maintained strict currency controls since 2003 and currently has two legal exchange rates of 10 and 663 Bolivars per dollar used for priority imports. On the black market, where people and businesses turn when they can't obtain government approval to purchase dollars at the legal rates, the Bolivar has collapsed by a factor of five over the past year.
Additional reporting by Associated Press
Register for free to continue reading
Registration is a free and easy way to support our truly independent journalism
By registering, you will also enjoy limited access to Premium articles, exclusive newsletters, commenting, and virtual events with our leading journalists
Already have an account? sign in
Join our new commenting forum
Join thought-provoking conversations, follow other Independent readers and see their replies