Death toll reaches 26 as political protests in Venezuela continue
Opposition has taken to the streets to demand fresh elections as economic crisis continues to bite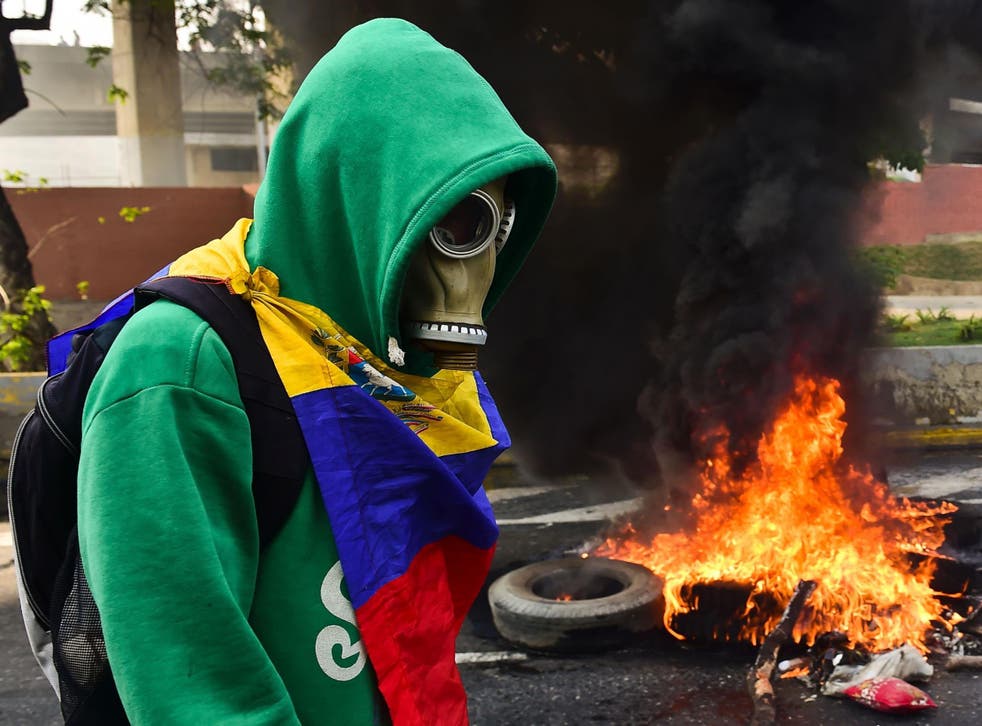 Two men have become the latest to die in political violence in Venezuela, bring the number of fatalities in recent weeks up to 26.
The state prosecutor's office in the western state of Lara said Orlando Medina, 23, was gunned down in a protest against the rule of President Nicolas Maduro.
Meanwhile, 52-year-old Luis Marquez died in the Andean state of Merida in the early hours of Tuesday morning after being shot at a pro-Maduro rally, state ombudsman Tarek Saab said.
Three weeks ago the Venezuelan opposition launched street protests against the financial mismanagement and anti-democratic policies of the government.
15 people have died in violence around demonstrations and 11 others in night-time lootings, the state prosecutor's office said on Tuesday.
Four of those killed were teenagers.
Nearly 1,500 people have been arrested, with 801 still detained as of Tuesday, rights group Penal Forum said.
Political activists and Venezuelan media have reported more deaths, but those have not been confirmed.
World news in pictures

Show all 50
The opposition has fought an ongoing battle with Mr Maduro's government over the past 18 months as they have had their attempts to force a recall election thwarted by the courts which are widely believed to be in the ruling Socialist party's thrall.
The opposition, led by the Democratic Unity coalition, has called for fresh elections, the release of jailed activists and autonomy for the opposition-led legislature.
But the government says the foes are plotting a violent, US-backed coup to bring back capitalism and free markets.
Democratic Unity is attempting to keep up pressure on Mr Maduro and is planning a march on Wednesday in the capital Caracas.
Past attempts to reach that area have been blocked by security forces using teargas and rubber bullets against masked youths hurling stones and Molotov cocktails.
"The Venezuelan people will stay in the street until there is an election timetable, a humanitarian aid channel, freedom for political prisoners and independence for public institutions, especially the National Assembly," said Ismael Garcia, a legislator with opposition party Justice First.
Thousands of red-shirted Maduro supporters marched in the state of Falcon on Tuesday, chanting pro-government slogans and denouncing the opposition for violence.
"They call themselves defenders of human rights but then they murder people. They're the same as 2002," Socialist Party No 2 Diosdado Cabello told the crowd, referring to a short-lived coup against the late President Hugo Chavez that year.
Venezuela is in the grip of a major economic crisis caused by the collapse of the oil price and price controls imposed by the government which has led to hyperinflation on the black market.
Last year, animals were reportedly starving to death in the country's zoos because their keepers could no longer afford to feed them meat.
The unrest is Venezuela's worst since 2014, when 43 people died in months of mayhem sparked by protests against Mr Maduro who succeeded to the presidency after Chavez died in 2013.
Additional reporting by agencies
Join our new commenting forum
Join thought-provoking conversations, follow other Independent readers and see their replies