Venezuela presidential election: Nicolas Maduro's government blocks opposition candidates from competing
'The Venezuelan government and its illegitimate Constituent Assembly are inventing rules as they go along. This is not democracy'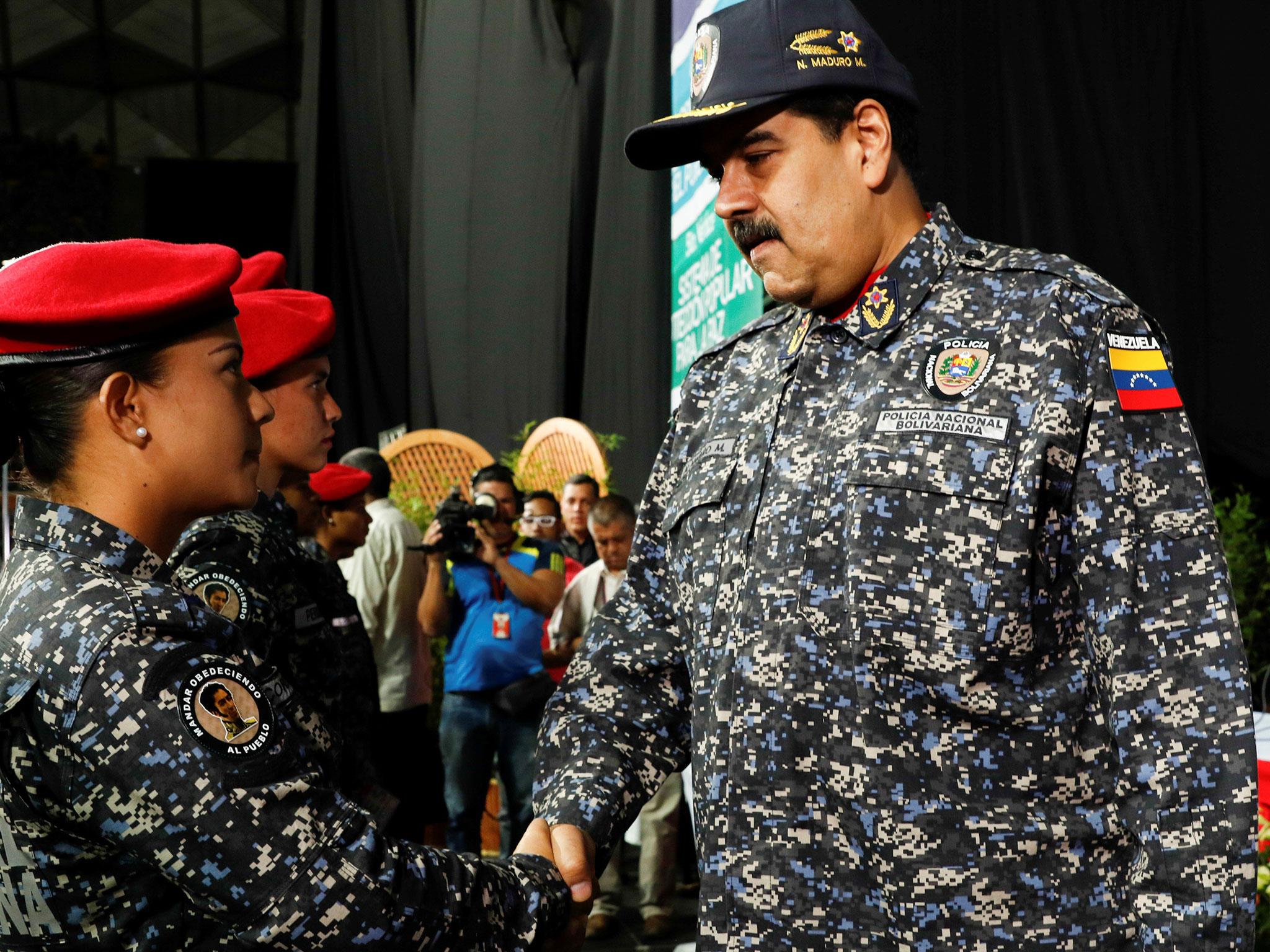 Venezuela's pro-government constitutional assembly has stripped three of the country's most influential opposition parties of the right to participate in next year's presidential election.
The Constituent Assembly ruled that parties who boycotted this month's local elections had lost legitimacy, requiring them to reapply for legal status and potentially eliminating them from the 2018 presidential race.
The decree has infuriated Venezuela's opposition and drew criticism from the United States, whose embassy said: "The Venezuelan government and its illegitimate Constituent Assembly are inventing rules as they go along. This is not democracy."
Richard Lapper, an expert on Latin American politics and economics at Chatham House, said the move was emblematic of Venezuela's growing authoritarianism.
"Although you can criticise the opposition for the way they've handled everything, this is a clear sign the government is closing down the democratic space," he told The Independent. "It has been expected that this would be the next step."
He said NGOs were "now talking about Venezuela as a complex humanitarian emergency" as the government is not allowing any assistance into the country, which is suffering widespread shortages of basic goods. "The shortages are really beginning to bite in the most dramatic fashion," he added.
"If there's no means of changing the government within the democratic system, then clearly he [President Nicolas Maduro] is going to control the democratic system in the same way as the North Koreans."
Opposition protesters clash with security forces in Venezuela
The Justice First, Democratic Action and Popular Will parties did not run candidates in this month's mayoral polls in protest against what they said was a biased election system designed to perpetuate the leftist president's "dictatorship."
The government-stacked National Electoral Council relocated dozens of voting centres in predominantly opposition strongholds days before those votes. In one state, opposition members presented evidence that electronic ballot tabulations did not match up with printed copies held by observers.
Ruling socialist party candidates won 18 of 23 governorships in a surprise victory for a government that has struggled to combat rising crime, malnutrition and medicine shortages.
Mr Maduro had warned that could cost them participation in future votes and the Constituent Assembly echoed that position on Wednesday, saying the parties had lost their legal status and should re-apply to the National Election Board.
"A party that has not participated today cannot participate anymore," Mr Maduro said after casting his ballot in the December election. "They will disappear from the political map."
Given that the board is pro-Maduro and authorities are constantly throwing up obstacles to the opposition, that could well mean those parties are now effectively unable to run in the presidential election due before the end of 2018.
A turbulent year in Venezuela
Show all 11
Mr Maduro, 55, is expected to run for re-election despite the disastrous state of the economy in Venezuela, where millions are skipping meals and struggling to survive amid one of the world's highest inflation rates.
Two of his potentially biggest rivals already cannot run against him: Popular Will leader Leopoldo Lopez is under house arrest, while Justice First leader Henrique Capriles is prohibited from holding political office.
"We alert the world and all democratic governments that banning opposition political parties is yet another measure by the dictatorship that deserves rejection and condemnation," said Mr Capriles' party colleague, Tomas Guanipa.
Mr Maduro and his allies say the Constituent Assembly has brought peace to the OPEC nation after months of opposition protests earlier this year in which more than 125 people were killed.
Demonstrators said they were fighting for freedom, but the government condemned them as violent subversives.
Additional reporting by agencies
Join our commenting forum
Join thought-provoking conversations, follow other Independent readers and see their replies