Venezuela's currency now worth so little shopkeepers weigh vast piles of notes instead of counting them
Scenes on the streets of Caracas said to be reminiscent of the past century's most chaotic cases of hyperinflation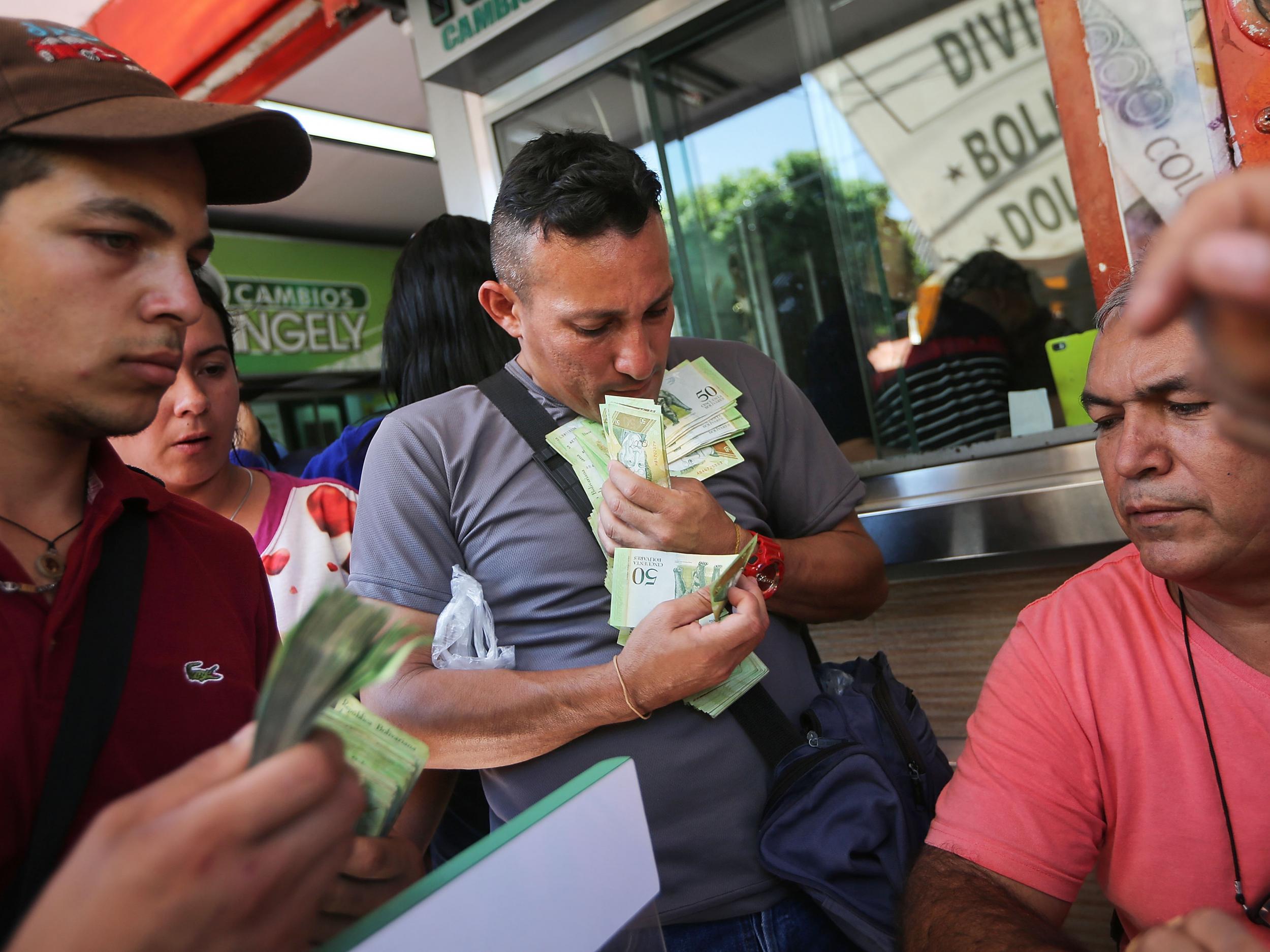 Inflation in Venezuela is expected to reach 720 per cent this year, with the largest bolívar bill now worth just five US cents on the black market.
Some shopkeepers have reportedly taken to weighing rather than counting the wads of cash customers hand them, and standard-size wallets have become all but useless in the socialist South American state. Instead, many people stuff huge volumes of cash into handbags, money belts, or backpacks, in scenes analysts have said are suggestive of "runaway" inflation.
In 2014, plummeting global oil prices decimated Venezuela's economy. President Nicolás Maduro responded by fixing the official exchange rate and ordering banks to print more cash, which ultimately devalued the currency further, while goods prices soared.
Venezuelans are leaving their pets to starve
The country of 30 million does not publish consumer-price data on a regular basis, but observers have said scenes on the streets of the capital, Caracas, are reminiscent of the past century's most chaotic cases of hyperinflation.
Humberto Gonzalez, who runs a delicatessen in the city, said he uses the same scales to weigh slices of salty white cheese and the stacks of bolívar notes handed over by his customers .
"It's sad," Mr Gonzalez told Bloomberg. "At this point, I think the cheese is worth more."
Jesus Casique, a consulting firm director, told the news site that although weighing cash was not ubiquitious, it was indicative of a financial crisis.
"When they start weighing cash, it's a sign of runaway inflation," he said. "But Venezuelans don't know just how bad it is because the government refuses to publish figures."
Oil makes up a staggering 95 per cent of Venezuela's exports, and accounts for a quarter of the country's economy, with oil-related revenues having historically supplied roughly half the government budget. This kind of over-reliance on a single export notoriously depresses all other industries in a country, in a phenomenon known by economists as "Dutch Disease".
Venezuelans head to Argentina to escape hardship
When the price of oil on the global market collapsed by two-thirds in 2014, Venezuela had little else to fall back on, so a natural reaction would have been for the bolívar to collapse. But Mr Maduro, who succeeded Hugo Chávez following the revolutionary leader's death in 2013, instead tried to control the exchange rate, creating a massive black market for currency.
Figuring out scams to get dollars and then sell them for bolívars became hugely lucrative business for Venezuelans, setting off a feedback loop that drove the inflation rate higher and higher.
In one of Caracas richer neighbourhoods, the owner of a tiny kiosk selling newspapers, cigarettes and snacks told the Washington Post that every evening he quietly stuffs a plastic bag full of the day's earnings, around 100,000 bolívars (about £42) in notes of 10, 20, 50 and 100 bolívars. Venezuela has one of the highest crime rates in the world, and he said carrying that much cash frightens him.
"All of Caracas is unsafe," the 42-year-old told the newspaper, opting not to give his name.
His best-selling item is cigarettes, he said, which have climbed in price from 250 bolívars to 2,000 bolívars a pack — at least 20 bills.
The shrinking value of the currency has meant that withdrawing the equivalent of £5 from an ATM produces a fistful of more than 100 bills. Some ATMs now need to be refilled every three hours, because the machines can only hold so much cash. This means there are often a limited number of functioning ATMs in Caracas, and long queues to withdraw money.
In pictures: Miss Gay Venezuela beauty pageant
Show all 15
Electronic payment is increasingly common in the country Henkel Garcia, director of the Venezuelan economic think tank Econométrica, told the Washington Post. "The use of online payments is likely to have soared," he said.
But it is expensive for small businesses to buy and set up credit-card machines.
Mr Maduro, who has largely continued the socialist policies of his predecessor, blamed the situation on an "economic war" waged by his opponents in the business community and in the United States. But, in a sign his government recognises the severity of the problem, he recently announced the issue of larger-denomination bills, expected in January.
The notes are reportedly set to start at 500 bolivars and reach 20,000 bolivars, or just over £8.
Until the notes are issued, however, the Venezuelan people are poorer than ever, while the country is awash with cash.
Bremmer Rodrigues, who runs a bakery on the outskirts of Caracas, said his family are at a loss over what to do with their bags of bills. Every day his business takes in hundreds of thousands of bolívar, he said, which he hides around his office until packing them up in boxes to deposit at the bank. He said if someone looked in on him, he might be mistaken for a drug dealer.
"I feel like Pablo Escobar," the 25-year-old told Bloomberg. "It's a mountain of cash, every day more and more."
Join our commenting forum
Join thought-provoking conversations, follow other Independent readers and see their replies