Joe Biden marries two gay White House officials at his house
Mr Biden seems determined to have a good time during his last months as vice president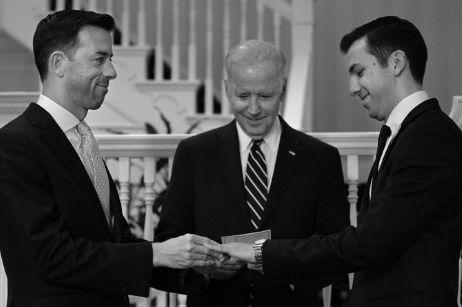 Joe Biden has been enjoying himself recently.
As well as filming an episode of Law & Order last week, the vice president also took on the honourable duty of marrying two White House officials.
On their request, he officiated for Brian Mosteller, the director of Oval Office operations, and Joe Mashie, a trip coordinator for Michelle Obama, at his Washington home.
The ceremony took place one year after his government legalised gay marriage.
"Proud to marry Brian and Joe at my house," he wrote on twitter.
"Couldn't be happier, two longtime White House staffers, two great guys."
He obtained a temporary licence from the District of Columbia to officiate their wedding, as reported by BuzzFeed.
The ceremony topped off a busy few weeks for the man whose favourite put-down is "malarkey", according to the Washington Post. Last week he spoke at the Democratic National Convention to advocate for Hillary Clinton, saying Donald Trump had "no clue".
"He's trying to tell us he cares about the middle class. Give me a break! That's a bunch of malarkey," he said.
He then filmed his first cameo on NBC show Law & Order, where he joined star Mariska Hargitay to praise the Special Victims Unit for working on the backlog of rape kits.
The president's faithful sidekick first met Ms Hargitay in May at a gala for the Joyful Heart Foundation which works to empower the survivors of sexual assault and domestic abuse.
The episode will air on 28 September as part of the 18th season.
Mr Biden has been a champion of women's rights, and has spent months touring college and university campuses to speak about the epidemic of sexual assault.
The VP told ABC news that when president Obama leaves the White House in January, Mr Biden has "no plan on saying goodbye".
"I still care deeply about so many things so I'm going to be engaged," he said.
"I'm going to be out there with a platform to talk about the things I care about. Foreign policy, violence against women and the inequity in the tax structure."
Join our commenting forum
Join thought-provoking conversations, follow other Independent readers and see their replies