Video: Nine two-week-old puppies 'miraculously' rescued from Chilean forest fires
Over 7,000 people have had to be evacuated from their homes due to this week's forest fires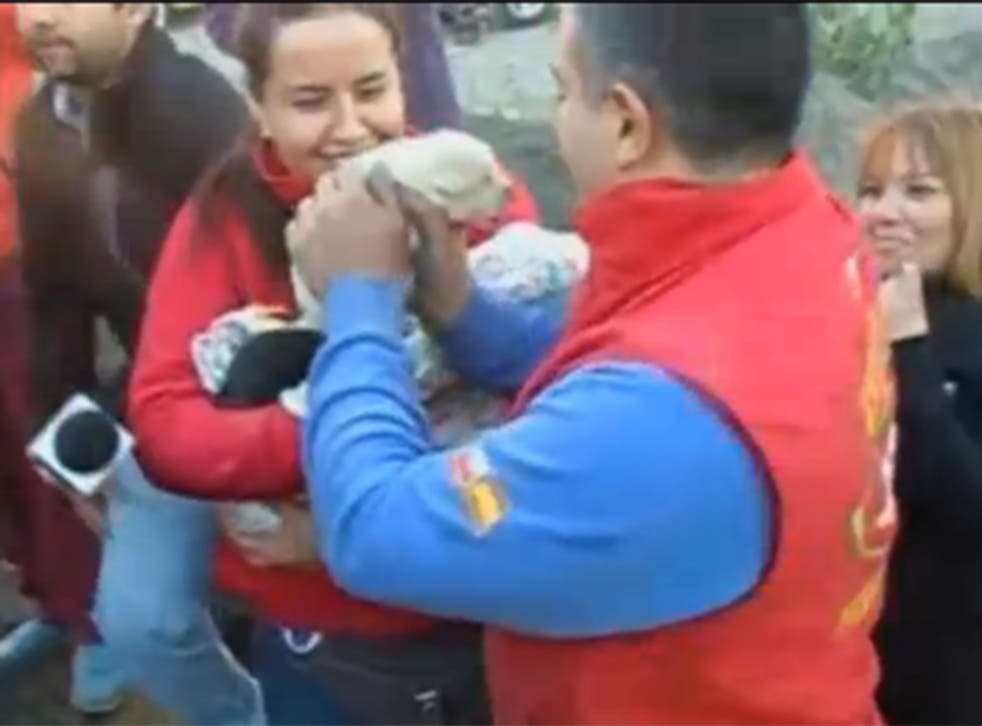 As forest fires continue to rage near the Chilean coastal towns of Valparaiso and Vina del Mar, rescue workers found the time to rescue nine two-week-old puppies trapped in the heart of the fires that have displaced thousands of country's residents.
The puppies were discovered hiding down a hole next to a massive blaze that had broken out on the edge of port city of Valparaiso over the weekend.
After a short search, the puppies were discovered hiding together down a nearby hole.
It took the rescue workers nearly 45 minutes to retrieve all of the animals.
Despite the massive forest fire causing thousands of people to be evacuated from their homes, miraculously the puppies survived and were said to be in "good health".
They were returned to their mother, and will now be cared for by emergency service volunteers.
The area near the coastal cities of Valparaiso and Vina del Mar has been ravaged by forest fires over the last five days.
A total of 7,000 residents have been evacuated from their homes to escape the fire that is believed to have destroyed an area over 2,500 acres.
It was believed to have been started at an illegal rubbish tip on Friday afternoon, and sprerad as a result of powerful winds in the area.
Despite local news outlets reporting firefighters had gained the upper hand on the fire on Sunday, a state of emergency was still in place by the Chilean government with officials wary of the wind changing.
There are currently 200 firefighters on the ground with water dumping planes and helicopters being used to try and put out the flames.
Over the weekend, a 66-year-old woman died from cardiac arrest while she was being evacuated from her home.
A total of 33 people, including 19 firefighters, have been injured as a result of the fire.
Register for free to continue reading
Registration is a free and easy way to support our truly independent journalism
By registering, you will also enjoy limited access to Premium articles, exclusive newsletters, commenting, and virtual events with our leading journalists
Already have an account? sign in
Register for free to continue reading
Registration is a free and easy way to support our truly independent journalism
By registering, you will also enjoy limited access to Premium articles, exclusive newsletters, commenting, and virtual events with our leading journalists
Already have an account? sign in
Join our new commenting forum
Join thought-provoking conversations, follow other Independent readers and see their replies