Amazonian Indian tribe filmed making contact with Brazil village in rare video footage
The tribe made contact with the Ashaninka community in June
Heather Saul
Friday 01 August 2014 10:42 Comments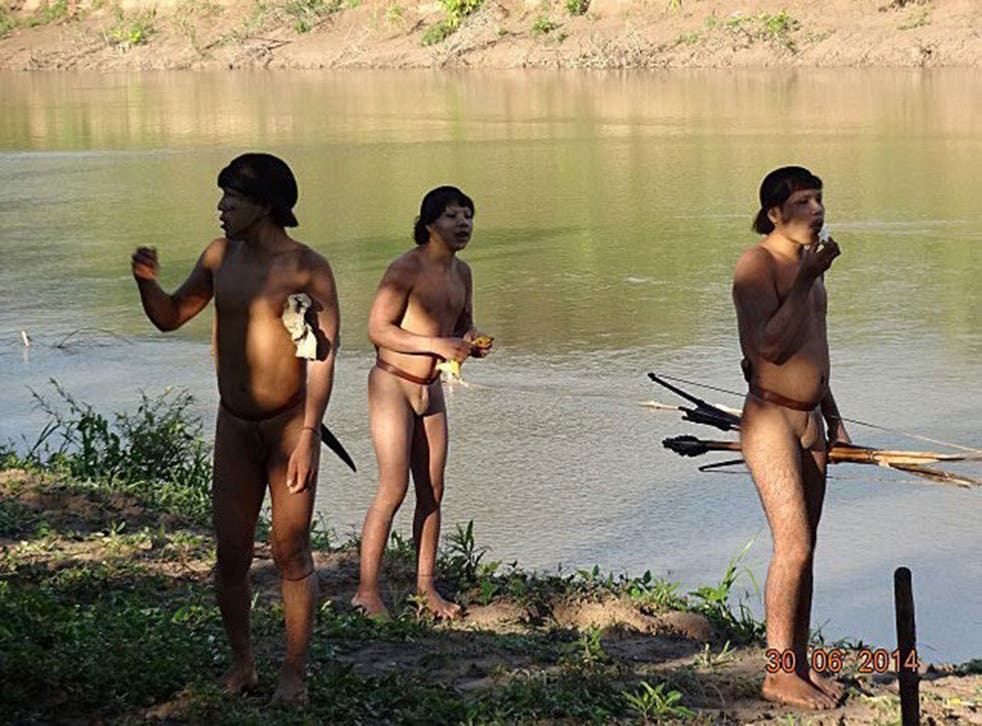 Rare video footage of the moment a previously uncontacted tribe met with the outside world at the Brazil-Peru border has now been released by Brazil's indigenous affairs department.
Indigenous people from the Panoan linguistic group were filmed making contact with the organisation in northern Brazil along the banks of the Envira River in the western Acre state of Brazil, near the Peruvian border.
Members of the indigenous Ashaninka community had laid out clothes as a gesture of friendship after first spotting the tribe on the edges of the forest near their settlement in June.
The Ashaninka community later said the Amazonian Indians had come to their village and tried to make contact, marking the first time in decades that members of an uncontacted tribe had chosen to visit a settled population.
Brazil's National Indian Foundation (FUNAI) said they later travelled to the area with interpreters and a health team and filmed a second encounter on 29 June.
At one point, one of the interpreters can be seen handing over bananas to the natives, who takes them before stepping back apprehensively.
News that members of the tribe had tried to make contact with a village was met with concern earlier in July when it was revealed some were showing flu-like symptoms before they went back to their forest home.
FUNAI said at least seven members of the group were suffering from a virus normally found among outside populations, alarming campaigners for the rights of indigenous peoples.
It is not known whether other members of the tribe were sick and had refused to receive medication, prompting fears that they could spread disease on their return to their way of life.
Brazilian experts now believe the Indians crossed over the border from Peru into Brazil due to pressures from illegal loggers and drug traffickers on their land.
Peru has two reserves where there are uncontacted tribes, including the 481,500-hectare Murunahua Indigenous Reserve.
Survival has launched a petition urging people to write to the Peruvian and Brazilian governments to urge them to protect uncontacted tribes. Visit survivalinternational.org for more information.
Register for free to continue reading
Registration is a free and easy way to support our truly independent journalism
By registering, you will also enjoy limited access to Premium articles, exclusive newsletters, commenting, and virtual events with our leading journalists
Already have an account? sign in
Join our new commenting forum
Join thought-provoking conversations, follow other Independent readers and see their replies