Video shows moments before police shoot unarmed black man lying down with his hands up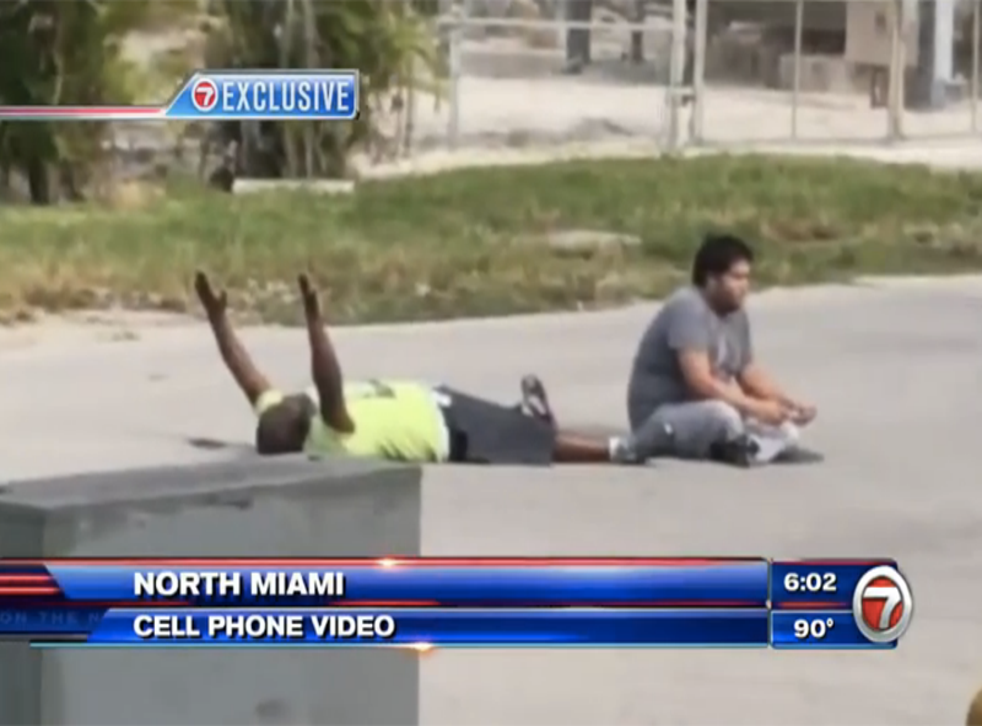 Charles Kinsey, 47, says that North Miami police shot him in the leg with an assault rifle while he was attempting to help his patient with autism.
Kinsey's attorney released cellphone video on Wednesday afternoon showing his client lying on the ground with his hands in the air, asking the officers not to shoot him. Kinsey's 23-year-old patient can be seen sitting next to him, playing with a toy truck.
"I thought it was a mosquito bite, and when it hit me I had my hands in the air, and I'm thinking I just got shot," Kinsey told WSVN-Channel 7. "And I'm saying, 'Sir, why did you shoot me?' and his words to me were, 'I don't know.'"
Kinsey's attorney Hilton Napoleon said the video shows his client lying on his back with his hands in the air, attempting to convince his patient to lie down. "It doesn't make any sense," Napoleon told The Miami Herald.
Unarmed black care worker shot by US police while he was calming autistic patient

Police claim that the officers arrived on the scene after reports of a man with a gun threatening to shoot himself. However, Kinsey can be heard in the video telling police the autistic man was holding a toy.
"Arriving officers attempted to negotiate with two men on the scene, one of whom was later identified as suffering from autism," North Miami Police said in a statement. "At some point during the on-scene negotiation, one of the responding officers discharged his weapon, striking the employee."
Kinsey is recovering from the shooting and is expected to be released from the hospital in the coming days. Still, he told Channel 7 he was more worried about his patient than himself.
Protests and outrage across the US following killings by police

Show all 19
The shooting comes at a time when the use of force by police has come under intense scrutiny by activists. Approximately 990 people were fatally shot by police in the states in 2015, according to The Washington Post.
North Miami police have placed the officer involved in the shooting on paid administrative leave. The Miami-Dade State Attorney's Office is investigating the incident.
Register for free to continue reading
Registration is a free and easy way to support our truly independent journalism
By registering, you will also enjoy limited access to Premium articles, exclusive newsletters, commenting, and virtual events with our leading journalists
Already have an account? sign in