Donald Trump picks 'American dream' billionaire businessman to run US army
Vincent Viola is 'living proof of the American Dream', according to Trump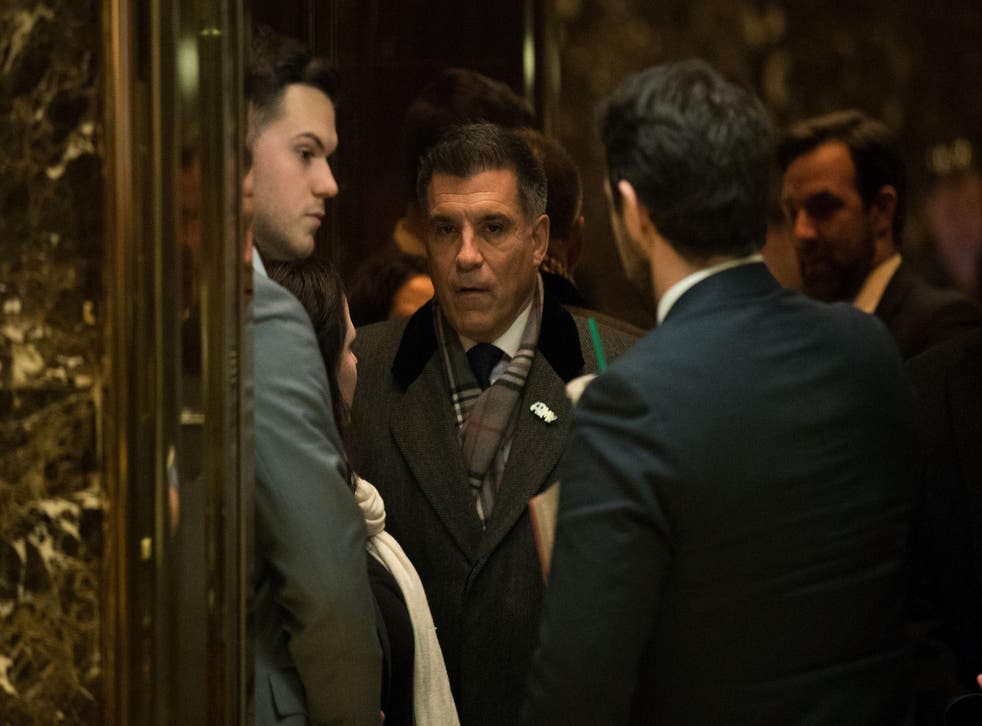 Donald Trump has nominated billionaire businessman Vincent Viola as secretary of the US army.
Mr Viola, worth at least $1.8 billion and founder of trading firm Virtu Financial and owner of hockey team the Florida Panthers, was praised by the Trump transition team.
"Whether it is his distinguished military service or highly impressive track record in the world of business, Vinnie has proved throughout his life that he knows how to be a leader and deliver major results in the face of any challenge," Mr Trump said in a statement.
Mr "Vinnie" Viola, a New York-based Trump donor, is "living proof of the American Dream", according to Mr Trump, as he was born in Brooklyn to Italian immigrants and became a billionaire.
His role will be to head up and present the army's plans, capabilities and budget to the secretary of defense - retired general James Mattis - as well as to a congressional committee.
The incoming army secretary is well connected in financial and national security circles. He graduated in 1977 from military academy West Point, where he trained as an airborne ranger infantry officer and where he remains on the army cyber institute advisory board.
He also went to New York Law School. In 2003 he helped to fund the Combating Terrorism Center at West Point and he is a former chairman of the New York Mercantile Exchange.
"The American people, whether civilian or military, should have great confidence that Vinnie Viola has what it takes to keep America safe and oversee issues of concern to our troops in the Army," Mr Trump said.
Donald Trump's controversial cabinet
He bought the Panthers for about $250 million in 2013. Virtu Financial was founded in 2008 and went public last year.
Mr Trump defended his pick, who is Forbes' number 374 out of the 400 wealthiest people in the US, telling recent rallies that he likes to surround himself with successful business people.
"A primary focus of my leadership will be ensuring that America's soldiers have the ways and means to fight and win across the full spectrum of conflict," Mr Viola said.
"This great honour comes with great responsibility, and I will fight for the American people and their right to live free every day."
The firm he founded, Virtu Financial, specialises in high frequency trading of equities and more exotic instruments like currencies, options and commodities. It generated revenue of $796 million in 2015.
Mr Viola's appointment is the latest addition to the president-elect's national security team.
Mr Trump has already appointed retired general Michael Flynn and Fox News alum KT McFarland as national security adviser and deputy adviser respectively. The president-elect has not yet appointed director of intelligence.
Register for free to continue reading
Registration is a free and easy way to support our truly independent journalism
By registering, you will also enjoy limited access to Premium articles, exclusive newsletters, commenting, and virtual events with our leading journalists
Already have an account? sign in
Register for free to continue reading
Registration is a free and easy way to support our truly independent journalism
By registering, you will also enjoy limited access to Premium articles, exclusive newsletters, commenting, and virtual events with our leading journalists
Already have an account? sign in
Join our new commenting forum
Join thought-provoking conversations, follow other Independent readers and see their replies