Virgin Galactic space rocket crash: Richard Branson's dream of space tourism suffers setback after Mojave crash kills test pilot
The death of a Virgin Galactic pilot after what was described as an 'in-flight anomaly' will further stall plans to break the final frontier of commercial travel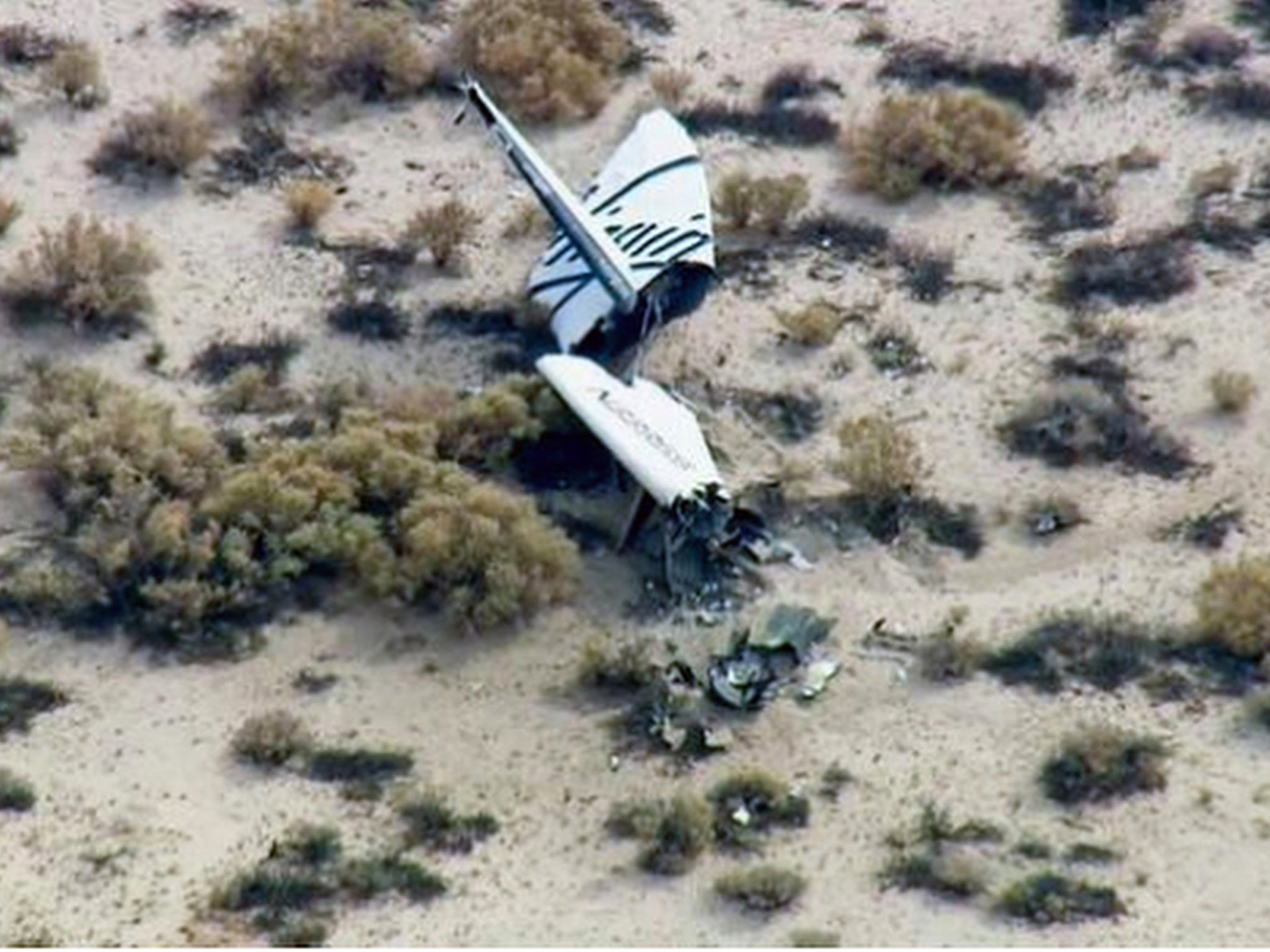 Sir Richard Branson's bid to take paying customers into space has suffered a major blow, after a test flight of a Virgin Galactic spacecraft crashed in southern California, with early reports suggesting one pilot had been killed and another seriously injured.
SpaceShipTwo, the flagship of the British billionaire's commercial spaceflight venture, took off on a test flight yesterday morning from the Virgin Galactic Base, at the Mojave Air and Space Port, a little under 100 miles north-east of Los Angeles.
The craft is designed to be carried aloft by a partner plane, called WhiteKnightTwo, to an altitude of 50,000ft, at which point it peels away and fires its rockets to fly on into sub-orbit alone. Witnesses on the ground said shortly after detaching from WhiteKnightTwo, a little past 10am, SpaceShipTwo suffered a mid-air explosion, which Virgin described as an "in-flight anomaly".
Two test pilots equipped with parachutes were thought to be on board the spacecraft, and local authorities said one had died, while the other managed to eject from the plane and was transported to hospital with "moderate to major" injuries.
The incident puts a large dent in the ambitions of Sir Richard and Virgin Galactic, and could prove to be a public-relations disaster for the nascent space-tourism industry as a whole. Virgin Galactic is one of the leading firms in the commercial space race. Yet the launch date for Virgin's first commercial flight has been repeatedly put back, with some experts sceptical about its chances of launching at all.
In pictures: Virgin Galactic space rocket crash
Show all 9
More than 800 prospective space tourists have already parted with around $200,000 (£125,000) for the privilege of being on an early Virgin Galactic flight; the two-hour trips will include five minutes of weightlessness. The passenger list reportedly includes Justin Bieber, Angelina Jolie and Professor Stephen Hawking. Until the accident, Sir Richard and his children were expected to be aboard SpaceShipTwo's first commercial flight sometime in 2015. Sir Richard tweeted yesterday, "Thoughts with all @virgingalactic & Scaled. I'm flying to Mojave immediately to be with the team".
Earlier this year, Virgin Galactic unveiled a partnership with Nasa to undertake a commercial research flight on the spacecraft, which completed its first powered test flight in April 2013. As part of the long-running test programme, the craft's flights had been edging ever closer to the fringes of space. Before yesterday's crash, the firm suggested SpaceShipTwo might make its first trip to an outer-space altitude – 62 miles – before the end of this year.
Yesterday's flight, conducted by Virgin Galactic's aerospace partner Scaled Composites, was SpaceShipTwo's 55th flight, and the 35th time it had detached from its carrier plane to fly alone. However, it was only the fourth time the craft had fired its rockets – the first such test since January. In the meantime, engineers had altered the make-up of its rocket fuel, from a rubber-based to a plastic-based compound, in a bid to improve the performance.
The last time SpaceShipTwo completed a successful test flight was on 7 October, when it glided unpowered back to the Mojave Space Port from 50,000ft. According to NBC News, yesterday's flight faced a delay of at least three hours as the Virgin ground team made sure the weather was suitable for a test flight. The twin craft were finally cleared for take-off at 9.19am. WhiteKnightTwo then took 45 minutes to carry SpaceShipTwo to 50,000ft before the two planes split and SpaceShipTwo fired its rockets, apparently with fatal results.
"Virgin Galactic's partner Scaled Composites conducted a test flight of SpaceShipTwo earlier today," said a statement on the Virgin Galactic website. "During the test, the vehicle suffered a serious anomaly resulting in the loss of the vehicle. Our first concern is the status of the pilots, which is unknown at this time."
"Space is hard, and today was a tough day," said George Whitesides, CEO of Virgin Galactic, at a press conference. "We believe we owe to the folks who were flying these vehicles to understand this and to move forward, which is what we'll do." WhiteKnightTwo later landed safely.
Join our commenting forum
Join thought-provoking conversations, follow other Independent readers and see their replies