Virginia shooting: New York Daily News and other newspapers spark outrage with front pages 'letting killer tell the story'
UK papers also use images from killer's own video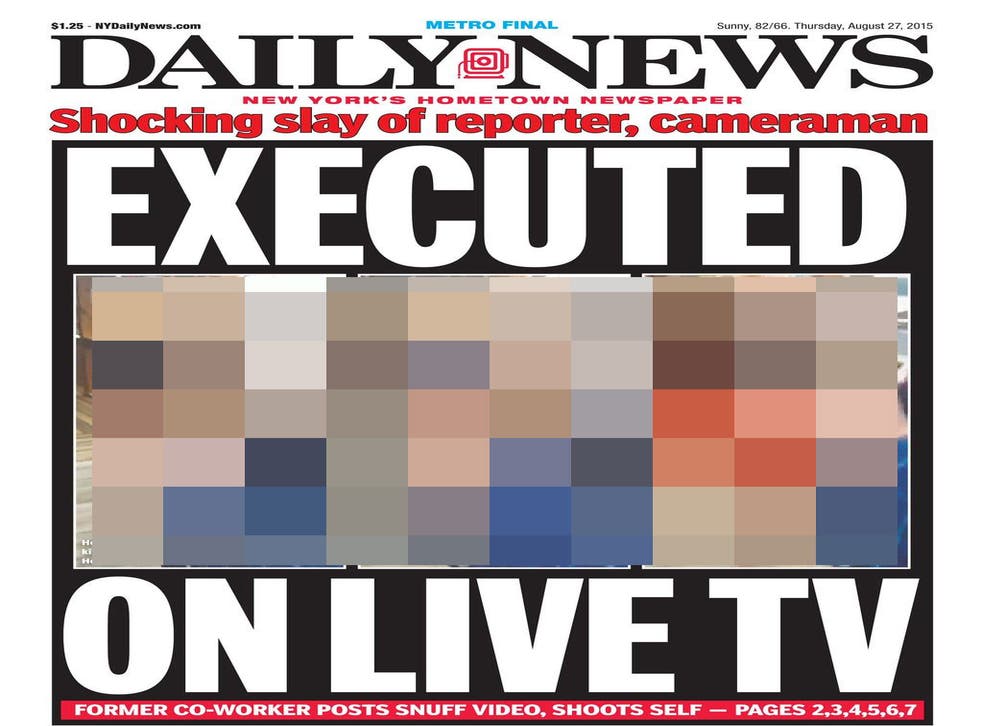 People are waking up around the world to newspaper front pages covering the murder of two US journalists live on TV - but for some, the pictures used to illustrate the story have gone too far.
Live footage of reporter Alison Parker, filmed by her cameraman Adam Ward, was going out live on WDBJ-7 when the pair were shot and killed at a shopping mall on Virginia's Smith Mountain Lake.
Ward's camera captured Parker, smiling as she interviewed local business official Vicki Gardner, as well as their shock when shooting rang out and a flash of the gunman's face.
But it is the use of stills from a second video that has angered readers online. The shooting was also filmed by the suspected gunman himself, Ward and Parker's disgruntled former colleague Bryce Williams, who appears to have posted his video online before he was chased down by police and killed himself.
The New York Daily News, a US tabloid, sparked anger last night with its front page showing the shooting from the gunman's perspective, in three frames, including the flash of the first shot fired.
In the UK, the Sun featured the moment the gun fired as a large, single image – as well as a prompt to "watch the chilling video at sun.co.uk".
The Times and the Daily Mirror also featured front page images from the gunman's video, showing a gun pointing at Parker.
Xan Brooks, a writer and broadcaster, said: "Front pages that use the killer's footage and plug his video may as well give him a byline & copy approval. You're letting him tell the story."
Register for free to continue reading
Registration is a free and easy way to support our truly independent journalism
By registering, you will also enjoy limited access to Premium articles, exclusive newsletters, commenting, and virtual events with our leading journalists
Already have an account? sign in
Register for free to continue reading
Registration is a free and easy way to support our truly independent journalism
By registering, you will also enjoy limited access to Premium articles, exclusive newsletters, commenting, and virtual events with our leading journalists
Already have an account? sign in
Join our new commenting forum
Join thought-provoking conversations, follow other Independent readers and see their replies