Couple claims dog-walking app Wag tried to silence them after their pet died
The company has previously been accused of losing dogs
Chelsea Ritschel
New York
Wednesday 23 January 2019 16:10 Comments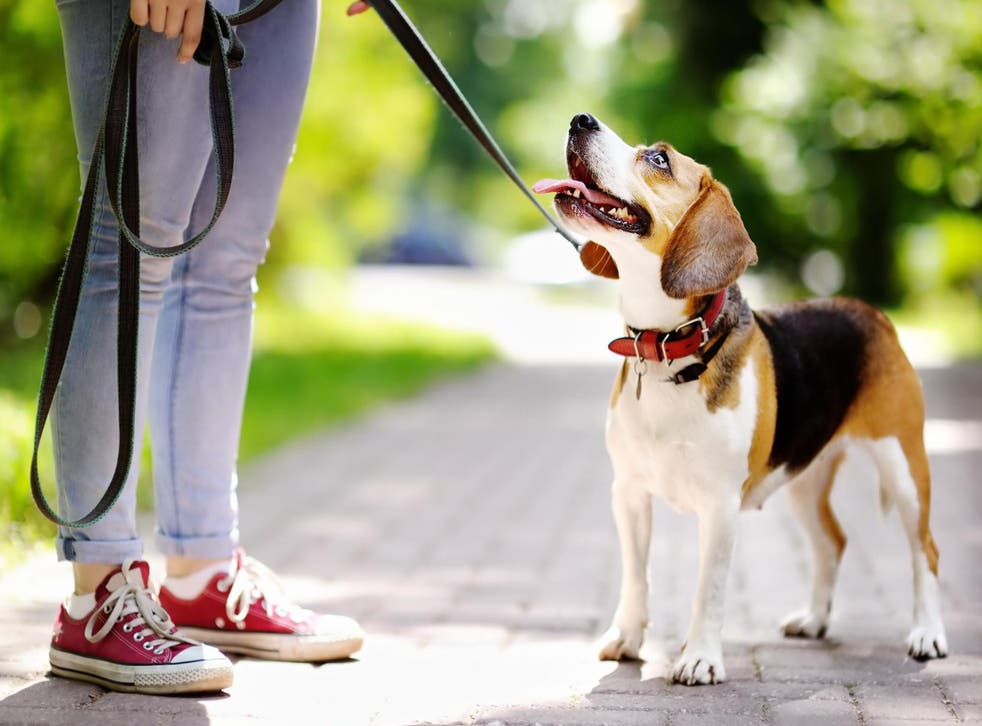 A dog-walking app advertised as the "Uber for dogs" reportedly tried to keep a couple from speaking negatively about the company after their dog was killed while in the care of a Wag dog walker.
Sara and Nick Moore, from Houston, Texas, who'd previously used Wag, used the app to hire a dog walker to take care of their dog Winnie, a Wheaten Terrier, on December 10.
However, because it was a last-minute booking, the couple had to pick the first walker available - a concern from the beginning as Nick explained on Facebook that the walker's name listed on her profile did not match the one in her bio.
The couple's concern grew when they never received a message alerting them that Winnie was on her way home after 60 minutes - at which point Sara called to check in.
According to Nick, the walker "answered and assured Sara that Winnie was home safe" - five minutes before a Wag representative called the couple to explain that Winnie was not home, but had actually been hit and killed by a car.
Doggy maternity shoot

Show all 5
Following the heartbreaking incident, the Moores were told that Winnie was at the animal hospital - and that Wag would take care of all expenses, including the cost of Winnie's cremation.
"We asked Wag for details on what happened and all we got in response was conflicting information or them simply saying they didn't have much information to provide us with," Nick recalled to CBS News.
After saying goodbye to their dog, the couple submitted the receipts to the company - and in return received "a settlement and non-disclosure agreement" informing them that if they wished to receive compensation, they had to "agree not to tell anyone what happened."
"We could not leave any negative reviews, we could not make posts on social media, we could not hold Wag or the walker responsible, and only then would Wag reimburse us for Winnie's cremation," Nick wrote online.
Rather than keeping the company's mistake a secret, the couple decided not to sign the agreement - so they could warn other pet parents about the service's failure to keep Winnie safe.
"We wanted to share our experience with Wag because we know that if this had happened to someone we knew, we would think twice about using their services, and would probably rely on people we know personally instead," Nick concluded on Facebook, where his post has been viewed more than 184,000 times.
In an open letter posted on Wag's website, the CEO of Wag Hilary Schneider addressed the company's handling of pet-related incidents.
"In the rare instance when there's an incident in which we need to work with the pet parents to make sure their needs are addressed, we've required them to sign an agreement - a common practice in the business world," she wrote. "It was so routine for us, in fact, that we didn't pause to see if it made sense for every situation.
"As a result of your feedback, we've already updated our policy regarding such agreements so that we're responding with the highest level of sensitivity to the nature of each individual case."
This is not the first time the celebrity-endorsed app has been accused of mishandling pets in its care.
In addition to losing pet dogs, KTVU reported that the dog-walking company recently faced backlash over the walker vetting process after an incident of alleged animal abuse.
Support free-thinking journalism and attend Independent events
The Independent has contacted Wag for comment.
Register for free to continue reading
Registration is a free and easy way to support our truly independent journalism
By registering, you will also enjoy limited access to Premium articles, exclusive newsletters, commenting, and virtual events with our leading journalists
Already have an account? sign in
Join our new commenting forum
Join thought-provoking conversations, follow other Independent readers and see their replies