Waiter is left a $1,000 tip and kind note from mystery customer
Restaurant customer left $1,000 tip without saying a word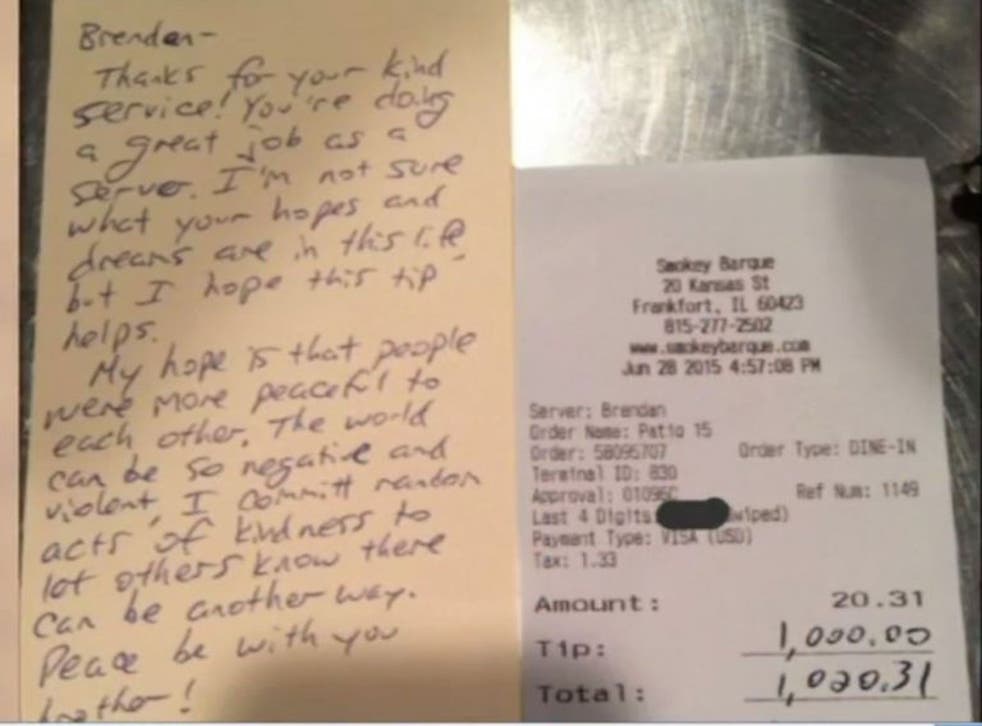 An Illinois waiter got a grand surprise when he was left a huge tip by a mystery customer who walked away without saying anything.
Brendan Motill, a waiter at Smokey Barque BBQ in Frankfort, Illinois, told ABC7 News that one of his customers started talking to him about life before leaving him a $1,000 tip.
Mr Motill told the local news, "My jaw dropped. I couldn't do anything. I was in shock. He was really humble and I tried to go back out there instantly and he was gone".
The kindly stranger left $1,000 on a $20.31 bill, a mere 5,000 per cent tip. Along with the tip, he left the following note:
"Brendan,
Thanks for your kind service! You're doing a great job as a server. I'm not sure what your hopes and dreams are in this life, but I hope this tip helps.
My hope is that people were more peaceful to each other. The world can be so negative and violent, I commit random acts of kindness to let others know there can be another way. Peace be with you brother!"
Follow @PaytonGuion on Twitter.
Register for free to continue reading
Registration is a free and easy way to support our truly independent journalism
By registering, you will also enjoy limited access to Premium articles, exclusive newsletters, commenting, and virtual events with our leading journalists
Already have an account? sign in
Register for free to continue reading
Registration is a free and easy way to support our truly independent journalism
By registering, you will also enjoy limited access to Premium articles, exclusive newsletters, commenting, and virtual events with our leading journalists
Already have an account? sign in
Join our new commenting forum
Join thought-provoking conversations, follow other Independent readers and see their replies