Restaurant customers refuse to tip waitress because of her LGBT tattoo
Diners scrawl note on bill telling waitress they 'can't tip someone who doesn't love Jesus'
Chris Baynes
Tuesday 15 August 2017 16:49 Comments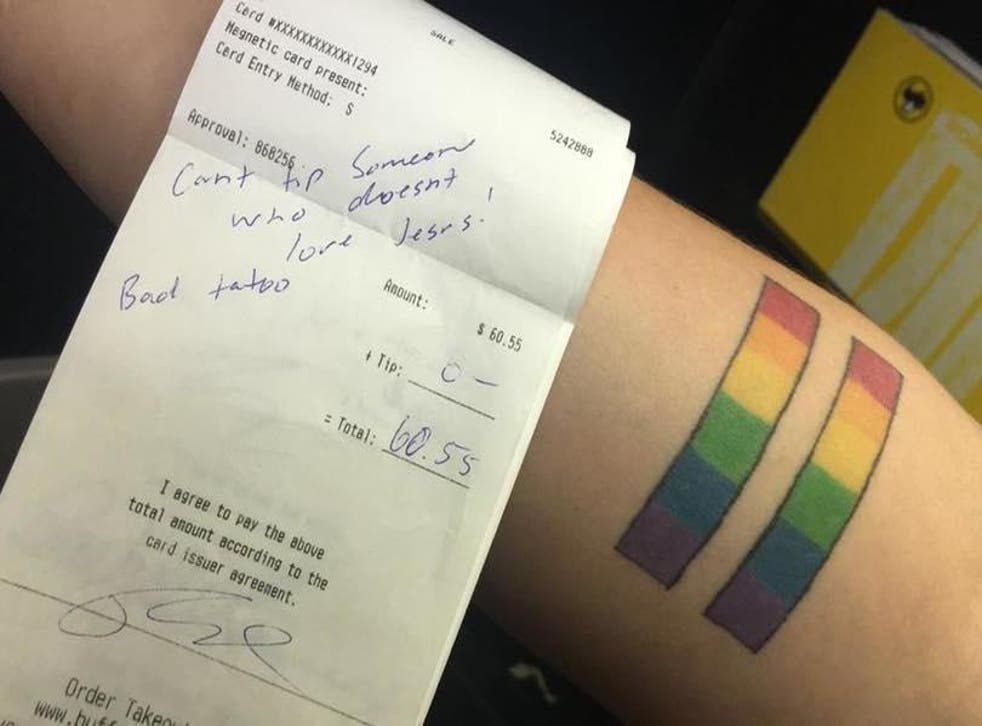 A family refused to tip a restaurant waitress after they spotted her LGBT rainbow tattoo and instead scrawled abuse on their bill.
The diners wrote "can't tip someone who doesn't love Jesus" on the $60.55 receipt before leaving Buffalo Wild Wings in Rockford, Illinois.
Their note added: "Bad tatoo [sic]."
Samantha Heaton, who had served the family of five, was "hurt" when she saw the message.
The 20-year-old said she made friendly conversation with the customers and had served them attentively.
They did not mention religion, sexuality or her tattoo, which she said represented equality and LGBT rights, while at the table.
"I went above and beyond for this couple, and for them to leave that kind of hurt," Ms Heaton told the Rock River Times.
The waitress said she had a girlfriend of three years, identifies as a Christian, and believes in Jesus and God.
She said the couple who left the note had set a bad example for their three children.
"The kids are going to be under the impression that it will be OK to discriminate against anybody," she said.
"I myself am a Christian. And, as a Christian, thou shall not judge. No matter how someone looks, you should love them for what's in their heart and how they treat you, not for what is on the outside.
"As someone who came out when it was still a battle for the LGBTQ community, that's just plain rude and uncalled for. What if one day their kids grow up and want to be with the same sex, are they going to disown them? Throw them on the street?"
A colleague snapped a picture of the note next to Ms Heaton's tattoo and posted it on Facebook, where it has been shared hundreds of times and prompted many messages in support of the waitress.
The co-worker, Joelle Nicole Marsh, said: "I would just like to say that being gay does NOT MEAN you don't believe in God or Jesus. And people who are 'religious' should not disrespect or act in such ways to other people."
Among those who shared the picture was Ms Heaton's girlfriend Alyssa Christina, who wrote: "My girlfriend is so much more than a tattoo. She is the most amazing human I know."
Referring to the customers who left the note, she added: "I bet she went above and beyond for you just for you to stiff her. I'm sure you seen her tattoo as she introduced herself, why not just ask for another server? Instead you let her serve you so that you could leave this ugly comment."
Some people have contacted Ms Heaton to offer her tips after seeing her story on social media. But she said did not want money and would donate any she received to charity.
She added: "Someone asked me the other day if I would go back in time and get the same tattoo and I said, 'No I would get it bigger.'"
Register for free to continue reading
Registration is a free and easy way to support our truly independent journalism
By registering, you will also enjoy limited access to Premium articles, exclusive newsletters, commenting, and virtual events with our leading journalists
Already have an account? sign in
Register for free to continue reading
Registration is a free and easy way to support our truly independent journalism
By registering, you will also enjoy limited access to Premium articles, exclusive newsletters, commenting, and virtual events with our leading journalists
Already have an account? sign in
Join our new commenting forum
Join thought-provoking conversations, follow other Independent readers and see their replies