Walter Scott: Judge declares mistrial in police shooting of unarmed black man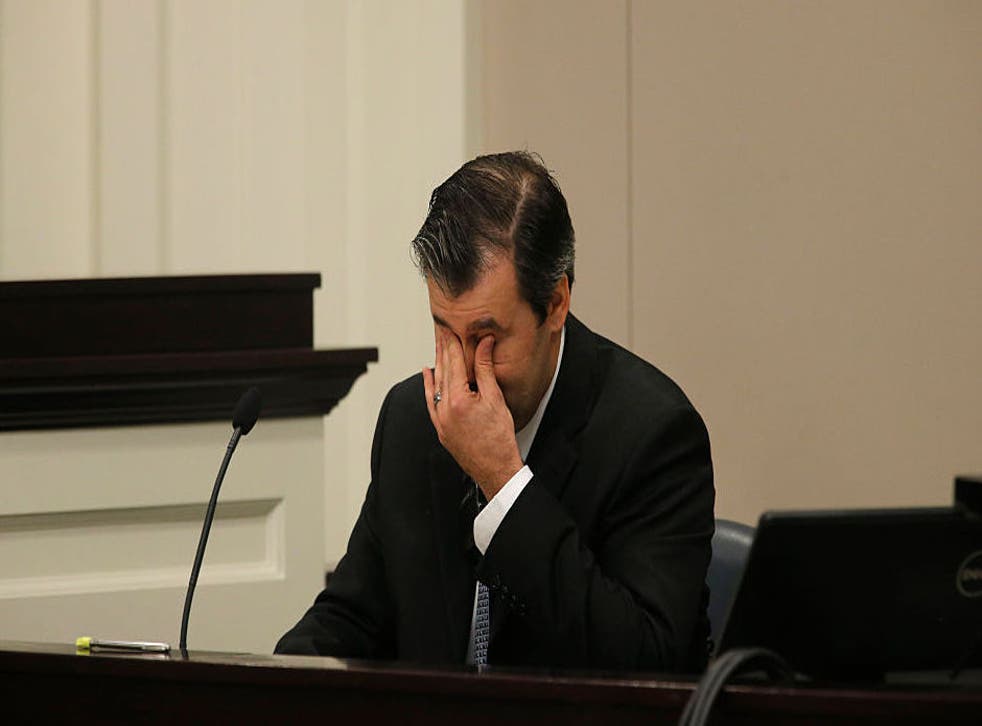 A mistrial has been declared in the murder trial of Michael Slager, the former South Carolina police officer who fatally shot Walter Scott, an unarmed black motorist, following a routine traffic stop in 2015.
"We as the jury regret to inform the court that despite the best efforts of all members, we are unable to come to a unanimous decision," the jury wrote to Circuit Court Judge Clifton Newman on Monday afternoon.
In the initial police report, the North Charleston Police Department said Mr Scott took the officer's Taser and ran toward him. Mr Slager argued that he had no choice but to use deadly force. However, the 35-year-old former officer was fired from his post after a bystander released the now-infamous, graphic footage of the shooting showing Mr Slager firing his handgun, and striking the 50-year-old motorist five times, while Mr Scott ran at least 17 feet in the opposite direction.
After the cellphone video contradicted the officer's statements, it was hard to find anyone in his corner, even the local police union, the South Carolina Law Enforcement Officers' Association, called Mr Slager's actions "a very bad decision" and an "unnecessary death."
After the trial concluded on Monday, prosecutors told the Scott family that they would be seeking a retrial as soon as possible.
"While I cannot overstate our disappointment that this case was not resolved, I commend those who sacrificed so much time, energy and effort to serve on this jury. We will try Michael Slager again," Solicitor Scarlett Wilson said in a statement. "We hope the federal and state courts will coordinate efforts regarding any future trial dates but we stand ready whenever the court calls."

On Friday, Judge Clinton promised to retry the case with a new jury if a mistrial was declared. Mr Slager still faces federal civil rights charges and could face up to a lifetime in prison.
The jury's foreman, the only black member, said in a note to the judge that the majority of the panel thought Mr Slagel should be convicted. "It's just one juror that has the issues," he wrote. "That juror needs to leave. He is having issues."
Andrew Ferguson, a professor at UDC David A Clarke School of Law and author of Why Jury Duty Matters: A Citizen's Guide to Constitutional Action, said that the trial results are difficult to analyze through juror comments because the truth lies behind rules of secrecy.
"What we knew from Friday, is that one holdout juror had not been convinced of guilt beyond a reasonable doubt," he told The Independent. "What we learned today is that the jury struggled with complicated legal issues that have no easy answers. The questions today were incredibly perceptive. The jurors should be proud of their attempt to get to the heart of intentionally opaque legal principles.
North Charleston mourns Walter Scott

Show all 17
"For those who only saw the video of the shooting of Walter Scott, the murder seemed pretty self-evident," he explained. "For those who had to fit that video into a legal doctrine both protective of defendants (with high burdens of proof), and even more protective of police officers who use force, the case becomes much harder. All murder cases are hard when it actually comes to deciding another person's fate. Murder cases with police officers are even harder, even absent the race and societal pressures that characterized this particular trial.
"A hung jury does not resolve the case but leaves it for another jury to decide. The same issues that impacted this jury will impact the next. I imagine emotions will be raw, but the next jury will be asked to try to put some closure on this racially sensitive case."
As prosecutor Wilson made her final arguments, she simply played the graphic footage of the incident and urged jurors to "do the right thing."
"That badge is supposed to be a shield, not a sword," she continued. "Our community, our courtroom can only have one fountain for justice. It's time for Michael Slager to take his drink."
Register for free to continue reading
Registration is a free and easy way to support our truly independent journalism
By registering, you will also enjoy limited access to Premium articles, exclusive newsletters, commenting, and virtual events with our leading journalists
Already have an account? sign in
Register for free to continue reading
Registration is a free and easy way to support our truly independent journalism
By registering, you will also enjoy limited access to Premium articles, exclusive newsletters, commenting, and virtual events with our leading journalists
Already have an account? sign in