Walter Scott shooting: Killing was motivated by 'overt racism', mourners at funeral told
Hundreds attend funeral of father-of-four shot dead last week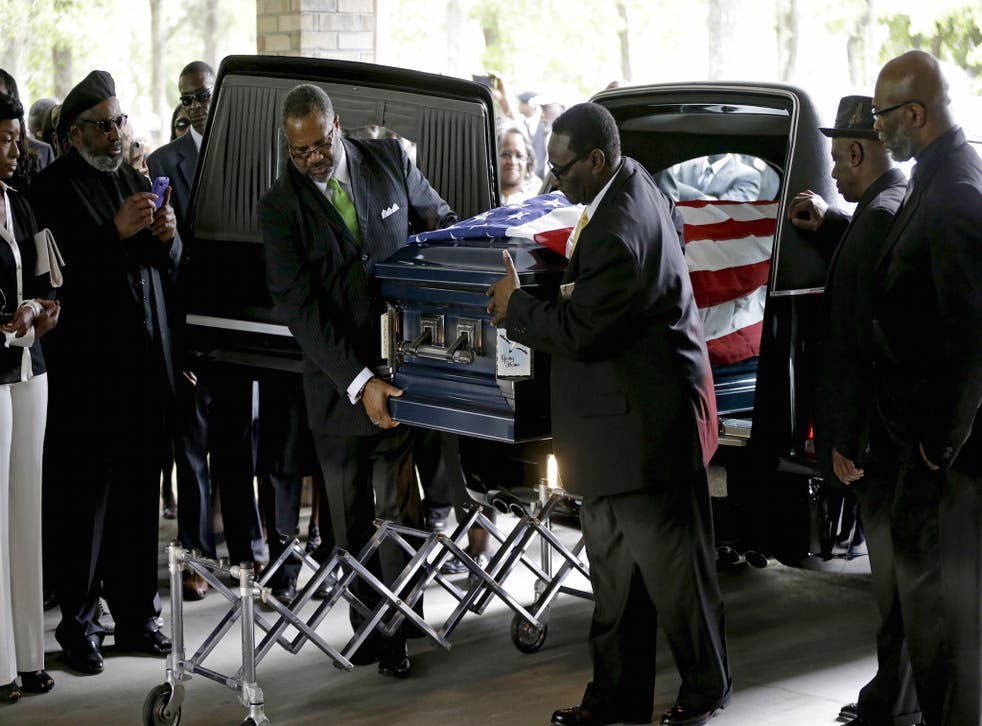 The church in North Charleston was not big enough to accommodate everyone who wanted to pay their respects to Walter Scott, and so they placed chairs outside.
Many of the hundreds of mourners had not known the 50-year-old during his life but they felt motivated to attend because of the nature of his death.
It was a killing, the pastor who officiated the service declared, that was the result of "overt racism".
"It's one thing to have a loved one die. It's another to have to watch them die and see how they died," Pastor George Hamilton told those gathered at the Ministries Christian Centre.
"Walter's death was motivated by racial discrimination. You've got to hate somebody to shoot them in the back."
According to the BBC, he added: "This officer is a disgrace to the North Charleston Police Department and to all of the law abiding police officers. We will not indict the entire law enforcement for the act of one racist."
Mr Scott, who had four children, was shot and killed a week ago after being pulled over by police in North Charleston, South Carolina, on suspicion of having committed a traffic offence.
Video footage taken by a member of the public on his mobile phone, showed Mr Scott running away from officer Michael Slager and the police man firing eight shots at him. Mr Scott was hit by five of the bullets and died at the scene.
Police initially supported Mr Slager's claim that he had shot Mr Scott because he tried to grab his Taser and because he feared for his life. But after the video footage emerged, he was charged with murder.
"You don't tase a man and then shoot him," Mr Hamilton told the mourners. "A badge is not authority to murder."
After Mr Hamilton spoke, the casket was opened and guests were invited to view the body. Mr Scott, who was a Dallas Cowboys fan, had a Cowboys flag with the word "tradition" placed inside his coffin.
Tyrone Johnson, who went to school with Mr Scott, described him as a friendly person, who "never met an enemy".
"There are a lot of people out here, just paying their respects to him and his legacy," he added.
Video footage from the dash-cam of Mr Slager's police vehicle showed Mr Scott running away from the officer after he was pulled over in an ageing green Mercedes he was planning to buy from a neighbour.
The family of the forklift operator, said they believed he ran because of charges he faced over outstanding child support payments and the fear he could be sent to jail over them.
"He had trouble keeping up with the payments, that's all, and he knew he would go to jail," Mr Scott's younger brother, Rodney Scott, told the Associated Press. "His mission was to avoid the police as much as possible."
Join our new commenting forum
Join thought-provoking conversations, follow other Independent readers and see their replies