Multi-billionaire Warren Buffett made $32.2m a day in 2016 (the year of populism)
'The belief that Trump is going to come in and deregulate big parts of the economy is driving the markets right now' says political expert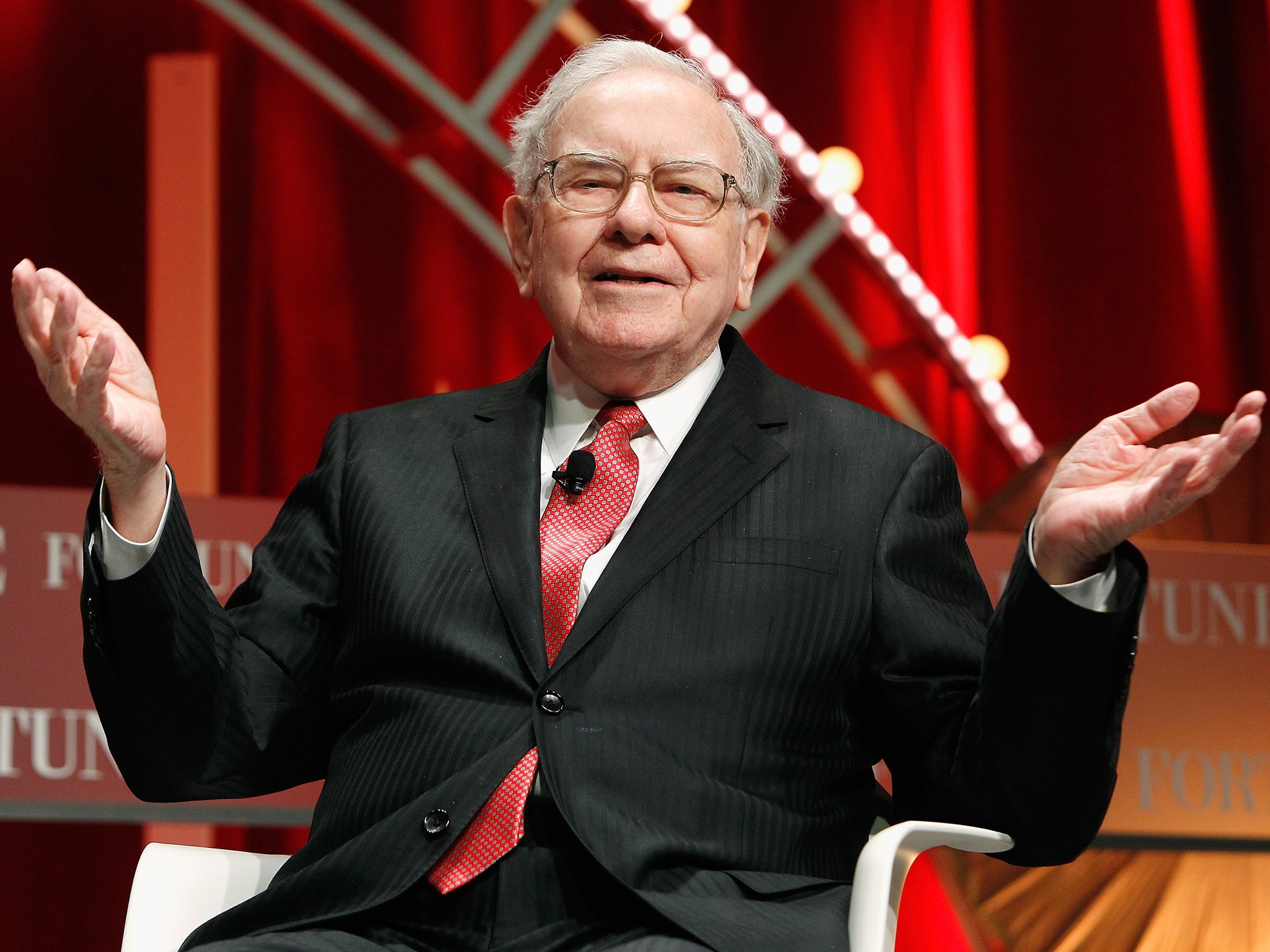 Multi-billionaire Warren Buffett made on average $32.2m (£26.3) every day in the year that populism triumphed in global politics.
The 'Wizard of Omaha' regained his spot as the world's second-richest person two days after the US election result despite opposing Mr Trump throughout the campaign.
Critics are claiming this is yet more evidence that the 70-year-old property magnate's presidency will not "drain the swamp".
London School of Economics fellow in comparative politics, Dr Brian Klaas, said billionaires like Mr Buffett will "very likely" gain from Mr Trump's era.
Warren Buffett Challenges Trump to Reveal Tax Return
"Ironically, the areas where Trump is going to find the most common ground with Congressional Republicans isn't on trade policy or reforming Washington," said Dr Klaas, speaking to The Independent.
"It's on supply-side tax cuts, deregulation, and an erosion of the social safety net.
"All three of those approaches are great for business titans, but awful for the working class base that was integral to his electoral victory."
Harvard Business School reject Mr Buffet is the chairman, chief executive and largest shareholder of multinational Berkshire Hathaway.
The 86-year-old challenged Mr Trump to release his tax returns during the election campaign and appeared alongside Hillary Clinton as one of her most influential advocates.
The twice-married father-of-three asked Mr Trump "Have you no sense of decency, sir?" at a Ms Clinton rally in August.
Yet, the worth of his airline and banking holdings soared after Mr Trump's surprise victory.
He added $11.8bn (£9.6m) to his wealth in 2016 which marked a 19 per cent increase up to $74.1bn (£60.5m).
Generally, the country's richest were opposed to Mr Trump, but US billionaires have reportedly added $77bn (£62.2m) to their fortunes since his landmark win.
The world's richest 500 people, according to Bloomberg Billionaires Index, increased their wealth from approximately $4.2 trillion (£3.4 trillion) at the beginning of the year to $4.4 trillion (£3.6 trillion).
Disappointing economic data from China at the beginning of the year and the UK's Brexit vote, in the same year as mild populist successes for France's far-right Marine Le Pen and the Netherland's Geert Wilders, are also believed to have made the rich richer.
"2016's been event-driven with global news driving prices," said Michael Cole, president of Ascent Private Capital Management.
"The belief that Trump is going to come in and deregulate big parts of the economy is driving the markets right now."
Hedge fund billionaire Ray Dalio said last week that Mr Trump's business-heavy cabinet selections will unleash the "animal spirits" of capitalism.
Dr Klaas, who this year published "The Despot's Accomplice: How the West is Aiding & Abetting the Decline of Democracy", added: "Donald Trump ran on a promise to 'Drain the Swamp'.
"He tapped into the real economic anxieties of millions of Americans who are victims of sharp increases in inequality over the last quarter century.
"And yet, his strategy to drain the swamp seems to be hiring much of it.
"Beyond the corporate lobbyists and industry titans who will be the new regulators, the Trump cabinet will be - by far - the richest in American history.
"The net worth of the proposed cabinet surpasses the net worth of the bottom third of American households combined.
"The economic policy ideas they are putting forward would not address inequality but instead double down on the approach that produced it."
Dr Klaas however said Mr Buffett, who donated stock valued at $2.6bn (£2.1bn) in July, may realise that Mr Trump's effect on economic growth will be short lived.
Forbes top 10 richest billionaires in the world
Show all 10
He added: "Buffett's successes are separate from his policy views.
"Buffett is a breed of billionaire that believes that the world is a better place when wealth is not so concentrated in the hands of a tiny few and a world in which people who work hard are rewarded with a decent life."
Dr Klaas, who says the Bush-era tax cuts were a boon to the wealthiest Americans, believes government policy and speculation "drastically affects" economic growth.
Dr Rob Dover however, from the University of Leicester's School of History, Politics and International Relations, told The Independent: "The rise in the richest people's wealth does not discredit the promises of populism.
Trump: Clinton may be 'most corrupt person ever to seek presidency'
"What it shows is the failure of insurgent electorate's to pay attention to the validity of populist messages and what they really meant."
The intelligence and international security professor, who correctly bet on Brexit, Mr Trump's win and has conservative Emmanuel Macron down to win the 2017 France presidential election, added: "The volatility of the markets that have resulted from these unexpected results were always likely to benefit those with considerable capital, as they can take advantage of market opportunities in a way that ordinary folk cannot.
"This is more a story of how the establishment was bested by more sophisticated alternative establishment market participants, rather than a betrayal of populism."
Join our commenting forum
Join thought-provoking conversations, follow other Independent readers and see their replies