'We want to start a new Mexico': How the disappearance of 43 students has sparked a movement that could bring down the president
Outrage at the disappearance of 43 students has spawned a huge protest movement, led by a charismatic priest. Father Alejandro Solalinde tells Duncan Tucker why the murder, extortion and kidnappings must stop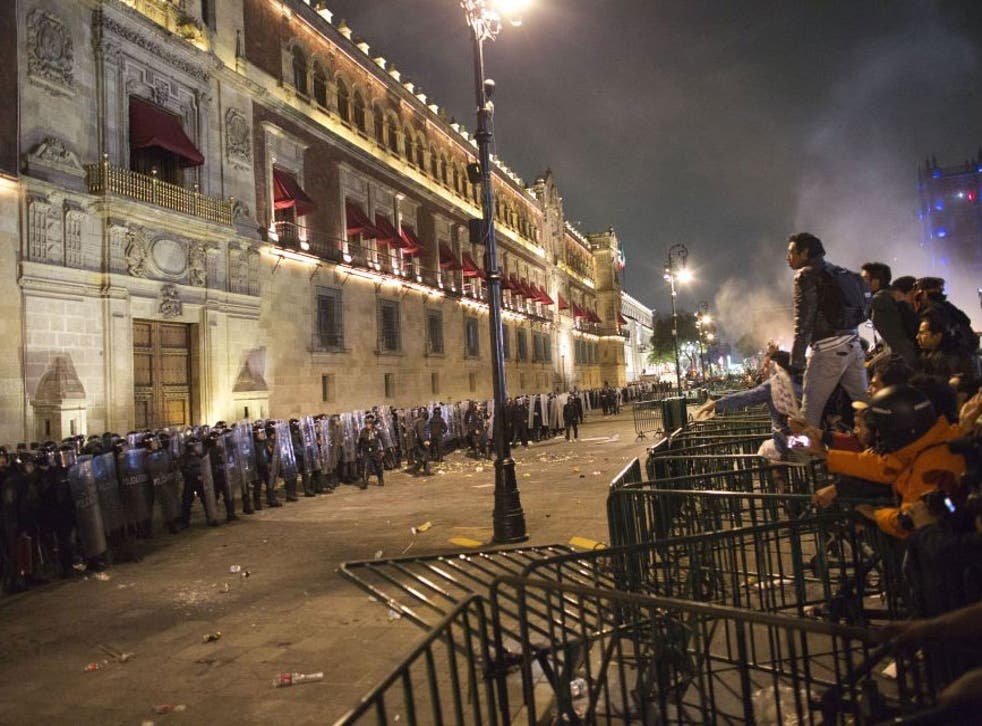 What began with a few families demanding to know the whereabouts of their missing children has morphed into a national movement that threatens to bring down the president of Mexico.
The nation has seen wave after wave of demonstrations since the disappearance of 43 students from a radical teacher-training college near the town of Iguala in the southern state of Guerrero in late September.
The case has exposed the corruption that permeates much of Mexico, with prosecutors saying that the Iguala police force abducted the students and handed them over to a local drug gang under the orders of the mayor. Public anger has largely been directed at President Enrique Pena Nieto, whose government was slow to investigate the case but admitted a fortnight ago that the students were most likely massacred and their bodies burnt to ashes.
Protesters burned an effigy of the president in Mexico City on Thursday night, as tens of thousands marched all across the country demanding justice and Pena Nieto's resignation.
Although Mexico's opposition parties have stayed strangely silent on the case, a clergyman has emerged as the unlikely leader of this unprecedented protest movement: 69-year-old Catholic priest Alejandro Solalinde.
Protests in Mexico over 43 missing students

Show all 13
Having consulted several trusted sources after the students disappeared, Father Solalinde was the first person to announce that they had been murdered and incinerated – weeks before the government admitted this was the most likely outcome. Since then, he has been the loudest dissenter in a nation that has suddenly found its voice.
"This is a crucial moment in Mexico," Father Solalinde told The Independent. "The people want the change that they've been denied for years. Now they're saying 'Enough! We don't want this country anymore. It's a horrible, corrupt country. We want to start a new Mexico."
Triggered by the disappearance of the students, the movement is a response to a bloody drug war that has left over 100,000 dead and more than 22,000 missing in the last eight years.
"We've experienced years of violence. It's everywhere: torture, murders, kidnappings, extortion." Father Solalinde said. "I think civil society is saying: 'Now that we've realised what kind of government we have, we're going to start working to force change from the bottom up.' We don't want anarchy and we certainly don't want violence. We need a very strategic, firm and intelligent form of civil resistance."
Father Solalinde has received numerous death threats and this week a website masquerading as CNN falsely reported that he had been found tortured and murdered. The priest suspects the government was behind the article and said he will hold them responsible for anything that happens to him.
"It didn't affect me at all, but I did analyse why this story came out," he said. "It's because I'm speaking out. They want to intimidate me, but they'll never scare me."
Father Solalinde also said he interpreted the report as "a message to the people who see me as an example, as someone who is not afraid". He said: "They're telling these people that if they follow my example then they'll kill them too." Despite such threats, he insisted: "They're not going to be able to stop this national movement. If they try to drown it in blood they'll be signing their own death sentence."
When faced with danger, Father Solalinde said he draws inspiration from his faith. "Jesus sent me as a missionary to carry out God's work. He was a brave and analytical young man who got in a lot trouble by fighting for justice. He was a conflicted man but he always overcame his fears."
If he were to become a martyr, Father Solalinde believes the movement to build a better Mexico would be in good hands. "There is a leader inside every Mexican man and woman, but many haven't discovered it yet," he said. "The government don't believe in the people but they think that by removing our leaders they can control the people. That's not true. They can eliminate a few but many more will take their place."
As for the president, Father Solalinde believes his days in office are numbered. Pena Nieto is presently embroiled in another major corruption scandal involving a luxury mansion his wife bought from a favoured government contractor. A lucrative contract the company won in what many suspect was a rigged bidding process has since been rescinded and the First Lady has vowed to sell the controversial property, but the damage to the president's image had already been done.
"We demand that Pena Nieto either does his job or resigns. He now only has 30 per cent approval ratings in the polls. He has to resign. He's betrayed the Mexican people," Father Solalinde said.
Born in the town of Texcoco and raised in Mexico City, Father Solalinde has spent the last 30 years living in the poorest areas of the southern state of Oaxaca, where he is best known for defending the rights of Central American immigrants. Strongly critical of the Vatican but supportive of Pope Francis, he comes from the same Latin American tradition of socialist priests as the present head of the Catholic Church.
"Pope Francis is someone I admire a lot because I know he's a fighter too. He's leading a heroic struggle against the powers that be within the Church. He's cleansing the Church of the money and the corruption within it," Father Solalinde said. "The problem is that for 800 years the Church has been chasing power and money. (Pope Francis) is putting it back on the path that it should never have left, to serve the most humble people and all of humanity."
That spirit is what led Father Solalinde to become involved in Mexico's protest movement, despite the disapproval of the Church.
"A few priests and bishops have supported me but the official voices of the Catholic Church in Mexico have practically disowned me," he said. Nonetheless, he remains firm in his conviction that "the church has the moral obligation to be on the side of the poor and to defend justice".
Register for free to continue reading
Registration is a free and easy way to support our truly independent journalism
By registering, you will also enjoy limited access to Premium articles, exclusive newsletters, commenting, and virtual events with our leading journalists
Already have an account? sign in
Register for free to continue reading
Registration is a free and easy way to support our truly independent journalism
By registering, you will also enjoy limited access to Premium articles, exclusive newsletters, commenting, and virtual events with our leading journalists
Already have an account? sign in
Join our new commenting forum
Join thought-provoking conversations, follow other Independent readers and see their replies