Wear Your Superheroes! How a little girl's support of her sister led to thousands dressing up in lycra
The response to Wear Your Superheroes Day shows superheroes are not just "for boys"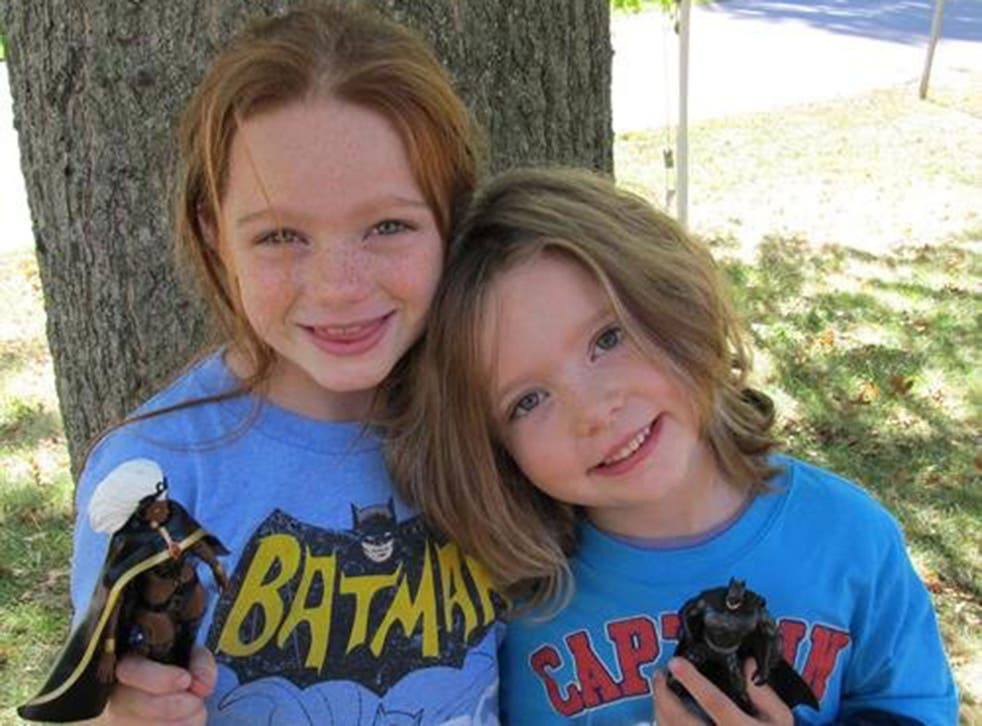 Leanna loves superheroes. Especially Captain America, Batgirl, and Robin. She's five, and looks great in her superhero outfits. But whenever she wears them to her kindergarten in Cincinnati, she gets teased, because according to some of the other kids, "superheroes are for boys." Leanna had started covering up her favourite T-shirts by wearing her jacket all day in order to avoid getting hassled. Luckily, her seven-year-old sister Adalina came up with a genius plan, declaring the 1 October "Wear Your Superheroes Day".
With the aid of her parents and a close family friend, Adalina launched her idea on social media, inviting people around the world to dress up in support of her little sister. Various online platforms, including Amy Poehler's Smart Girls, helped the message reach far and wide.
When the allotted day came, thousands responded to Adalina's appeal by posting pictures of themselves in superhero attire using the hashtag #WearYourSuperheroes.
The girls' school also embraced the idea, with many of the pupils and both girls' teachers dressing for the occasion.
Tom Nagel, the girls' father, told The Independent that Leanna is not afraid of wearing her superhero shirts any more, especially after the excitement of seeing her teacher wearing one.
"Mindy [the girls' mother] and I are extremely grateful for the outpouring of support and encouragement that helped her to feel more comfortable expressing herself," he said. "Although Adalina's (and our) immediate goal was to help Leanna, we were overwhelmed by how many people felt strongly not only about the girls' story, but also about stereotypes relating to clothing and the expectations placed upon children."
In pictures: Wear Your Superhero

Show all 7
After receiving numerous requests from superhero-loving participants, Leanna and Adalina's parents decided to make "Wear Your Superheroes Day" a recurring date in the calendar. They are also cooking up some exciting sounding plans for Halloween.
Leanna and Adalina are probably unaware of the timeliness of their initiative. Just this week, US store Walmart came under fire for selling a T-shirt that reads "Training to be Batman's Wife", whilst a girls' onesie emblazoned with "I only date heroes" sparked outrage after it was photographed by psychology professor Christine Logel in a Canadian branch of Target. (The boys' equivalent bears the words "Future man of steel".)
Judging by the overwhelming response to Adalina's bright idea, we can look forward to another lycra-filled day next October.
To find out more, visit WearYourSuperheroes.org
Register for free to continue reading
Registration is a free and easy way to support our truly independent journalism
By registering, you will also enjoy limited access to Premium articles, exclusive newsletters, commenting, and virtual events with our leading journalists
Already have an account? sign in
Register for free to continue reading
Registration is a free and easy way to support our truly independent journalism
By registering, you will also enjoy limited access to Premium articles, exclusive newsletters, commenting, and virtual events with our leading journalists
Already have an account? sign in
Join our new commenting forum
Join thought-provoking conversations, follow other Independent readers and see their replies