Apache helicopter pilots become first active-duty same-sex couple to marry at West Point
'We subscribe to Harvey Milk's philosophy that it's so important to be out and be an example of normalcy,' the couple told The Independent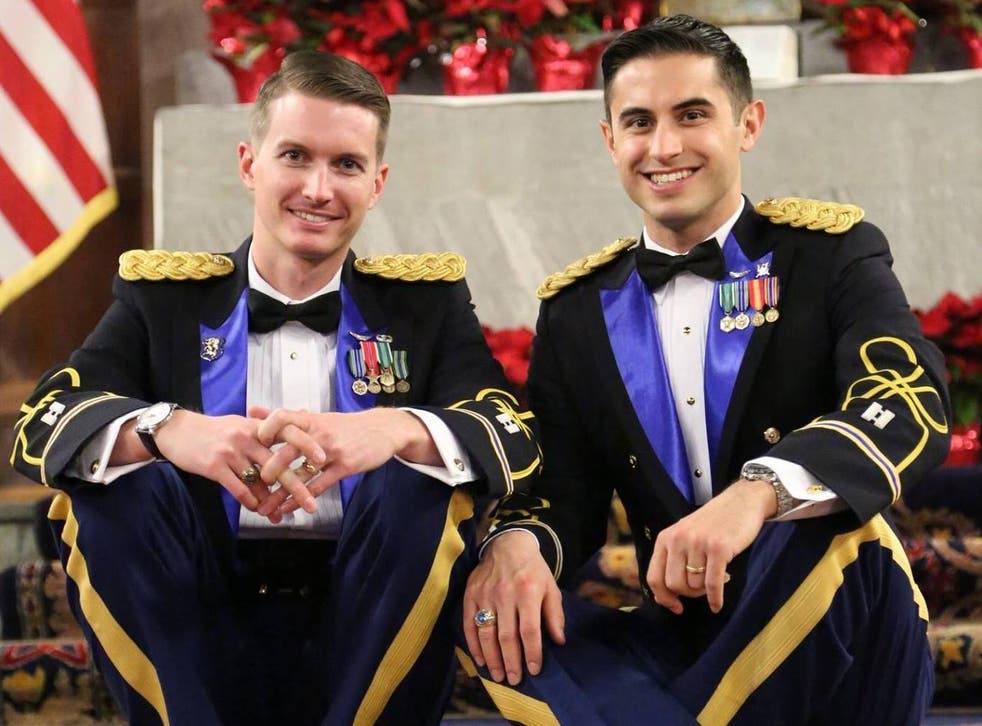 Two army captains have made history after exchanging vows at West Point in New York, becoming the first active-duty same-sex couple to get married at the esteemed United States military academy.
Daniel Hall, 30, and Vincent Franchino, 26, declared their love for each other in front of family and friends in the academy's chapel.
They first met at West Point in 2009 when Hall was a senior and Franchino was a freshman.
But their first date did not come until 2012, months after the US repealed its 'don't ask don't tell' policy, which banned openly gay, lesbian and bisexual people from serving in the military.
The military men are both Apache helicopter pilots and are now both stationed together at Fort Bliss in Texas.
"We were completely professional in the beginning because we were separated by class years and rank," Cpt Hall told The Independent.
"It was only later when we both realised the other was gay that the attraction grew.
"Our wedding ceremony meant to much to us – in many ways it was the culmination of so many previous groundbreakers far more influential than we are.
"My friend Larry Lennox-Choate, who was one half of the first male gay couple to marry at the Chapel [Lennox and Choate were both civilians at the time they married] put it best in a congratulatory status saying that 'breaking glass ceilings means nothing if others don't follow'.
"I think that's what is beautiful about our story.
Thousands march against Donald Trump in LGBT rights parade

Show all 8
"We were very fortunate to have friends and family travel from all over the world attend; the outpouring of love and support was and continues to be overwhelming.
"What a great start to married life."
They both wore their uniforms for the ceremony, which took place on 13 January, and left the chapel under an arch made of sabres, held aloft by several of their guests, including some military personnel.
The ceremony was a landmark first for both the military and the US's LGBT community, and comes six months after President Donald Trump announced he planned to ban transgender people from serving their country.
He announced the plan on Twitter last July, saying it would spare the military from the burden of "tremendous cost and disruption", but it was blocked by two federal judges and openly transgender people have been able to enlist in the military since 1 January.
"I subscribe to [the first openly gay elected official in California] Harvey Milk's philosophy that it's so important to be out and be an example of normalcy," Cpt Hall added, when asked about the importance of this landmark wedding.
"Since [we got married], we've received messages and letters from young gay men and parents of gay teens telling of their coming out experiences.
"The more visible we are as a community, the more human connections we make, the more progress and allies we will make as a community."
Join our new commenting forum
Join thought-provoking conversations, follow other Independent readers and see their replies