Whale-dolphin hybrid species discovered off coast of Hawaii
Animal found swimming with what is thought to be its mother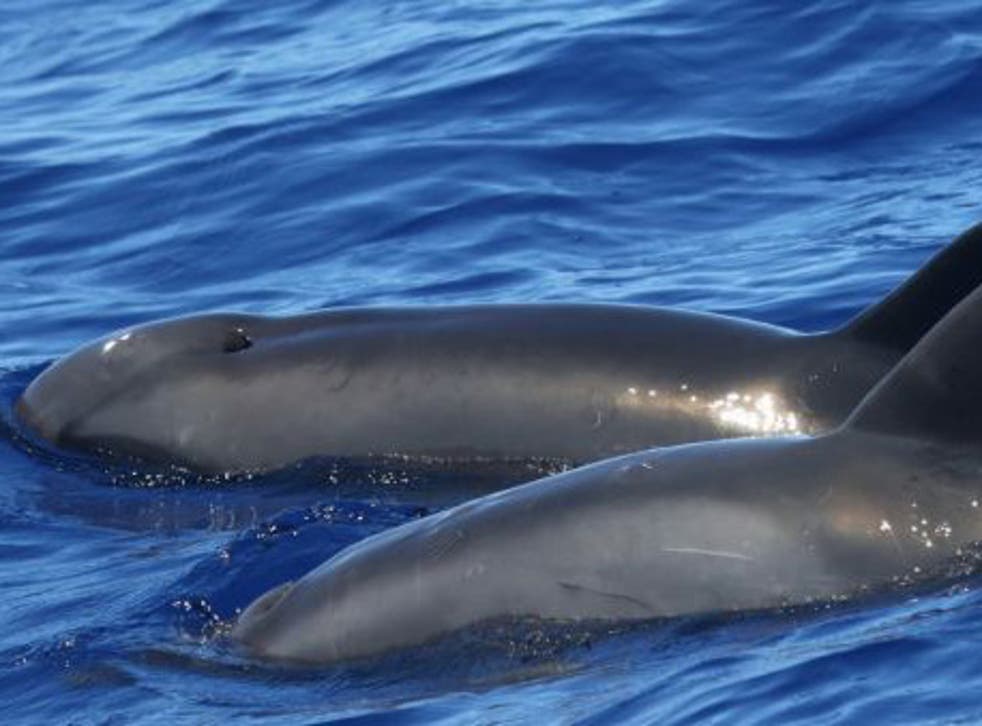 A rare whale-dolphin hybrid species has been discovered off the coast of Hawaii, scientists say.
The animal is the first-ever documented offspring of a rough-toothed dolphin and the rare melon-headed whale, a team from the Cascadia Research Collective concluded in a report released this week.
They found the unusual creature swimming with a whale – possibly its mother – in the sea near the island of Kauai last year.
"Hybrids among different species of whales and dolphins have been previously recorded, but this is the first case of a hybrid between these two species, and only the third confirmed case (with genetics) of a wild-born hybrid between two species in the family Delphinidae," project leader Robin Baird told Fox News.
Despite its name, melon-headed whales are actually part of the larger oceanic dolphin family, or Delphinidae, which also includes killer whales and pilot whales.
Mr Baird said the "morphological characteristics" of the animal encouraged researchers to get a biopsy sample. After analysing its DNA, scientists confirmed it was a hybrid, which has since been named Steno bredanensis.
World news in pictures

Show all 50
The hybrid, described as a "most unusual finding" by Mr Baird, was likely fathered by a rough-toothed dolphin and mothered by a melon-headed whale, he told CBS News.
Mr Baird said the chances of spotting the hybrid for a second time were remote, but researchers would be returning to Kauai in August to investigate nonetheless.
"If we find it again, we'd like to try to get a biopsy sample of the melon-headed whale it was associated with as well as get underwater footage [and] images to better assess morphology," he said.
Join our new commenting forum
Join thought-provoking conversations, follow other Independent readers and see their replies