What is a bump stock? The deadly device used by Las Vegas killer Stephen Paddock
Devices enable guns to fire more rapidly which can lead to more casualties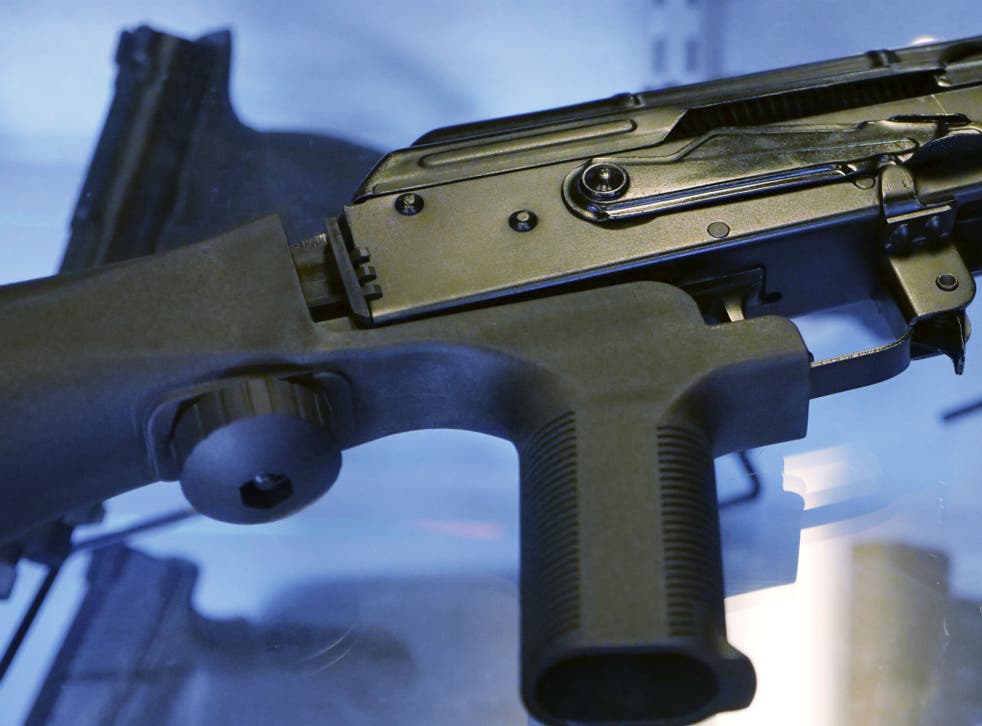 The investigation into America's deadliest shooting quickly revealed that Stephen Paddock had modified some of his weapons with bump stock devices before opening fire on the crowd at a Las Vegas country music concert.
The 64-year-old killed 58 people and injured 489 before turning one of his weapons on himself.
Since then the bump stock has come under scrutiny.Both the National Rifle Association, usually staunch opponents of gun restrictions and the Republican Party have signalled a willingness to crack down on the devices.
The Walmart superstore chain has also pulled the devices from its online marketplace, saying they should never have been offered there and attributing the sales to a third party vendor.
But what is a bump stock?
In essence, they convert semiautomatic weapons into automatic weapons, which are mostly banned in the US (automatic guns purchased before Congress enacted the prohibition in 1986 are allowed).
A semi-automatic weapon fires a single bullet with each pull of the trigger, whereas an automatic fires for as long as you compress the trigger.
Simple physics allow the bump stock, which is fitted by the trigger to minimise that distinction.
Las Vegas shooting – in pictures

Show all 15
It takes advantage of the force generated by a gun's recoil - when it kicks backward after firing - and transfers it back to the shooter's trigger finger, enabling rapid-fire shooting as the stock slides back and forth and causes the shooter to quickly release and then squeeze the trigger.
Bump stocks are not the first gun-modifying devices to draw the attention of gun control advocates.
California outlawed devices commonly referred to as "bullet buttons", which allow a person to more quickly detach magazines by using a narrow-tipped tool like a bullet, after shooters in San Bernardino used guns equipped with bullet buttons in a mass 2015 shooting.
Register for free to continue reading
Registration is a free and easy way to support our truly independent journalism
By registering, you will also enjoy limited access to Premium articles, exclusive newsletters, commenting, and virtual events with our leading journalists
Already have an account? sign in
Register for free to continue reading
Registration is a free and easy way to support our truly independent journalism
By registering, you will also enjoy limited access to Premium articles, exclusive newsletters, commenting, and virtual events with our leading journalists
Already have an account? sign in
Join our new commenting forum
Join thought-provoking conversations, follow other Independent readers and see their replies