White House releases Trump's list of terror attacks 'media ignored' despite widespread international coverage
'How dare you': British victims of Australian stabbing that was not linked to terror outraged by list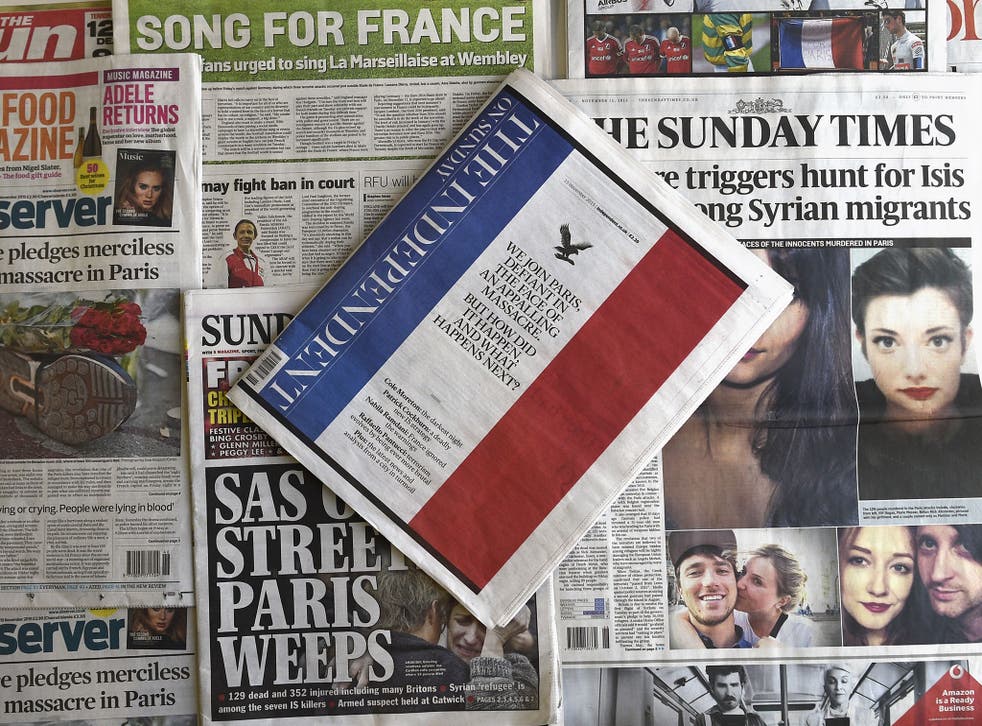 Donald Trump's administration has provoked outrage for releasing a list of terror incidents it claimed had not been sufficiently covered by the media, including the Paris attacks and Orlando nightclub shooting.
Of the 78 incidents issued by the White House, all mass casualty attacks had been reported extensively, while some smaller incidents had been classified as terror-related by right-wing websites but not by investigators.
Speaking to troops at MacDill Air Force Base, the President claimed: "All over Europe it's happening. It's gotten to a point where it's not even being reported.
"And in many cases the very, very dishonest press doesn't want to report it. They have their reasons, and you understand that."
Donald Trump wrongly accuses media of covering up terrorist attacks
Asked for details by journalists later on Monday, White House spokesman Sean Spicer said Mr Trump was referring to events that have not "gotten the coverage it's deserved", comparing atrocities to demonstrations against the President.
"He felt as though members of the media don't always cover some of those events to the extent that other events might get covered – that a protest will get blown out of the water, and yet an attack or a foiled attack doesn't necessarily get the same coverage," Mr Spicer said.
The White House said its list included terror attacks "executed or inspired by Isis" on Western targets between September 2014 and December.
"Networks are not devoting to each of them the same level of coverage they once did," an official said. "This cannot be allowed to become the 'new normal'."
The White House did not specify which attacks on the list it claimed had gone under-reported, though the dossier included the massacres in Paris, Nice, Brussels, Berlin and the shooting in San Bernardino, all of which received widespread international coverage.
The list appeared to have been assembled hastily using media reports and Isis propaganda. It included a number of spelling errors, with the words "attacker" and "attackers" misspelled multiple times along with the name San Bernardino, sparking anger from local politicians.
The 10 developed countries suffering the most deaths from terrorism

Show all 10
All mass casualty incidents had been covered worldwide, while smaller attacks that caused few deaths or little damage received less attention in the US than in their respective countries.
Several cases, including the murder of an American defence contractor in Saudi Arabia, were not verified as terror-related by police.
Some incidents were claimed by terror groups other than Isis, including a listed suicide bombing on a bus carrying Canadian embassy guards in Kabul, which both Isis and the Taliban said they carried out.
Others have no confirmed connection to Isis, including the bombing of a Sikh temple in Germany in April, which police said was committed by extremist Salafists.
"Alt-right" website Breitbart, whose former chair Steve Bannon has been hired as Mr Trump's chief strategist, was among the sites raging against authorities' treatment of the case.
A stabbing attack where a French national killed his British roommate and hostel caretaker in Australia was also not treated as extremist by police, who criticised media reports for linking the murders with Islamist terrorism.
Rosie Ayliffe, the mother of victim Mia Ayliffe-Chung who described the aftermath of the killing in a series of articles for The Independent, was outraged by the list.
"The possibility of Mia and Tom's deaths being consequent to an Islamic terror attack was discounted in the early stages of the police investigation," she wrote in an open letter to Mr Trump, accusing him of "vilifying whole nation states and their people based on religion."
Sandra Jackson, whose son Tom was murdered while trying to save Ms Ayliffe-Chung, wrote on Twitter: "@realDonaldTrump wake up this morning to see you've used my son murder to further your campaign of hate, how dare you. You are a disgrace."
Swedish police pointed out that an Isis-claimed arson attack on a community centre in Malmo was not terror-related, while German investigators concluded that a terrorist motive for a stabbing hailed by the group in Hamburg was "unlikely". Both were listed by the White House.
Claims came amid ongoing ridicule over claims by Mr Trump's adviser Kellyanne Conway that a "massacre" had taken place in the American city of Bowling Green, adding: "Most people don't know that because it didn't get covered."
It didn't get covered because it did not take place. She was referring to the arrest of two Iraqi nationals who attempted to send money and weapons to al-Qaeda in Iraq, which later evolved to become Isis. They were not charged with plotting attacks in the US.
Join our new commenting forum
Join thought-provoking conversations, follow other Independent readers and see their replies