White supremacist couple smile, kiss and shout that they'd 'kill more' after being given life sentence for murder of sex offender and his wife
Jeremy Moody shouted 'See you perverts later! That's what child molesters get'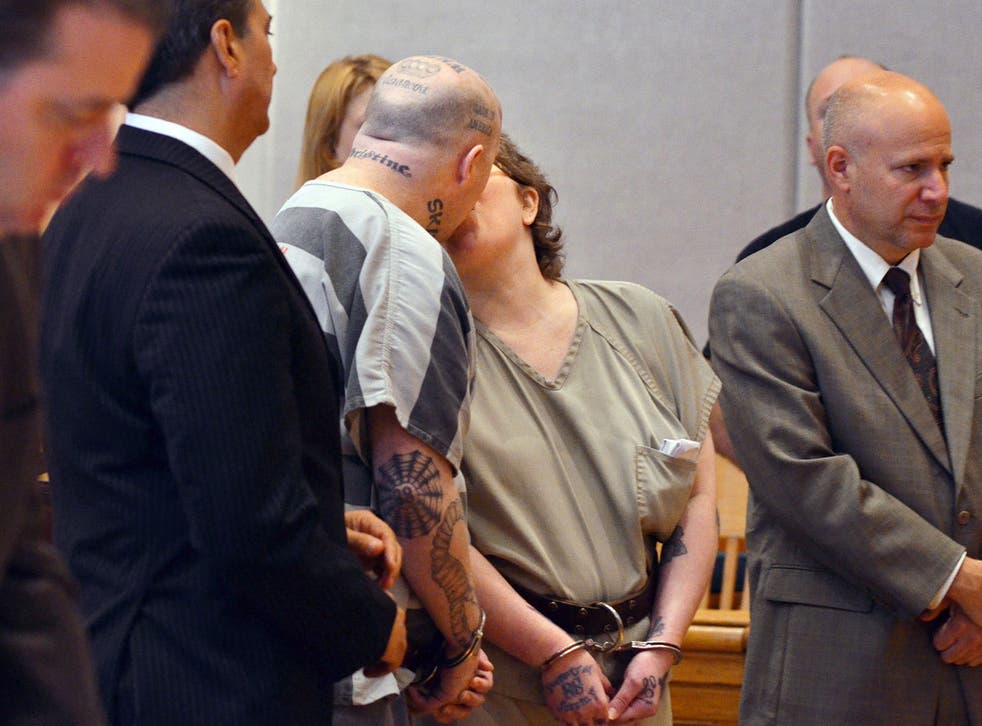 A white supremacist couple in North Carolina, who carried out a plan to kill a registered sex offender and his wife, showed little remorse at a court hearing yesterday where they kissed, smiled and shouted: "That's what child molesters get."
Suspects Jeremy Moody, 30, and his wife, Christine Moody, 36, told a judge they were guilty of the murder of Charles "Butch" Parker, 59, and his wife, Gretchen Parker, 51, on July 21, 2013.
During the bizarre hearing the couple kissed, looked at each and smiled. When asked by the judge: "Has anyone promised you anything in exchange for your plea?" Christine Moody answered, "Just fame and fortune."
During the hearing, Jeremy Moody addressed the court saying: "Not a day goes by that I don't regret what I did. I know God has forgiven me. With the right medication, this wouldn't have happened. Please have mercy on Christine and me so we can have the chance to grow old together."
However, after the sentencing Mr Moody, who the court heard has a mental illness that's a combination of bipolar disorder and schizophrenia, shouted: "Child molesters do not deserve to live. They got exactly what they deserved. If I had to do it over again, I'd kill more."
"See you perverts later! That's what child molesters get," he added as he left court. As Christine Moody left court she said, "My lawyer made me say that I repented. It was a lie." And about the victims' families she said, "May they die also."
According the trial the court heard the doctor who evaluated Jeremy Moody said he had a mental illness which made him believe God wanted him to commit the crime in order to get rid of sex offenders.
Christine Moody's attorney argued that his client had been the victim of sexual abuse from the age of two which continued into her early teens. According to her lawyer she was raped by a 28-year-old paedophile who abused her after his release from prison.
It was also argued that she suffers from PTSD and a borderline personality disorder. The couple murdered Charles Parker and his wife in July of last year. The court heard that Jeremy shot both of the victims while Christine slit their throats.
According to reports Charles Parker was a listed sex offender following a sexual assault case involving a child in 1991 and a criminal sexual conduct charge involving a woman in 2003.
They were caught on CCTV cameras at the couple's property after police recognised distinctive tattoos saying 'Made in America' and 'Skinhead' on Mr Moody's head and neck.
Join our new commenting forum
Join thought-provoking conversations, follow other Independent readers and see their replies