White supremacist recruitment on college campuses increased more than 200% in 2017, report says
'They really maximise the effects of such a small action,' researchers tell The Independent
Emily Shugerman
New York
Friday 02 February 2018 12:14 Comments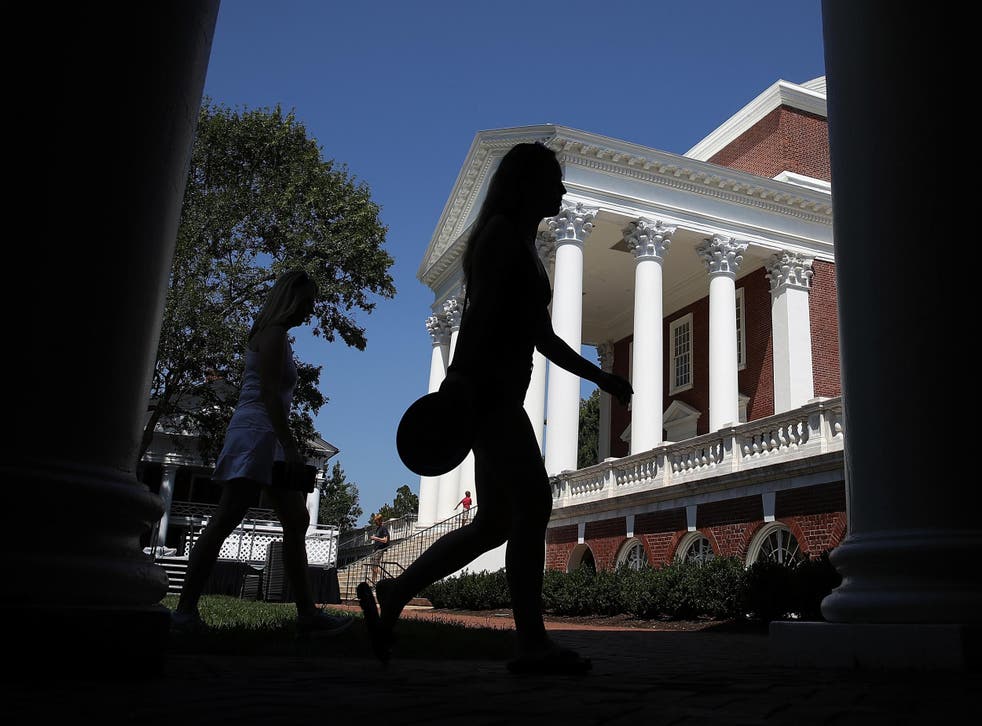 White supremacist recruitment efforts on college campuses spiked more than 200 per cent in 2017, according to a new report from the Anti-Defamation League (ADL).
The civil rights organisation has documented reports of white supremacist groups putting up flyers, posters, stickers or banners on college campuses since September 2016. In the fall of that year, the group recorded 41 such incidents. In the fall of 2017, they documented 147 – a 258 per cent increase.
The ADL has recorded 15 such incidents in the first month of 2018 alone.
"White supremacists are targeting college campuses like never before," ADL CEO Jonathan Greenblatt said in a statement. "They see campuses as a fertile recruiting ground, as evident by the unprecedented volume of propagandist activity designed to recruit young people to support their vile ideology."
The ADL has recorded incidents on more than 200 campuses in 44 states and Washington, DC since September 2016. Texas and California were by far the hardest-hit states, with 61 and 43 incidents recorded on their campuses, respectively.
Violence on the streets of Charlottesville

Show all 9
Carla Hill, a senior researcher for the ADL, said the organisation conducts in-depth studies on each group before deciding to include them in their data..
"We have studied their ideologies for many years, and we do in-depth studies on each group before we call them white supremacists," Ms Hill told The Independent. "...A lot of the alt-right is confusing because they use language to cover white supremacist ideology."
But, she added: "If you're a white person and you want to be in a nation of all white people, led by white people, you're a white supremacist."
A black man went undercover as a digital white supremacist. This is what he learned
By far the most active group tracked by the ADL is Identity Evropa, a relatively new white supremacist organisation founded by former Marine Nathan Damigo. The California-based group accounted for nearly half of all campus activity tracked by the ADL since 2016 – the same year the group was founded.
In fact, Ms Hill said she first started tracking white supremacist flyering on campuses after Identity Evropa announced its "Project Siege" campaign that fall. The group encouraged members to strike up conversations with students at local campuses, and put up posters with slogans like "Protect Your Heritage" and "History Is Ours."
On its website, the group described the project as "the beginning of a long term cultural war of attrition against academia's Cultural Marxist narrative".
Ms Hill said she wasn't convinced the project had actually boosted Identity Evropa's numbers. But she believes the group has successfully capitalised on the media coverage of their campaign.
"It hits the campus, it affects the people that see it, and then it's reported on, and it affects the people who read about it," she said. "...They really maximise the effects of such a small action."
Mr Damigo did not immediately respond to a request for comment.
Register for free to continue reading
Registration is a free and easy way to support our truly independent journalism
By registering, you will also enjoy limited access to Premium articles, exclusive newsletters, commenting, and virtual events with our leading journalists
Already have an account? sign in
Join our new commenting forum
Join thought-provoking conversations, follow other Independent readers and see their replies