White supremacist blames Donald Trump for his violent behaviour at a campaign rally
Matthew Heimbach says he acted 'pursuant to the directives and requests of Donald J Trump'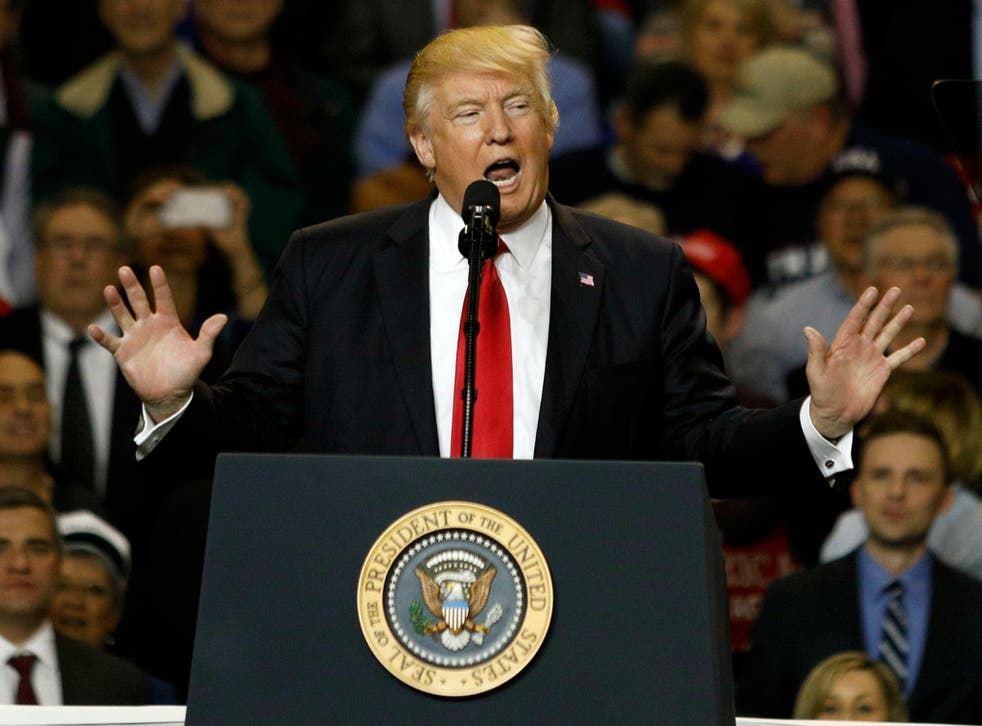 A alleged white supremacist has accused Donald Trump of inciting violence at his campaign rallies, saying he was encouraged to angrily remove protesters from a rally by the New York tycoon.
Matthew Heimbach, who leads the white nationalist Traditionalist Youth Network, has claimed in a federal court filing that he acted under Mr Trump's authority to remove protestors from a March 2016 rally in Louisville, Kentucky.
Mr Heimbach, fellow rally attendee Alvin Bamberger and Mr Trump himself, have had lawsuits filed against them by the protesters. They claim Mr Heimbach and Mr Bamberger assaulted them at the rally and that Mr Trump urged them to do so. Mr Heimbach's filing comes in response to this suit.
Video from Kentucky the rally shows Mr Trump drawing attention to the protesters, and calling to "get them out of here." Mr Heimbach and Mr Bamberger can then be seen shoving and yelling at one of the protesters, Kashiya Nwanguma. In her lawsuit, Ms Nwanguma claims Mr Heimbach used a racial epithet and swore at her.
In his cross suit Mr Heimbach denies physically assaulting the protesters and swearing at Ms Nwanguma.
He claims he acted, if at all, "in self defence," and "in reasonable defence of others." Any of the alleged actions, he says, were taken "pursuant to the directives and requests of Donald J Trump and Donald J Trump for President lnc."
If he is found to be legally liable to the plaintiffs, Mr Heimbach, who is representing himself, requested that he be "indemnified by the Trump defendants, having relied on their expertise and authority to request and authorise the actions taken."
In addition from the Louisville rally, Mr Heimbach singles out two other events from the campaign that lead him to act as he did. In one case, Mr Trump was documented telling attendees that in the past, protesters would have been "carried out on a stretcher." In another incident, he promised to pay the legal fees of anyone who helped remove the protesters.
Reached by phone, Mr Heimbach declined to comment to The Independent, citing "the ongoing nature of the case."
Mr Heimbach's cross suit echoes claims made by his co-defendant, Mr Bamberger. In a cross suit filed by Mr Bamberger, his lawyers similarly claim that he acted "in response to — and inspired by — Trump and/or the Trump Campaign's urging to remove the protesters."
Mr Trump's lawyers submitted their own filing, claiming he cannot be subject to civil suits because he is president of the United States. They also claim that his words were not specifically directed to his crowds.
Attorney Greg Belzley, counsel to the plaintiffs in this suit, said the court has yet to submit the scheduling order necessary for the case to move forward.
"We anticipate that the court will soon direct the parties to submit a proposed scheduling order, and we are eager to begin discovery in this case, which will include but not be limited to a deposition of Mr. Trump," Mr Belzely told The Independent.
Register for free to continue reading
Registration is a free and easy way to support our truly independent journalism
By registering, you will also enjoy limited access to Premium articles, exclusive newsletters, commenting, and virtual events with our leading journalists
Already have an account? sign in
Register for free to continue reading
Registration is a free and easy way to support our truly independent journalism
By registering, you will also enjoy limited access to Premium articles, exclusive newsletters, commenting, and virtual events with our leading journalists
Already have an account? sign in
Join our new commenting forum
Join thought-provoking conversations, follow other Independent readers and see their replies