Whole Foods lower-cost shopping concept fails to impress wealthy Los Angeles residents
Silver Lake critics complained the corporation had 'largely misidentified' the demographic of the neighbourhood 'as a fiscally concerned youth base'
Tim Walker
Los Angeles
Saturday 26 September 2015 23:20 Comments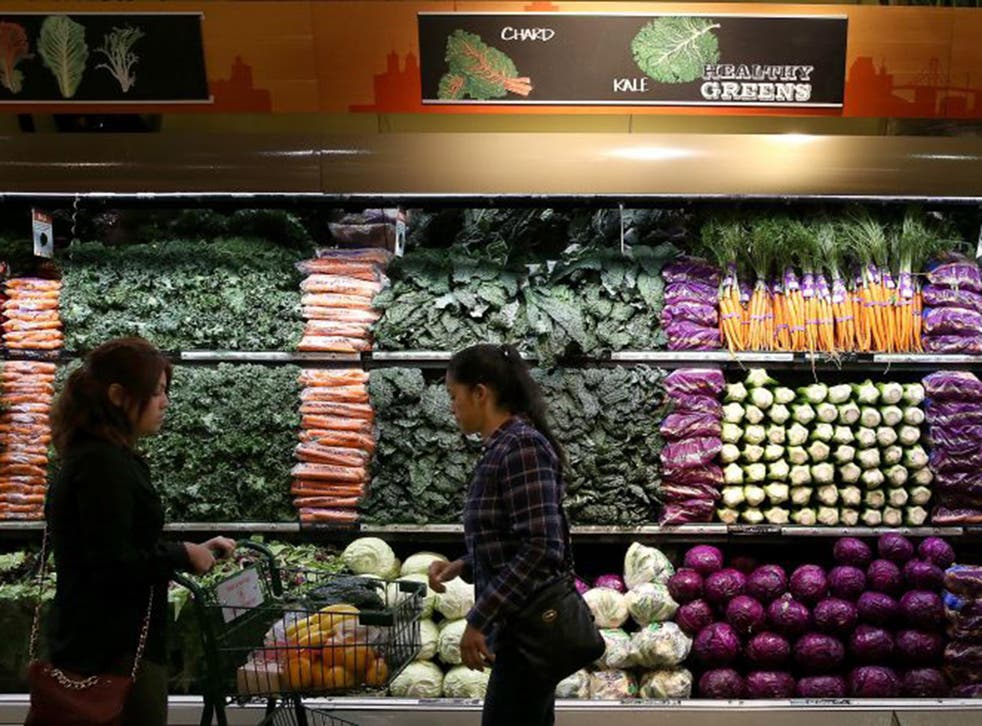 For years, Silver Lake residents have been crying out for a costly organic supermarket in which to spend their money, so when, in 2013, Whole Foods at last announced that it would open a store in the area, the locals were understandably elated. The high-end organic supermarket seemed a natural fit for the well-to-do members of the creative class who have made this hip, gentrified Los Angeles neighbourhood their home.
This summer, however, their high expectations took a dive, when the company revealed the new store would not be a Whole Foods after all, but the first in a chain of new "streamlined, value-oriented" stores known as "365 by Whole Foods Market", offering less variety at lower prices than a traditional Whole Foods. Supposedly aimed at budget-conscious millennials, the stores are set to feature several technological innovations and integration with shopping apps.
The Silver Lake store is expected to open in the second half of 2016, followed closely by four more 365 locations in Santa Monica, Houston, Portland and Seattle. "We think the Silver Lake area of Los Angeles is an ideal community to plant our first 365 store flag and bring a modern shopping experience," said Jeff Turnas, the president of 365 by Whole Foods Market.
Many Silver Lakers disagreed, seemingly believing that it would not provide the full range of organic produce the neighbourhood deserved. Dawn White, a music executive, launched an online petition urging Whole Foods to reconsider its plan. "The corporation has largely misidentified the demographic of the surrounding neighbourhood as a fiscally concerned youth base," according to Ms White. "The neighbourhood is actually comprised almost exclusively of financially secure people in their mid-thirties and above... desperate for a local high-end market with the best-quality foods."
In 2011, a local comedian toyed with neighbourhood sensibilities by posting a sign outside a disused electronics store: "Coming Soon! Whole Foods Market Silver Lake." Sure enough, the social media response was ecstatic – until everyone realised it was a joke. Two years later, when the Whole Foods dream appeared to have become reality, residents excitedly shared a rumour that the store would include a wine bar alongside its familiar fishmonger, cheese counter, bakery et al.
At the time of writing, Ms White's petition has only about 200 signatures towards its goal of 10,000, but feelings are running high among those who take the issue seriously – and among those who don't.
One signatory, Jay Reiss, complained: "We have been waiting for a Whole Foods to move in to Silver Lake for 10 years. We need a butcher and a prepared foods section. We need a full vitamin and supplement section as well as a baby-product section."
Another commenter wrote: "Sometimes you find a cause so socially important – like race, gender, and economic inequality – that you're compelled to organise support. This is such a cause, representing my desires to fight for six-figure families and their neighbourhood concerns."
Janette Rizk, a Whole Foods spokesperson, told The Independent on Sunday that the company was aware of the petition, and reassured Silver Lake residents that they should expect a shopping experience that will reflect their tastes. "Of all the neighbourhoods in Los Angeles, Silver Lake residents are passionate and knowledgeable about food and what they consume in general. We couldn't think of a better place to try this new concept," Ms Rizk said.
Whole Foods already has two dozen branches in greater LA, but faces competition from other major chains beginning to emulate its premium natural foods selection. The 365 stores – named after Whole Foods' in-house value brand – are designed to combat the company's "whole paycheck" reputation. Their direct competitors will no longer be giant chains such as Safeway, but the California-based, low-cost organic grocer Trader Joe's.
"The smaller format will give the company more flexibility over where to open stores, and allow them into some smaller catchment areas," explained food retail analyst Stewart Samuel. "But Whole Foods envisages the two chains as complementary, and it expects that shoppers will shop at both Whole Foods Market and 365 over the course of a week. People would be on different shopping missions at the two stores."
Register for free to continue reading
Registration is a free and easy way to support our truly independent journalism
By registering, you will also enjoy limited access to Premium articles, exclusive newsletters, commenting, and virtual events with our leading journalists
Already have an account? sign in
Join our new commenting forum
Join thought-provoking conversations, follow other Independent readers and see their replies