Why Peru's gastronomy is a bigger draw for tourists than the Incas
With a cuisine worth £5bn a year the country has become a magnet for foodies
Simeon Tegel
Lima
Sunday 10 January 2016 19:24 Comments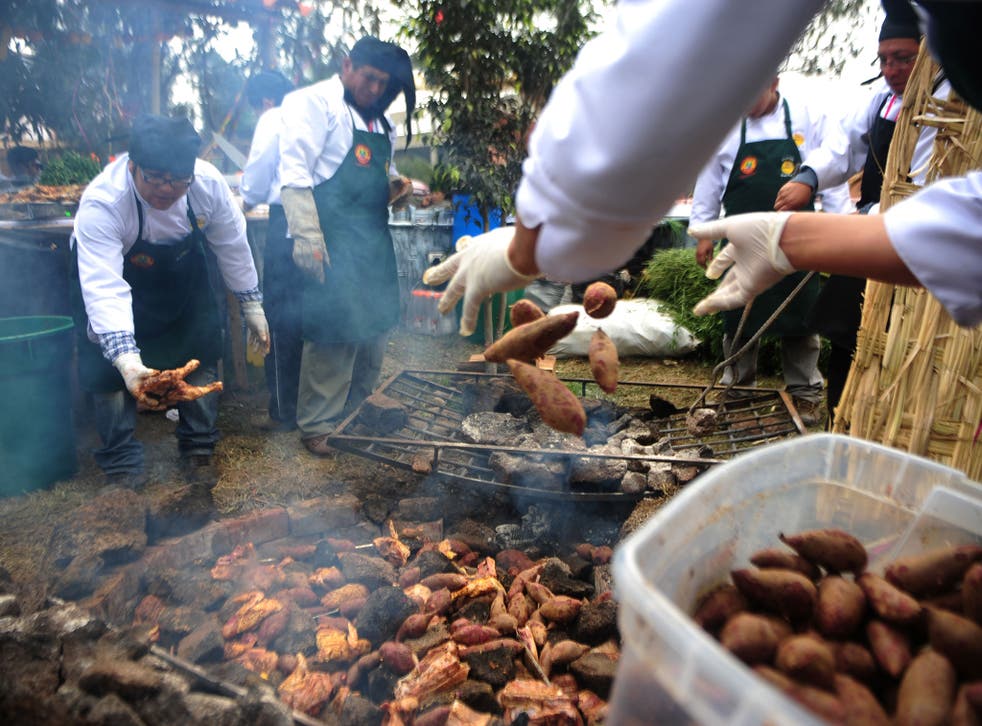 The sun beats down as local builders and American tourists down cold beers and ceviche at an outdoor market in the scenic Lima district of Barranco, overlooking the Pacific.
Business is booming, says Vicente Furgiuele, owner of the Canta Ranita (The Little Singing Frog), a small but popular restaurant specialising in £5 servings of the marinated seafood salad that is a Peruvian summer classic.
"We cook with love," adds Mr Furgiuele, 30, who studied at the Peruvian capital's Cordon Bleu institute, the only branch of the famous French culinary school in South America. "We love to spoil our customers and it's paid off. We've been in a couple of guidebooks but more than anything, it's word of mouth."
In recent months, Peru's steady gastronomic ascent over the past 15 years has accelerated to a rapid boom, a source of national pride and a motor of the economy as increasing numbers of tourists head here to sample the original and varied cuisine.
It spans everything from Peruvian-Japanese fusion to pachamanca, a pre-Colombian classic of slow-cooked meats and vegetables.
Now cuisine outstrips even Peru's Inca heritage as its main source of identity, and the plaudits are stacking up. The country's top restaurant, Central, was No 4 in San Pellegrino's global restaurant rankings two months ago, three spots above the UK's highest placed entry, Heston Blumenthal's Dinner. Meals at Central cost between £60 and £80 and yesterday, tables at peak times were booked up until nearly the end of April.
Peru has also established its dominance over its neighbours. Three of this year's top five Latin American restaurants, according to San Pellegrino, are in Lima. Peru's gastronomy association, Apega, calculates that its cuisine will generates 25 billion sols (£5bn) this year – a remarkable figure for a country whose per capita annual income is just £4,500.
Peru's culinary renaissance has also propelled Lima, once viewed as a grim but necessary stop on the way to Cusco, the capital of the Inca Empire, to become the city with most overnight international visitors in Latin America for each of the past four years.
One poll found that 39 per cent of Peruvians consider gastronomy to be the principal source of national pride – ahead of the ruins of Machu Picchu, on 36 per cent.
Peru's gastronomic prowess is attributed by many to its unique blend of influences in the kitchen, ranging from indigenous Andean, Amazonian and coastal cultures, to the Spanish conquerors and African slave history as well as French, Italian, Chinese and Japanese immigrants.
The country also has a uniquely varied natural pantry. Peru's Pacific fisheries are the most prolific in the world. In the Andes, crops ranging from quinoa and amaranth to thousands of kinds of potato, flourish from sea level to the 15,000ft (4,570m) snowline. And the Peruvian Amazon is packed with exotic fruit and vegetables.
Many Peruvian cooks use all the ingredients that you might find in a European kitchen along with herbs such as huacatay (known in English as "black mint"), rare Andean tubers or jungle fruit such as lucuma or cocona, and employ oriental techniques. The result is a burgeoning national collection of hundreds of recipes, both traditional and contemporary, with something for every palate.
"Peru is a fragmented society with significant geographical barriers, but food has provided cohesion and a sense of identity," says Apega general manager Mariano Valderrama.
But even within Peru, national cuisine has only recently become something to celebrate: "Until the 1960s, the Lima elite didn't even eat Peruvian food. The chic thing was to have your own French chef." The turning point was the national calamity of the 1980s and 1990s, when Peru endured hyperinflation, Shining Path terrorism, and the corrupt and authoritarian presidency of Alberto Fujimori. Waves of Peruvians, rich and poor, emigrated as a result.
By the turn of the millennium, with democracy and the economy back on track, expatriates began returning. Among them were talented young chefs who had studied at leading academies in France, Spain and Italy and were determined to use their new techniques on Peruvian recipes which, traditionally, had been served more at home than in restaurants.
One of them was Rafael Osterling, now widely recognised as one of Peru's top chefs. "Peru has been reborn politically, economically and even culturally. It has been like a phoenix rising from the ashes," he told The Independent, sitting in his flagship locale, Rafael, in Lima's upmarket district of Miraflores, where main courses cost as little as £10.
"Ten years ago tourists who came to Peru went straight to Cusco. Why? Because Lima didn't have anything to offer them," he added. When he founded Rafael in 2000, just 5 per cent of his customers were foreign. Now, it's more like 50 per cent, with many coming to Lima specifically to dine out.
Yet there are still some problems. Many of Peru's restaurants are informal. Red tape means that to open a new top-tier eatery typically takes three years. And although thousands of wannabe chefs flock to Peru's culinary institutes every year, there is a shortage of trained waiters.
Mr Valderrama hopes that the next step will mean exporting not just raw ingredients but also finished products such as Peruvian sauces and conserves, adding value and creating jobs. Meanwhile, small-scale farmers and fishermen are earning steadily more for their produce. As Mr Osterling put it: "We help them to improve their quality, and then we pay more for that."
Register for free to continue reading
Registration is a free and easy way to support our truly independent journalism
By registering, you will also enjoy limited access to Premium articles, exclusive newsletters, commenting, and virtual events with our leading journalists
Already have an account? sign in
Join our new commenting forum
Join thought-provoking conversations, follow other Independent readers and see their replies