Woman cancels £23,000 wedding and turns reception into party for homeless people
'It was an opportunity to let these people know they deserved to be at a place like this just as much as everyone else does'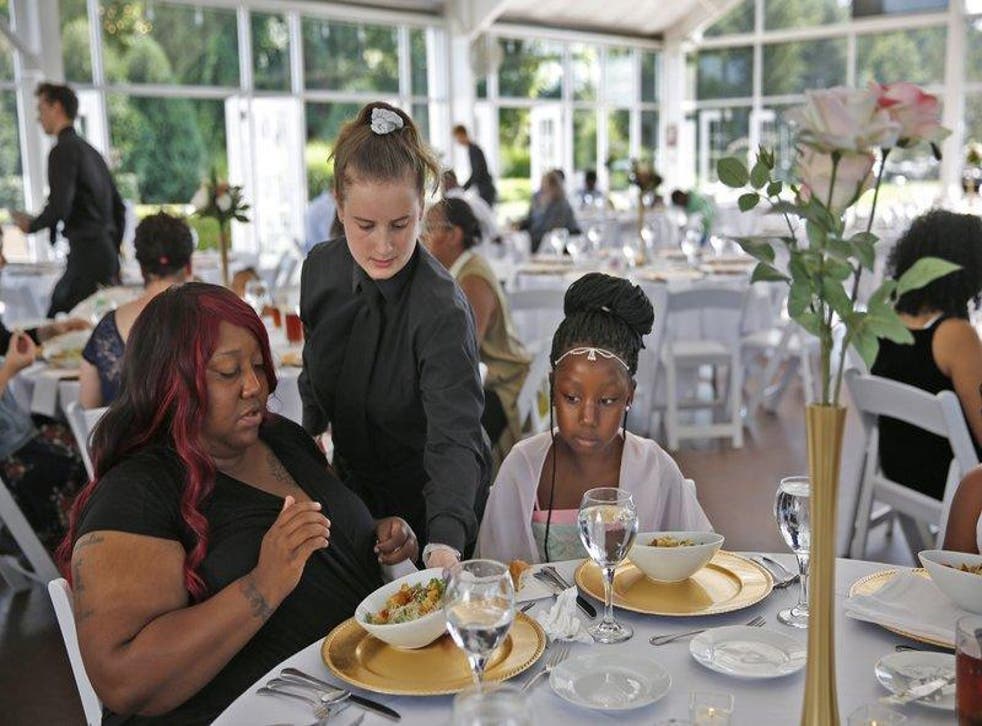 A woman who did not want her cancelled £23,000 wedding to go to waste threw a party for homeless people instead.
Sarah Cummins arranged for guests including local war veterans to be bussed in to the reception at a swanky venue in Indianapolis, Indiana, that she had originally booked with her fiancé.
She had been planning her dream wedding with partner Logan Araujo for two years, but called it off just a week before they were due to marry.
"I called everyone, cancelled, apologised, cried, called vendors, cried some more and then I started feeling really sick about just throwing away all the food I ordered for the reception," the 25-year-old told the Indianopolis Star.
The couple, who did not want to disclose why the wedding was cancelled, were left with a non-refundable booking including dinner for 170 guests at the Ritz Charles.
After discussing it with her ex-fiancé, Ms Cummins contacted four local homeless shelters and invited residents to the party.
"For me, it was an opportunity to let these people know they deserved to be at a place like this just as much as everyone else does," she said.
The reception was held as it had been planned for the wedding, but with the seating plan rearranged to remove the head table.
Guests tucked into bourbon-glazed meatballs, goat cheese and roasted garlic bruschetta, chicken breast with Chardonnay cream sauce, and even wedding cake.
Some wore suits and gowns donated by Indiana shops as Ms Cummins's goodwill swept through the city.
She and her mother arrived early at the venue on Saturday to set up centrepieces they had designed themselves, before greeting guests when they turned up.
Erik Jensen, a guest who has lived in a homeless shelter for five months, said he was humbled by Ms Cummin's kindness.
"It's just a really great opportunity for us, that was going to be a huge tragedy in her life," he said. "It's a great opportunity to spread love. Being homeless is kind of a big loss for all of these guys. This is just a very nice thing to do."
Mr Araujo footed most of the bill for the wedding, with Ms Cummins and her parents, along with one of Mr Araujo's family friends, paying the rest.
Three of Ms Cummins' seven bridesmaids, along with her mother and aunts, came to support her at the event.
Ms Cummins flew out to the Dominican Republic with her mother on Sunday on a holiday that would have been her honeymoon.
But she is not sure yet what she will do with the wedding dress.
"It's too painful to think about," she said.
Register for free to continue reading
Registration is a free and easy way to support our truly independent journalism
By registering, you will also enjoy limited access to Premium articles, exclusive newsletters, commenting, and virtual events with our leading journalists
Already have an account? sign in
Register for free to continue reading
Registration is a free and easy way to support our truly independent journalism
By registering, you will also enjoy limited access to Premium articles, exclusive newsletters, commenting, and virtual events with our leading journalists
Already have an account? sign in
Join our new commenting forum
Join thought-provoking conversations, follow other Independent readers and see their replies