Woman falls to death from cliff in California after tripping in flip flops
Friends attempt to grab on to Lorena Barrera after stumble but lose grip
Charlotte England
Tuesday 23 August 2016 10:59 Comments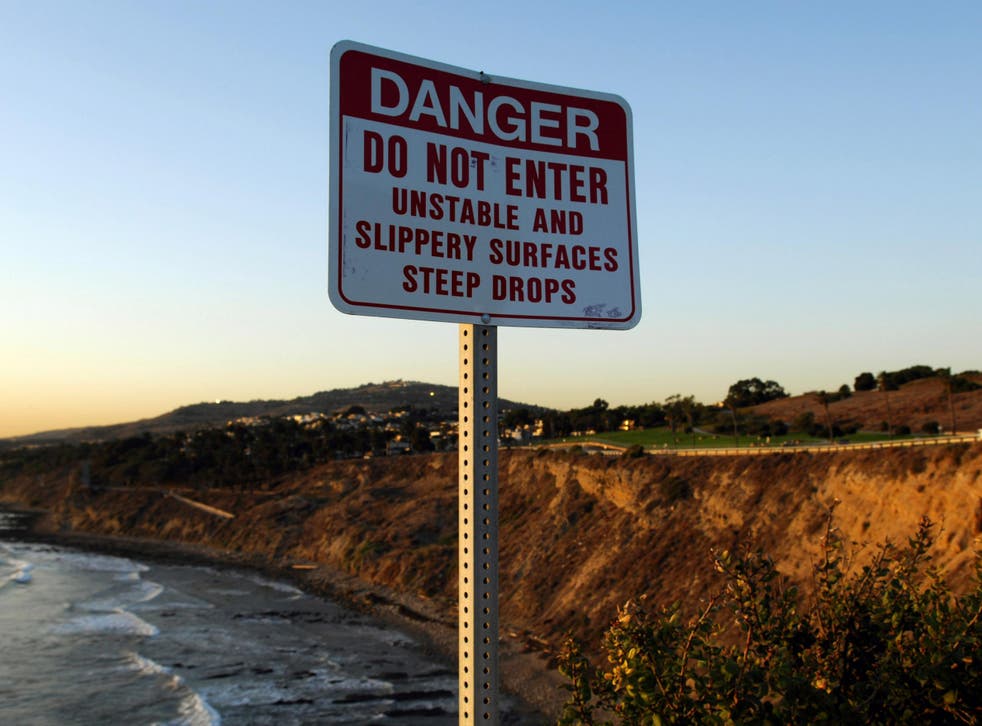 A woman died after tripping over in her flip flops and falling from a cliff in southern California.
Lorena Barrera, of Sparks, Nevada, fell around 100 feet after stumbling while climbing over a low wall to take a photograph.
It was Ms Barrera's first day in the Los Angeles area and she had gone to Point Fermin with two friends to look at the view.
Police and firefighters were called to the scene at around 2pm on Friday afternoon, Los Angeles Fire Department spokesman Brian Humphrey said.
The woman was found dead at the base of a cliff "after (an) apparent fall," he added, describing the incident as completely accidental.
Los Angeles fire chief Albert Valle said Ms Barrera's friends tried to save her.
"The two people she was with made an effort but they lost their grip and she fell," he said.
The two friends ran to a nearby bus stop and asked a bus driver to call the emergency services. The driver told Eyewitness News the women blamed themselves for not being able to save Ms Barrera.
Fire officers estimate about one person a month is killed falling from the cliff near Point Fermin.
In early August, the bodies of a man and a woman were found at the bottom of the same stretch of cliffs. Police said they believed the couple also accidentally fell.
Local woman Teresa Wood said she had seen several deadly accidents there.
She said visitors did not realise the danger of climbing over the wall to get to the edge and that more signs should be put up to warn people.
"I'm not sure people would necessarily adhere to them, but I don't think it's a bad idea," Ms Wood said.
Secret California

Show all 5
But Cecil Reynolds, who also lives near the cliff, told said people ignored the existing signs.
"It happens all the time over here, left and right, a lot of young people," he told NBC Los Angeles.
"They give you a sign, 'Don't go over and take pictures.' A lot of people take chances, and the consequences ends up like this."
Register for free to continue reading
Registration is a free and easy way to support our truly independent journalism
By registering, you will also enjoy limited access to Premium articles, exclusive newsletters, commenting, and virtual events with our leading journalists
Already have an account? sign in
Join our new commenting forum
Join thought-provoking conversations, follow other Independent readers and see their replies