Woman holds sign at feminist rally saying 'there is no rape culture in the West'
Lauren Southern claims her team was pushed and shoved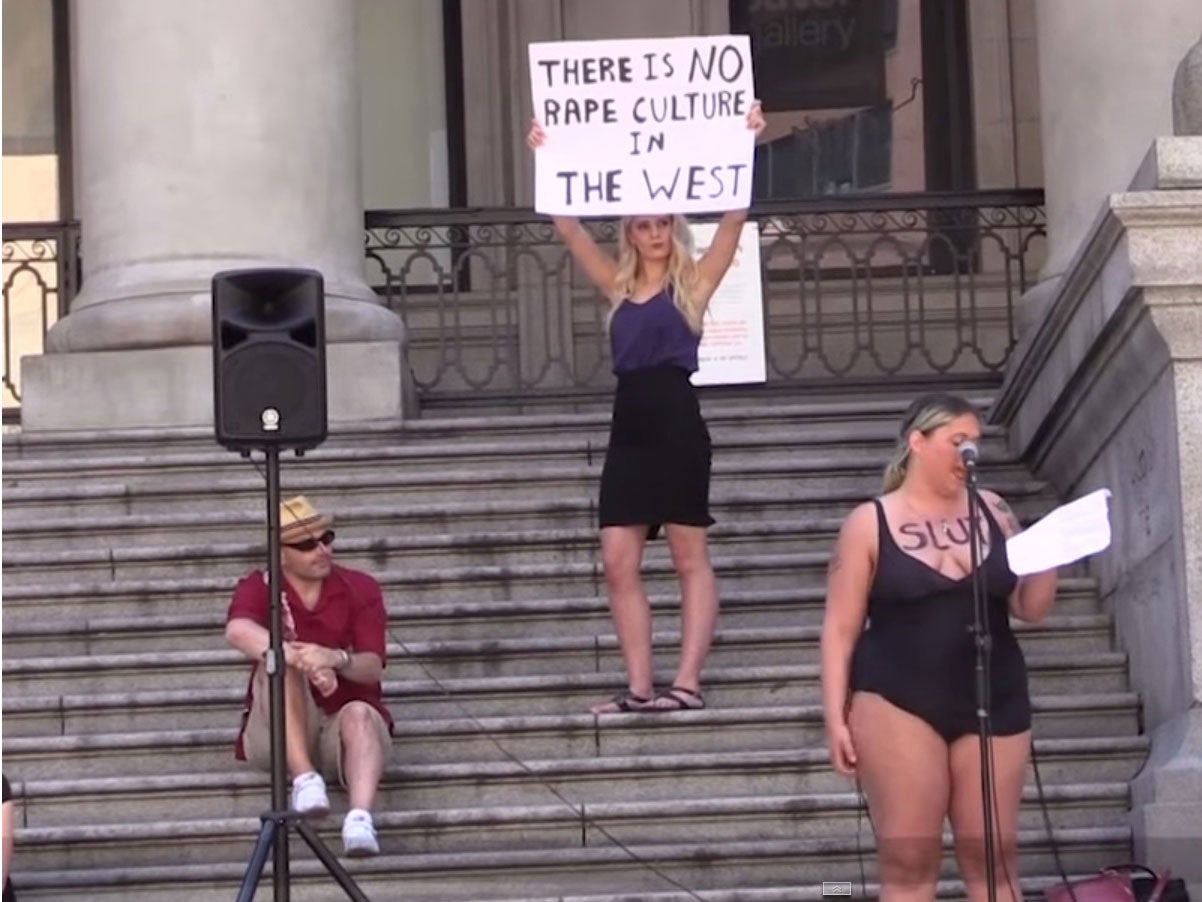 A woman held up a provocative sign dismissing the idea of a 'rape culture' in the West at a feminist rally which was trying to raise awareness of sexual assault.
Lauren Southern, a reporter with TheRebel, held up the controversial placard on the steps of a march organised in association with SlutWalk in Vancouver which read: 'There is no rape culture in the West' and then documented what happened.
She describes how she got into a "huge confrontation" with those involved, and claims that her cameraman was shoved, her sign torn up and that she was the victim of misogynist language - from other women.
Ms Southern also wrote that she decided to perform the stunt as a way to "challenge the fear mongering feminist narrative about men, women and violence".
"It is intellectually dishonest to think we are living in a rape culture," Ms Southern says in the introduction to the video.
"Rapes do happen but the vast majority of men and women aren't rapists and when we do find out they are rapists they go to prison and they are punished - when in third world countries and other places, men can get away with rape.
"It's insane to focus on this one issue and say that we are living in a rape culture. Men are getting fired from their jobs just for making rape jokes - not raping. So to say we're living in a rape culture is, quite frankly, ridiculous."
The camera follows Ms Southern as she walks alongside those taking part in SlutWalk, marching and chanting, "No means no!", while carrying placards reading "Alcohol is not consent".
At one point there appears to be a scuffle and Ms Southern interrupts to say, "You are attacking my cameraman!"
She then asks one protester how she believes her outfit - which is a bikini apparently made out of crime scene tape - is tackling rape culture.
The woman replies: "It's my body and my choice and I can wear what I want."
Ms Southern counters: "Is this stopping rapes?" - to which someone else takes the reporter to task about her earlier claim that "rapists go to jail".
The woman, who says that she works at a rape crisis centre, tells Ms Southern that fewer than 10 per cent of rapes are reported - according to data from leading women's organisations.
Undeterred, Ms Southern holds up her sign and explains why she is protesting. "My sign means that there is not a rape culture," she says. "Rapists go to prison here. Rapists are actually hated here. Rapists are fired from their jobs. Men who make rape jokes are fired from their jobs. Go to Africa and you'll see a real rape culture!"
But she is quickly challenged by members of the rally, who accuse her of "sounding like a 12-year-old" with her views on women withdrawing consent.
At the end of the six-minute film, Ms Southern says that she got "a few middle fingers", that her cameraman was "shoved and pushed" and she was called a "bitch", while her sign was ripped up. "It's been an interesting experience," she says.
Join our commenting forum
Join thought-provoking conversations, follow other Independent readers and see their replies