Woman dies of 'horrific' injuries nearly two years after her ex set her on fire
'That child suffered for two years to tell her own story, who has the strength to do it?'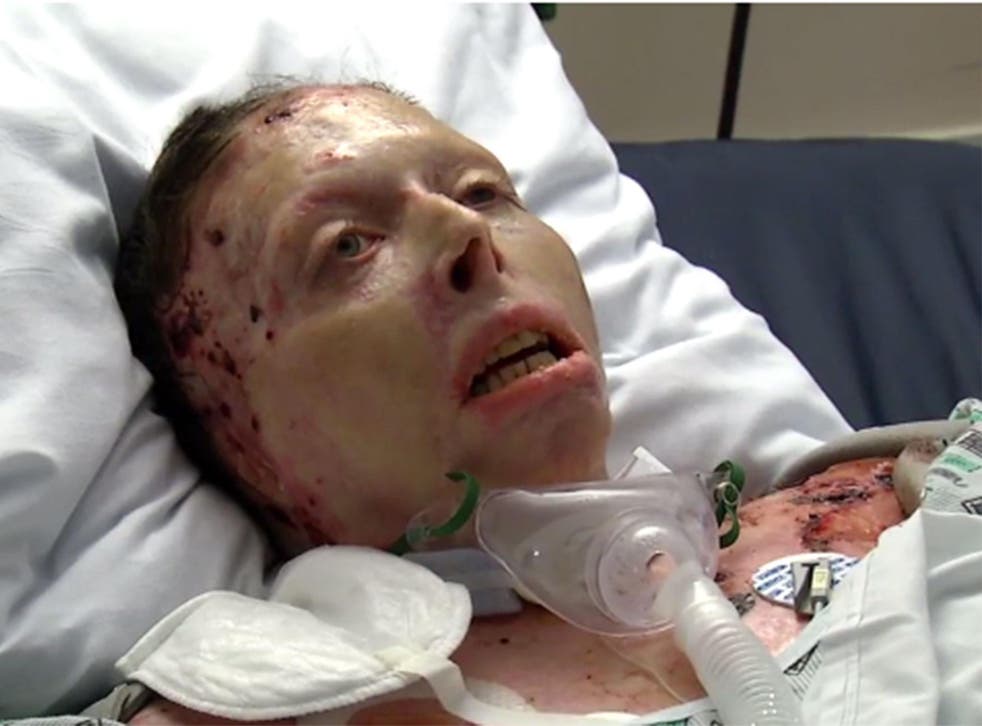 A woman who was doused with petrol and set on fire by her ex-boyfriend, has died nearly two years after the attack.
Judy Malinowski suffered fourth and fifth-degree burns to 80 per cent of her body after Michael Slager set her on fire at a Gahanna, Ohio, petrol station.
The 33-year-old also lost her ears and parts of her fingers after the August 2015 attack. Her voice was reduced to a whisper because of extensive damage to her windpipe.
She underwent 56 surgeries, but doctors couldn't fix massive open wounds on her back and buttocks because she was too weak to lay on her stomach during surgery.
Confirming her death, her mother, Bonnie Bowes, said: "That child suffered for two years to tell her own story, who has the strength to do it?"
Slager, 41, initially claimed that he didn't mean to set her on fire. He said that he accidentally ignited the fuel when he lit a cigarette.
But he was sentenced to 11 years in prison in December after pleading no contest to charges including felonious assault and aggravated arson.
However, Franklin County Prosecutor Ron O'Brien said his office will now pursue murder charges against him.
Slager's original sentence sparked outrage in Ohio, where lawyers are trying to pass a law named after Ms Malinowski.
The law would increase penalties for cases with victims like Ms Malinowski, who are left permanently disfigured when an accelerant is used to set them on fire. It unanimously passed the Ohio House in May and is waiting on the Senate to ratify it.
Ms Malinowski's eldest daughter Kaylyn, 13, testified last week before an Ohio Senate committee about the bill.
World news in pictures

Show all 50
"While he got 11 years, my mom, my sister and I all got a life sentence," she said. "While we stand here today, my mum lays in a hospital bed where she has been for 689 days."
A GoFundMe page set up on behalf of Ms Bowes while her daughter was still in hospital reads: "Beneath Judy's now-brutal cosmetic exterior is a smart, kind woman with an incredible spirit and soul.
"Below her charred surface is a fighter beyond belief, a determined mother and daughter, an overcomer of obstacles who hoped to utilize lessons learned from her experiences in an effort to help others.
It states that Ms Bowes stepped in to a crucial parental role for her granddaughters, having them live with her and attempting to establish for them some sense of "normalcy".
The page has so far generated more than $33,700 (£26,200). One person who donated commented: "This was such a horrific crime that I would like to see the man who did this to her be lit on fire so he might feel the pain that she suffered."
Join our new commenting forum
Join thought-provoking conversations, follow other Independent readers and see their replies