Woman sues Nasa for right to own moon dust 'given to her by Neil Armstrong'
The federal space agency says it 'illegal for private citizens to own lunar material'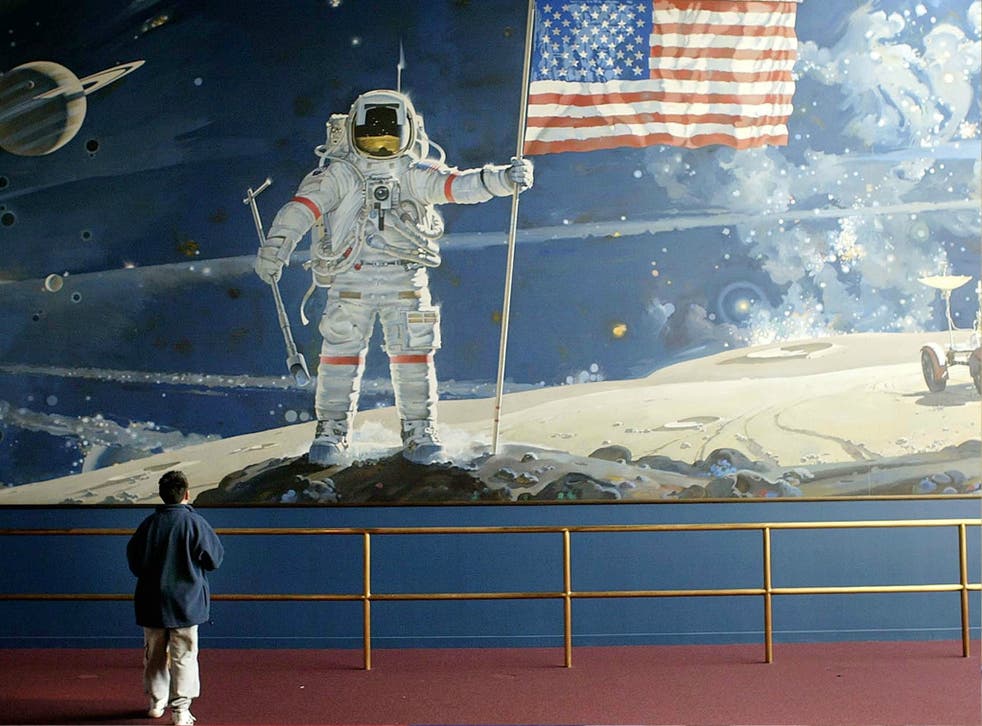 A Tennessee woman is suing Nasa for the right to keep a vial of moon dust which she received from astronaut Neil Armstrong.
Laura Murray Cicco of Manchester, Tennessee, has alleged in a 6 June lawsuit in the US District Court in Kansas that there is no law forbidding people from owning such material.
Nasa had said in 2011 court documents that "private citizens cannot own lunar material" after a raid of a woman called Joann Davis in California, who was the widow of an engineer on Apollo 11 spacecraft which famously took Mr Armstrong to the moon.
Ms Davis had been attempting to sell a gift given to her by her husband - a paperweight containing lunar material. It was seized by the federal space agency.
Ms Cicco's vial, approximately the size of lipstick, has a note attached that reads: "To Laura Ann Murray – Best of luck – Neal Armstrong Apollo 11".
She said she received the vial when she was 10 years old and that the note is written on the back of her father's old business card.
Ms Cicco claimed that her father was friends with Mr Armstrong when the astronaut was teaching at the University of Cincinnati, near where her family had lived at the time.
Nasa announces organic matter has been found on Mars
The lawsuit also stated that Ms Cicco had Mr Armstrong's signature "verified" and that an expert, Tom Tague of the Bruker Corporation, said the gray, powdery material in the vial "may have originated from lunar regolith".
According to its website, Bruker is a "manufacturer of scientific instruments for molecular and materials research, as well as for industrial and applied analysis".
"Lunar material is not contraband...She is the rightful and legal owner," the lawsuit, an apparent challenged to the 2011 ruling, stated.
Ms Davis also sued Nasa and claimed it was an unlawful search and seizure. She had eventually settled out of court for $100,000.
In all there has been approximately 842 pounds (382 kg) of moon rocks collected and brought back to Earth by astronauts. Nasa has gifted plaques to famous people in past that have contained slivers of moon rocks, some of which made it into the private collection market.
Nasa finds flowing water on Mars - in pictures

Show all 7
In 1998, a Florida man was arrested for attempting to sell a lunar rock roughly the size of a fingernail and weighing less than a gram for the astonishing price of $5m. The rock had originally been given to the Honduran government by then-President Richard Nixon.
The man had allegedly obtained the precious material from a retired Honduran military officer. He was caught when explaining the story to undercover customs agents after they had placed an advertisement in USA Today calling for moon rocks - in a bid known as "Operation Lunar Eclipse".
In 1993, the magazine Omni had reported that moon dust was available on the private market in part because of dirty space suits. Nasa had reportedly sent the suits to the manufacturer after the mission "for inspection".
"According to unpublished accounts, workers sometimes ran loops of scotch tape across them, picking up small amounts of moon dust," the magazine wrote.
Register for free to continue reading
Registration is a free and easy way to support our truly independent journalism
By registering, you will also enjoy limited access to Premium articles, exclusive newsletters, commenting, and virtual events with our leading journalists
Already have an account? sign in
Register for free to continue reading
Registration is a free and easy way to support our truly independent journalism
By registering, you will also enjoy limited access to Premium articles, exclusive newsletters, commenting, and virtual events with our leading journalists
Already have an account? sign in
Join our new commenting forum
Join thought-provoking conversations, follow other Independent readers and see their replies