Woman vows to take gun into Target discount store bathrooms to protect herself from transgender people
The move is part of a campaign against discount chain store Target, which has expressed support for equal rights for transgender people
Will Worley
Tuesday 26 April 2016 23:40 Comments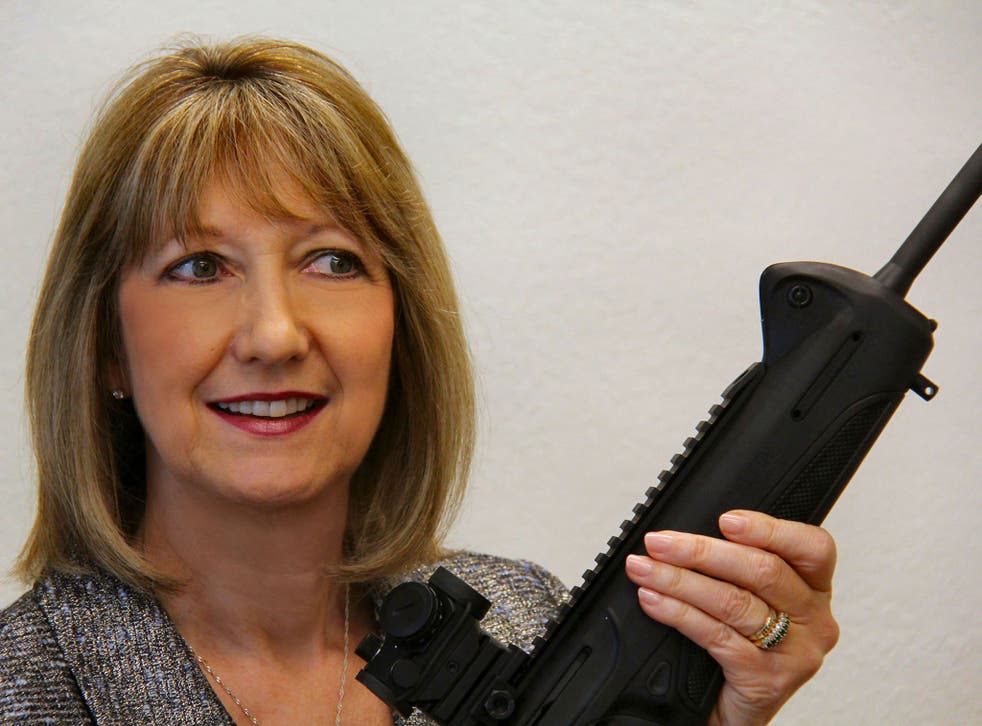 A conservative lawyer has vowed to bring along her gun when she visits public bathrooms, in response to department store Target's decision to allow transgender people the right to choose which gender bathroom they use on its premises.
Anita Staver is a lawyer with the evangelical Christian legal organisation Liberty Counsel, which has also been referred to as a 'hate group' by the Southern Poverty Law Center (SPLC), who cite concerns with its attitude to LGBT people.
Ms Staver, along with numerous others, has been using the hash tag #BoycottTarget to protest the store's decision. Unlike many others, she also decided to the incorporate America's firearm tradition into her personal campaign.
Ms Staver refered to a Glock .45 handgun in a tweet and said she fears for the safety of other bathroom users.
"I want protection from the perverts who will use the law to gain access to women," she said in another Twitter post.
She said the bathroom policy would allow men "to claim they are women when their real purpose is to assault women."
Bringing a handgun into a toilet would constitute self-defence, rather than aggression, Ms Staver said.
Mathew Staver, Anita Staver's husband and founder of the Liberty Counsel, told CBS News: "It is only about being free to pursue your faith. We have no interest in discriminating against anyone."
Target made an announcement on 19 April which clarified its position towards transgender people. A blog post on its website said: "Inclusivity is a core belief at Target… We believe that everyone - every team member, every guest, and every community - deserves to be protected from discrimination, and treated equally."
The pioneers of LGBT rights in 2015

Show all 6
"We welcome transgender team members and guests to use the restroom or fitting room facility that corresponds with their gender identity."
A petition calling for the boycotting of Target was launched by the American Family Association (AFA) – another SPLC-listed hate group – in response.
"A man can simply say he 'feels like a woman today' and enter the women's restroom... even if young girls or women are already in there," said a statement on the AFA website.
"Target's policy is exactly how sexual predators get access to their victims. And with Target publicly boasting that men can enter women's bathrooms, where do you think predators are going to go?
"Clearly, Target's dangerous new policy poses a danger to wives and daughters."
The group suggested the introduction of unisex bathrooms which transgender customers can use.
The petition has so far received more than 600,000 signatures from people who have pledged to avoid using Target stores.
The chain introduced its policy in response to the controversial North Carolina Bathroom law. The Public Facilities Privacy and Security Act, also known as HB2, barred transgender people from using bathrooms of the gender they identified with.
Register for free to continue reading
Registration is a free and easy way to support our truly independent journalism
By registering, you will also enjoy limited access to Premium articles, exclusive newsletters, commenting, and virtual events with our leading journalists
Already have an account? sign in
Join our new commenting forum
Join thought-provoking conversations, follow other Independent readers and see their replies