Woman who taped dog's mouth shut found guilty of animal cruelty
Katharine Lemansky was handed a suspended 60-day jail sentence - but will get to keep the pet
Adam Withnall
Monday 06 June 2016 11:28 Comments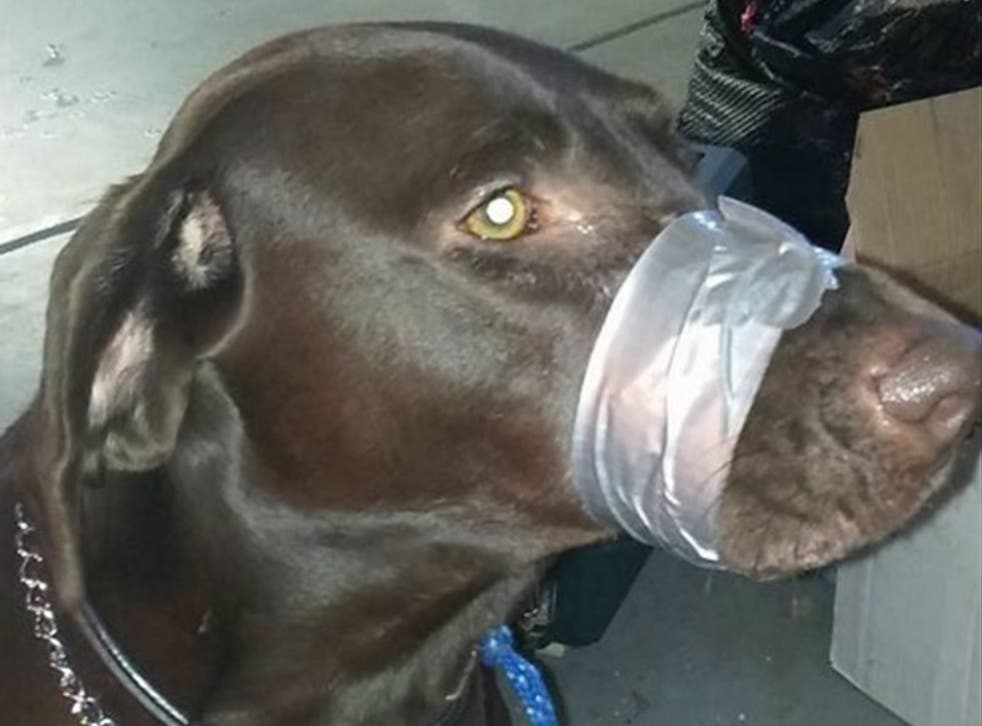 A woman who taped her dog's mouth shut and uploaded a photo of it to Facebook has been found guilty of animal cruelty.
Katharine Lemansky was handed a 60-day jail sentence, suspended for one year, but will be allowed to keep the animal after police found it was otherwise well-cared-for.
Lemansky, also known as Katie Brown, sparked outrage with the social media post, which was shared hundreds of thousands of times late last year.
It was captioned: "This is what happens when you don't shut up!!!"
Lemansky insisted the post was a joke, and even defended it in a follow-up on Facebook saying: "Don't panic everyone it was only for a minute but hasn't barked since… POINT MADE!!!"
She told the court in Wake County, North Carolina, the duct tape had only been on the dog for 15-20 seconds.
Police who attended the home not long after the incident said the pet, a chocolate lab-mix named Brown, showed no lasting signs of physical harm.
Nonetheless, district judge Jackie Brewer said: "This is one of those cases where a picture's worth a thousand words."
Police captain Randall Rhyne said taping Brown's muzzle shut was "a terrible decision on Ms Lemansky's part".
He added: "At the same time, it's important to also note that our animal control officers who physically examined both Brown and her littermate found the dogs to be very well cared for, which is why we did not and could not remove them from the owner."
Register for free to continue reading
Registration is a free and easy way to support our truly independent journalism
By registering, you will also enjoy limited access to Premium articles, exclusive newsletters, commenting, and virtual events with our leading journalists
Already have an account? sign in
Join our new commenting forum
Join thought-provoking conversations, follow other Independent readers and see their replies