World Aids Day 2017: Donald Trump breaks tradition by not mentioning LGBT community in proclamation
'Simply put, HIV affects people in some communities more than others, and our federal government cannot turn a blind eye to that,' says civil rights organisation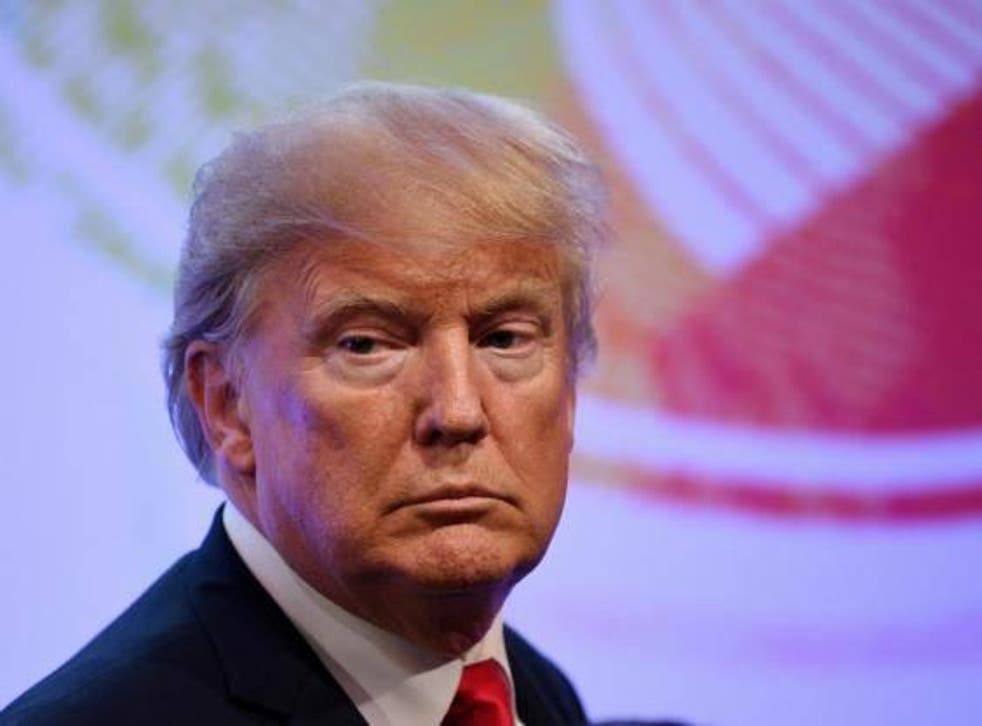 Donald Trump has broken precedent by failing to mention the LGBT community in his World Aids Day statement despite the fact they are most disproportionately affected by the disease.
Previous administrations explicitly mentioned those communities in the US particularly affected by the disease, such as gay and bisexual men, trans women, and also black, Latino and Southern groups, but the president excluded those groups in his generic statement.
"Today, on World Aids Day, we honour those who have lost their lives to Aids, we celebrate the remarkable progress we have made in combatting this disease, and we reaffirm our ongoing commitment to end Aids as a public health threat," President Trump said in his official statement.
This sharply contrasts with former president Barack Obama's statement last year which mentioned those groups at higher risk.
"Although we have come far in recent decades, our work is not yet done and the urgency to intervene in this epidemic is critical. Gay and bisexual men, transgender people, youth, black and Latino Americans, people living in the Southern United States, and people who inject drugs are at a disproportionate risk," Obama said in 2016.
Former president Bill Clinton also took care to emphasize the fact the LGBT was disproportionately affected by the virus.
"Volunteers across America, members of local service organizations, church groups, gay and lesbian service organisations, and thousands of individuals have heard the summons to action and have given selflessly of their time and energy," he said in his statement. "Those who labour to hasten the end of this terrible epidemic deserve our deep appreciation and admiration."
Mr Trump has drawn criticism from a number of leading civil rights organisations for the omission.
The Human Rights Campaign, a leading LGBT advocate, said: "Donald Trump's World Aids Day proclamation is missing a few things: It doesn't mention the marginalised communities disproportionately affected by HIV & AIDS – like LGBTQ, Black & Latinx people. He's touting programs that he's proposing to significantly reduce funding for".
Lambda Legal, a civil rights organisation which focuses on LGBT communities and those living with HIV/Aids, said: "Simply put, HIV affects people in some communities more than others, and our federal government cannot turn a blind eye to that."
World AIDS Day, which was first observed in 1988, seeks to raise global awareness of the disease. Across the world, an estimated 36.7 million people are living with HIV/Aids and more than 1.1 million of those live in the US.
Protest in Manila against Donald Trump's visit to the Philippines

Show all 14
The Trump administration's omission is particularly troubling when you bear in mind that in 2015 48 per cent of those diagnosed with Aids in the US were African-Americans. Furthermore, in 2014, the Center for Disease Control (CDC) found gay and bisexual men constituted an estimated 70 per cent of new HIV infections in the US.
Data on the trans community is less extensive but among the 3.3 million HIV testing events reported to CDC in 2013, the percentage of transgender people who received a new HIV diagnosis was more than three times the national average.
President Trump's track record on tackling HIV/Aids has been fiercely criticised. In July, six top health advisers resigned from Mr Trump's advisory council on HIV/Aids, complaining the world leader does not really care about tackling the illness.
In a letter, Scott Schoettes, counsel and HIV project director at Lambda Legal, argued the Trump administration has "no strategy" on Aids and it would be more affective for him and his colleagues to campaign from the outside.
He said: "The Trump administration has no strategy to address the on-going HIV/Aids epidemic, seeks zero input from experts to formulate HIV policy, and - most concerning - pushes legislation that will harm people living with HIV and halt or reverse important gains made in the fight against this disease".
Mr Schoettes continued: "If we do not ensure that US leadership at the executive and legislative levels are informed by experience and expertise, real people will be hurt and some will even die".
To mark World Aids Day, the ONE Campaign released a troubling report on the potential impact of the White House's proposed $800 million cut to HIV/aids efforts that experts forecast could result in millions of new HIV infections and hundreds of thousands of deaths.
"The FY 2018 budget proposal would have led to the first global increase in new HIV infections since 1995, with nearly 200,000 additional HIV infections in the first year," says the report.
"If these cuts were maintained, nearly 600,000 additional people could be infected by 2020, dragging the world back to levels of new infections last seen in 2011."
Democratic National Committee spokesman Joel Kasnetz condemned Mr Trump's statement on Twitter, saying: "Trying to erase LGBTQ people from the history of HIV/Aids is another slap in the face,"
"In his first year in office, Trump hasn't missed an opportunity to be cruel to the LGBTQ community and the millions living with HIV all over the world."
President Trump has come under heavy fire for his record on LGBT rights since taking office. The billionaire property tycoon touted himself as a champion of gay rights during his presidential bid but LGBT rights groups argue he has waged a war on their freedoms. On inauguration day, the Trump administration immediately erased all references to LGBT people and everyone living with HIV from whitehouse.gov.
Days after being sworn in Attorney General Jeff Sessions withdrew his predecessor's guidance on protections for transgender students in public schools that allowed them to use bathrooms corresponding with their gender identity.
This summer, President Trump announced a ban on qualified transgender people serving in the military in a series of tweets. He then signed a directive reinstating a ban on transgender individuals from serving in the military.
Last month the Justice Department announced that an anti-discrimination law does not protect transgender workers. This has potentially opened people up to discrimination in the workplace because of their gender identity.
Join our new commenting forum
Join thought-provoking conversations, follow other Independent readers and see their replies