World Vision denies claims staff sexually exploited Haiti earthquake survivors
'World Vision's extensive investigations into these issues revealed that those involved in sexual exploitation were not World Vision staff,' says the charity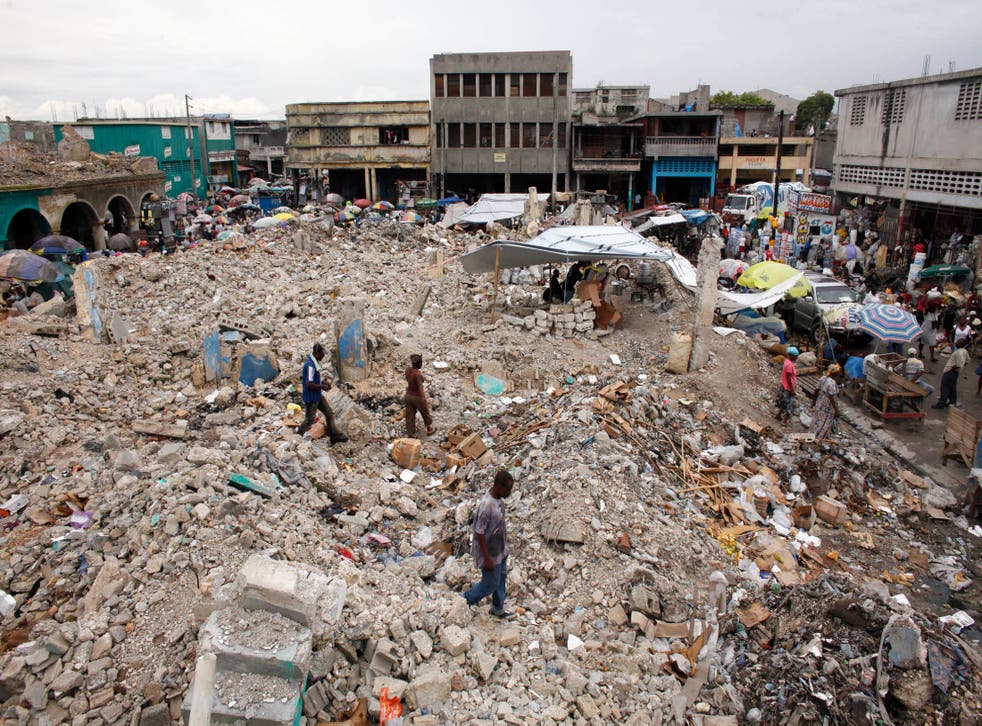 Government-funded charity World Vision has denied allegations its staff coerced survivors of Haiti's catastrophic 2010 earthquake into having sex.
Paid employees of the evangelical Christian humanitarian aid charity were accused of forcing Haitians to have sex or pay for aid in 2010, according to a report in the Mail on Sunday.
But World Vision, where Meghan Markle was a global ambassador from 2016 to 2017, has denied the story and argued it misconstrues the reality of the situation.
"While we know we did not get everything right, the Mail on Sunday story in the UK and Ireland misrepresents our actions and omits key findings from our investigations, which we described publicly, and which were shared with authorities, donors, and the Mail's journalist, several years ago," the charity said in a statement.
The children's charity, which is active in more than 90 countries, admitted investigations it conducted identified issues of sexual exploitation, but found that those involved were not World Vision staff.
"In our cash-for-work programme in 2010-11, several evaluations conducted by World Vision and our partners highlighted a number of issues in government-run camps; of nepotism, sexual exploitation and inaccurate record-keeping," the charity said.
"World Vision's extensive investigations into these issues revealed that those involved in sexual exploitation were not World Vision staff. They were community volunteers and cash-for-work beneficiaries themselves."
World Vision explained it reported those issues to authorities and worked in conjunction with them to provide training and follow-up procedures to curb "these practises".
World news in pictures

Show all 50
"We recognise that it is possible there may have been inappropriate behaviour by people employed by or associated with World Vision that went unreported," the statement continued. "If that is the case, we encourage anyone who saw or experienced sexual exploitation or abuse to come forward, or to report it through our confidential Whistleblower Hotline, and we will do all we can to investigate."
World Vision's response follows the aid worker sex scandal storm that has engulfed Oxfam since the accusation its workers sexually abused children and used prostitutes in Haiti, Southern Sudan and in the Ivory Coast.
Oxfam, one of the world's biggest disaster relief charities, on Saturday admitted it knew about a Save the Children report from a decade ago which suggested "significant" abuse was being carried out by aid workers from unspecified charities overseas.
The charity, which has agreed to stop bidding for government funding until ministers are content it can meet the "high standards" expected, apologised this week for unspecified sexual misconduct uncovered in a 2011 internal investigation.
Register for free to continue reading
Registration is a free and easy way to support our truly independent journalism
By registering, you will also enjoy limited access to Premium articles, exclusive newsletters, commenting, and virtual events with our leading journalists
Already have an account? sign in
Register for free to continue reading
Registration is a free and easy way to support our truly independent journalism
By registering, you will also enjoy limited access to Premium articles, exclusive newsletters, commenting, and virtual events with our leading journalists
Already have an account? sign in
Join our new commenting forum
Join thought-provoking conversations, follow other Independent readers and see their replies