World War II US airmen remains found in Indian jungle flown home - 76 years later
The remains were discovered after a major search in the jungles of Arunachal Pradesh state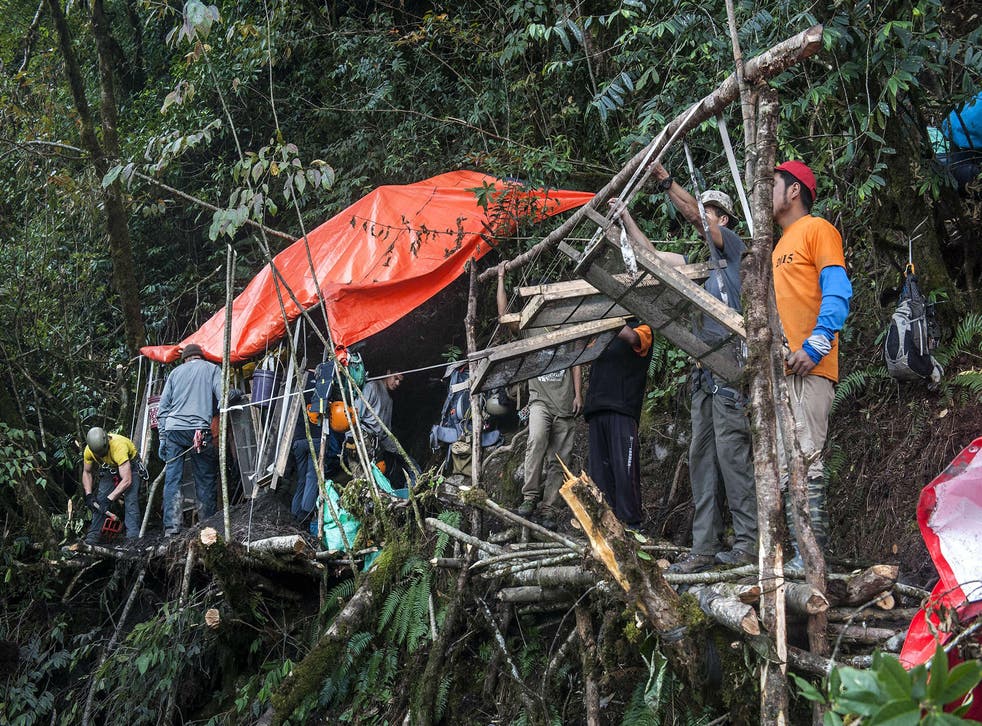 It has become something of a cliche, but the US military prides itself on never leaving anyone behind.
On Wednesday, tiny bone fragments that may represent the last remains from one or two crew members of a B-24 bomber that crashed on a supply run from India to China over the Himalayan Mountains 76 years ago, were put on a plane bound for the US.
While the Pentagon's Prisoner of war/Missing in Action Accounting Agency (DPAA), has recovered the remains of US soldiers from locations around the world, this was the first time they had done so with remains found in India.
The items were discovered after a major search in mountainous jungles in Arunachal Pradesh state in northeastern India. They will now be flown to Hawaii for DNA testing, according to the Associated Press.
The DPAA sent a team to Arunachal Pradesh last September to try and find the wreckage of the plane, one of many that flew perilous routes over the world's highest mountains to deliver supplies from Indian airfields to Chinese forces from 1942.
"They had to hike in for three days to get to the site," said US Marine Corps captain Greg Lynch. "It was very physically grueling to go to this particular area and to conduct this recovery."
Two bone fragments, small enough to fit inside a sandwich bag, along with some other artifacts were found during the excavation.
The AP said the discovery of the remains gives hope to families of the estimated 350 US service members still classified as missing in India.
Gary Stark, the India desk officer for the POW/MIA Accounting Agency, the B-24 - known as Hot As Hell - went missing with its crew of eight in January 1944. The aircraft was one of many that ran supplies from China to India, flying people and parts back and forth over what they called "the Hump".
After Wednesday's ceremony at the airport in Delhi, the remains, which were put in ceremonial boxes and then into flag-draped caskets, the remains will be examined in Hawaii. Only then will officials know if the fragments belong to one or two crew members.
Along with the bone fragments, the team found other items associated with the crash but no personal effects, such as dog tags or watches, that could identify the crew.
US Defence Secretary Ash Carter, who has been traveling in India, watched as taps was played and the remains were placed in the caskets and loaded onto a C-17 aircraft for the flight to Hawaii.
The Pentagon has restated its commitment to families of the thousands of servicemen still unaccounted for from World War II and the Korean and Vietnam wars.
Many of those families have, over the years, complained bitterly of delay and even neglect from the Pentagon agencies charged with finding, recovering and identifying remains from overseas wars.
Register for free to continue reading
Registration is a free and easy way to support our truly independent journalism
By registering, you will also enjoy limited access to Premium articles, exclusive newsletters, commenting, and virtual events with our leading journalists
Already have an account? sign in
Register for free to continue reading
Registration is a free and easy way to support our truly independent journalism
By registering, you will also enjoy limited access to Premium articles, exclusive newsletters, commenting, and virtual events with our leading journalists
Already have an account? sign in
Join our new commenting forum
Join thought-provoking conversations, follow other Independent readers and see their replies