Man banned from Yellowstone National Park after trying to cook chickens in hot spring
He was also required to pay $1,200 fine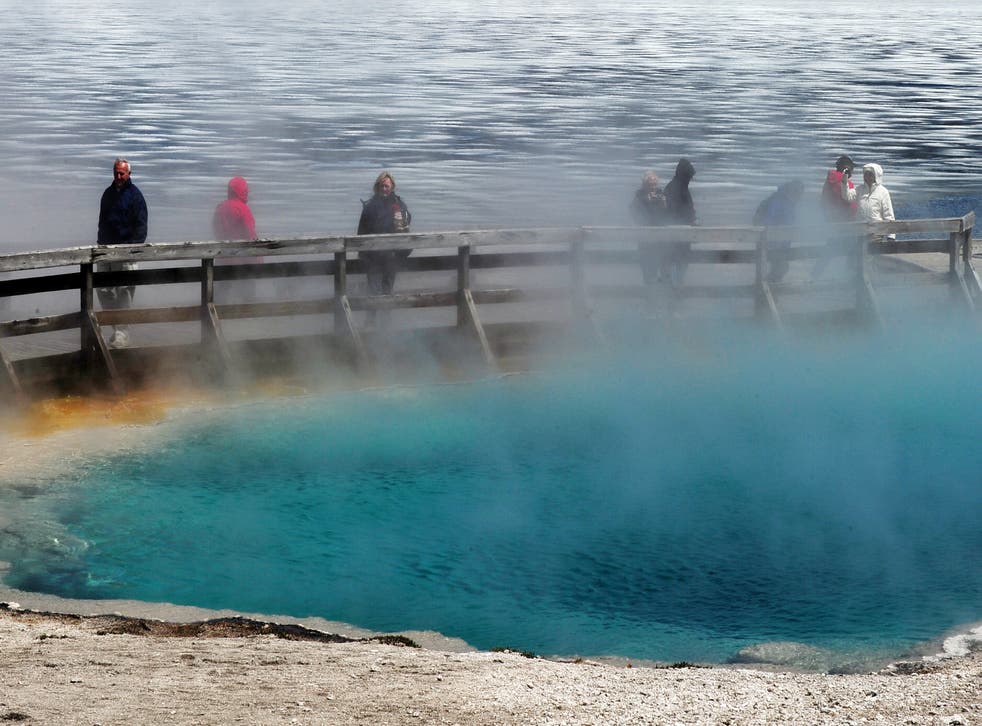 A man has been banned from Yellowstone National Park for two years after he was allegedly caught trying to cook two chickens in a hot spring in the park's thermal area.
Park rangers were initially alerted about the incident on 7 August when they received reports about a group hiking toward Shoshone Geyser Basin with cooking pots, a park spokeswoman told East Idaho News.
Upon investigation, the ranger reportedly found two chickens in a burlap sack sitting in a hot spring.
The group of 10, which included a child, also had a cooking pot nearby, according to East Idaho News.
A man from Idaho Falls, Idaho, and two others from the group were cited for foot travel in a thermal area, with the unidentified Idaho man also ordered to appear in a Mammoth Hot Springs court.
After pleading guilty on 10 September for the charge as well as another for violating closures and use limits, the man has been ordered to pay a $1,200 fine. He will also serve two years of probation, during which time he is banned from visiting the park, which spans Wyoming, Montana and Idaho.
This is reportedly not the first time a park visitor has been fined and placed on probation for attempting to cook in the hot springs. In 2001, KING-TV's "Evening Magazine" host John Curley and his producer also faced similar repercussions after they showed themselves on-air cooking chicken from the heat of a Yellowstone geyser, according to the Napa Valley Register.
The show reportedly later apologised for the stunt, calling it "just plain dumb".
According to the National Park Service's website, park visitors must stay on trails and boardwalks in thermal areas and are banned from "throwing anything into thermal features".
"Hot springs have injured or killed more people in Yellowstone than any other natural feature. Keep your children close and don't let them run," the website states.
The Independent has contacted Yellowstone National Park for comment.
Register for free to continue reading
Registration is a free and easy way to support our truly independent journalism
By registering, you will also enjoy limited access to Premium articles, exclusive newsletters, commenting, and virtual events with our leading journalists
Already have an account? sign in
Register for free to continue reading
Registration is a free and easy way to support our truly independent journalism
By registering, you will also enjoy limited access to Premium articles, exclusive newsletters, commenting, and virtual events with our leading journalists
Already have an account? sign in
Join our new commenting forum
Join thought-provoking conversations, follow other Independent readers and see their replies