Yosemite's El Capitan climb in pictures: US climbers complete historic ascent of Dawn Wall
After a 19-day brutal climb, Tommy Caldwell and Kevin Jorgesen entered the record books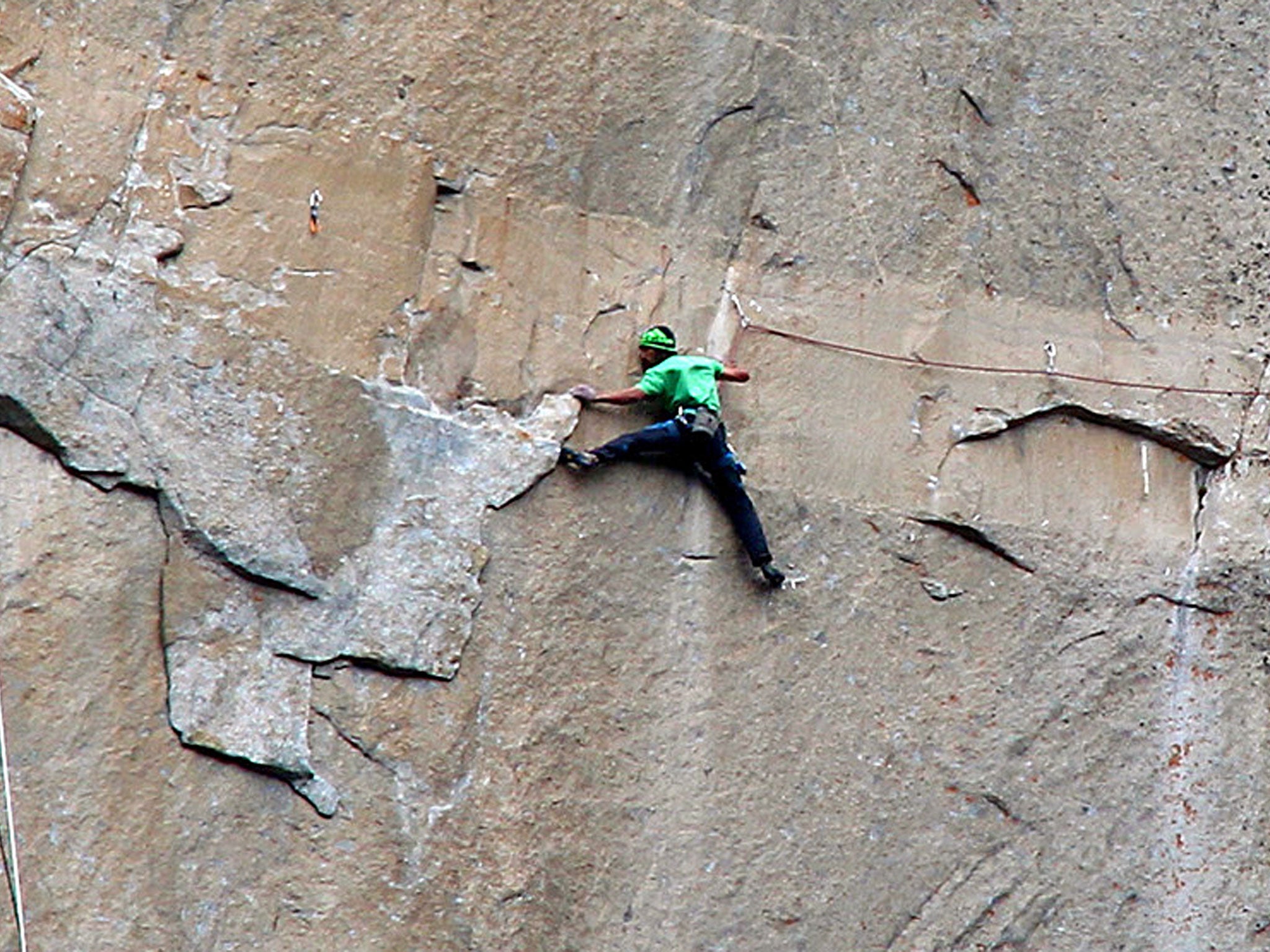 After almost a decade of pain-staking planning, with many falls and failed pitches along the way, Tommy Caldwell, 36, and his climbing partner Kevin Jorgesen, 30, became the first men in history to free-climb El Capitan's so-called "Dawn Wall".
The 914-metre sheer granite rock-face in California's Yosemite National Park, considered the world's toughest rock climb. It's especially tough if you, like Caldwell and Jorgesen, decide to free-climb the route, meaning ropes are used only to break a climber's fall, not to assist in their ascent.
The pair were met at the summit by a crowd of around 40 family and friends who had trekked the long way round: an eight-mile trail up the back side of El Capitan. Since the mountain was first scaled by climbers in 1958, others have ascended by several dozen routes. But until now, none had succeeded in defeating the Dawn Wall, so named because it catches the day's first rays of sunlight.
Images from the climb show just how difficult a feat this was: the cliff face has the appearance of a vertical pavement, seemingly impossible to grip, especially when it extends for the height of three London Shards.
Caldwell's climb is more remarkable given that every time he took a break from plotting pitches and practising, he would have to relearn everything the next time he returned to El Capitan. Of course, the rock-face does have some cracks, bumps and rough edges that allow for the climbers to tentatively make they way higher up the cliff. Of course, with just their bare hands to guide them, bloodied fingers and bruised, broken finger nails become the painful norm.
Yosemite's El Capitan climb in pictures
Show all 22
On day eight, Jorgesen kept falling as he struggled to get past one of the most difficult points, telling his video diary he thought about giving in. Images show him clinging to the smallest of grooves in the smooth, sandy surface, his ability to grip seemingly impossible.
Caldwell and Jorgesen had to rest their fingertips along the way and use treatments to heal their skin, as well as sleeping in tents dangling in the ferocious winds.
There were a lot of falls on the way: even though both had been planning their route for years, every time they took a break from planning, they would have to re-learn their previous pitches.
"I have to rework stuff," Caldwell said before the trip. "There's a lot of pitches that are right at my limit. You have to get the muscle-memory thing going, you have to relearn the intricacies, it's incredibly technical climbing. So, if you're just a tiny bit out of position, you fall off and it takes a bit to re-learn all of that."
Jorgesen told Robin Roberts on Good Morning America that his hands were covered in bruises and he was taking ibuprofen every morning.
Perhaps the greatest casualty was Caldwell's voice, reduced to a croaky whisper on television due, to what he explained, was all the shouting he had been doing over the last few weeks.
Join our commenting forum
Join thought-provoking conversations, follow other Independent readers and see their replies